Since it was adopted in May 2008, Burma's Constitution has been widely criticised, and many political groups have called for it to be amended or rewritten.
This week the four-person panel of DVB Debate consists of: Tin Maung Than, senior researcher from Myanmar Development Resource Institute; Advocate Ko Ni from Burma Lawyers Network; Hla Swe, an Upper House MP for the USDP; and Mya Aye from 88 Generation Peace and Open Society.
The Constitution currently reserves 25 percent of the seats in parliament for the military, which continues to play a pivotal role in the country's politics.
Lawyer Ko Ni, a member of the National League for Democracy (NLD) Constitutional Amendment Committee said the Constitution is not democratic.
"Actually the 2008 Constitution does not give power to the people," he said. "It is a Constitution that makes sure the military legally holds onto power forever."
However, senior researcher Tin Maung Than points out that it is not as simple as trying to hold onto power and that it is a lack of trust that has led to this situation.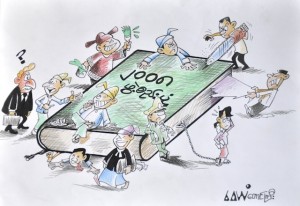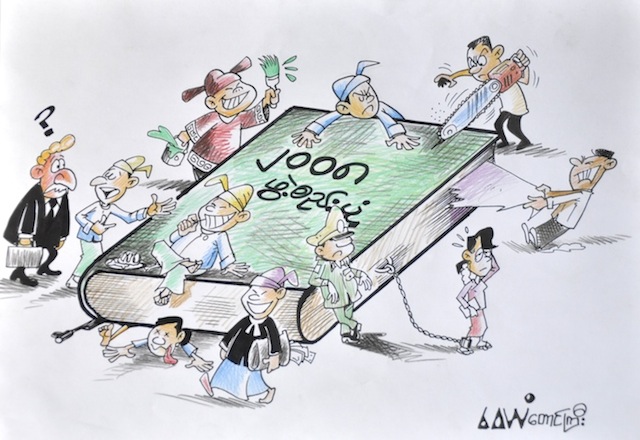 "We can see that the military don't trust the civilian leaders," he argued.
Audience member Tin Oo, a veteran NLD leader and former army general, spoke candidly about what he thinks Burma's current commander-in-chief, Min Aung Hlaing, should do.
"If Min Aung Hlaing stood up today and said, 'We have faith in democracy and therefore in 2015 we are going to give our 25 percent of seats up to civilians in the parliament and work together with them,' then in that case everyone will love them," he said to applause from the audience.
The Constitution has also come under criticism for its rules regarding the presidency. Article 59(f) effectively bars opposition leader Aung San Suu Kyi from becoming president because her husband and children have held foreign citizenship, and she does not have military experience.
Ko Ni said Article 59(f) needed to be amended before the 2015 elections.
"Rather than six months before the elections, I'd rather have the constitution amended as soon as possible," he said.
However, former military colonel, Hla Swe said the country is not yet ready for change.
"Our country only just started walking down the road to democracy," he said. "Therefore we currently need the military, but we will gradually reduce it, that is why we have said we will change the Constitution gradually."
To approve constitutional change, over 75 percent of parliament would need to agree.
However, with over half the seats in parliament occupied by the military-backed USDP and a quarter belonging to the military itself, many think a vote for change is still unachievable.
In addition, following a 75 percent approval in parliament, many amendments would then have to go to a national referendum where over 50 percent of the eligible population would have to agree – over 22 million people.
However, even those who want the changes think that a clear legal method is vital. Suu Kyi has said in parliament that a solution must be found within the Upper and Lower Houses.
[related]
"I don't want any conflict between the people and the parliament and I want rule of law to exist, that is why we are going to try our best to change the Constitution within the parliament," she said previously. 
However, some think many a wider range of the population should be involved in suggesting changes in the first place. Activist Mya Aye said constitutional reform should be all-inclusive, and that politicians, civil society, ordinary people and the military all need to find common ground.
"We don't want only an elite group controlling the country," he said. "We don't want the people to blindly follow politicians who are doing whatever they want. I cannot accept that situation." 
However, Myo Yan Naung Thein from the Constitutional Reform People's Network said that they are currently not hearing the true voice of the people.
"In the newspapers they ask people to send suggestions. But how can the people who live in the villages send suggestions? Just by looking at this example, we can see the process is not genuine," he said.
 The majority of the studio at least agreed that constitutional reform of some kind is needed for Burma to continue moving towards true democracy.