As Burma moves towards democracy after decades of censorship, people are becoming more open about their romantic choices.
However, old laws that date back to colonial times, and proposed new marriage laws mean restrictions on matters of the heart still apply.
On the panel this week: Shin Thant, from LGBT rights group Colours Rainbow; poet and columnist Zay Yar Kyaw; May Sabei Phyu from Gender Equality Network; and lawyer U Htay.
Panellists discussed a proposed interfaith marriage law, which is now being considered by parliament, which could prevent Buddhist women from marrying outside their religion.
"We thought we had freedom of choice and freedom to love. But, now, at this stage of democracy, we face a situation where we may lose our rights," said May Sabei Phyu.
Ye Min Oo from the Organisation for the Protection of National Race and Religion said he thought the proposed law would protect the rights of women.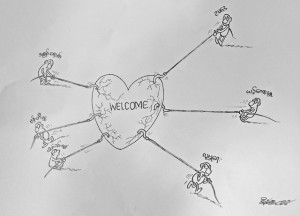 "Actually, even though the law is said to protect our race, it is also to protect the rights of women. Even though it is not about us, we are still protecting their rights," he said.
Audience member Mee Mee, from 88 Generation Peace and Open Society, said the government should focus their efforts on stopping more serious crimes such as child rape.
"If they really want to protect Burmese women, they should look at the proposed child rape law that has been rejected twice in parliament. The parliament should make laws to take action against those kind of crimes," she said.
Others in the audience thought the proposed law was more about discrimination rather than protection.
"This is a law based on hatred. We don't like it," said Khin Lay from the Triangle Women support group to a round of applause.
Panellists and members of the audience questioned the motives behind the law and disagreed about whether it is needed to protect Buddhism.
"We are worried about the law being passed," said audience member Thant Zin Htwe. "Throughout my lifetime, laws have only been used to protect the dictators. They rarely protect the people.
"I see the Race Protection Law like this. Now they say it is to protect race but during the 2015 elections, I am afraid it will be used to secure votes," he said.
However Tun Min Khant from Dagon University Students' Union thought that the standard of Buddhist morality needed to be protected.
"We need to protect our race and our morals," he said. "We have seen examples, like in Malaysia and Indonesia and Singapore, where they used to be Buddhist countries. But that religion has disappeared. We should look at these examples and support this race protection law."
Promoter of Dhamma law, Lin Aung Pyae, agreed that it was necessary to protect the Burmese Buddhist, but said that passing a law was the wrong way to go about it.
"We should protect our race but not using the law. We must protect it with our morality," he said.
[related]
The studio went on to discuss laws regarding homosexuality. Homosexual sex is effectively outlawed in Burma under Section 377 of the Penal Code, which carries a sentence between 10 years and life imprisonment. Now lesbian, gay, bisexual and transgender (LGBT) rights groups are starting to speak out against these laws and the discrimination that their community faces.
However some speakers question whether gay rights should be the priority at a time when there are so many other things to fight for.
"Today, the whole country and the people are struggling for democracy, especially for citizen rights," said U Htay. "We are fighting for labour rights, farmers' rights, women's rights, child rights and ethnic rights. While these rights were at the forefront [when the] the LGBT rights movement began, we are afraid that other important rights, the rights of the majority, will be dimmed if we ask for LGBT rights at this time."
Shin Thant disagreed and said people should push for LGBT rights regardless of who is in power.
"In a democracy, the government is chosen by the people. If there is a group of people who hate us, we will be suppressed. So, no matter who the government is, we want the people to know about our rights. We need to move equally within society because it will be too late if we start to call for our rights once we have been suppressed," said Shin Thant.

You can join the debate and watch the full programme in Burmese at dvbdebate.com
Or share your views with us by commenting on our website at dvb.no