Now just a few weeks until the opening ceremony, opinions diverge whether or not Burma has prepared well enough for hosting the SEA Games. Expectations of gold medals are high, as is pressure on the athletes.
On this week's panel are: Khin Maung Lwin from the Myanmar Olympic Committee and the Ministry of Sport; senior sports columnist Khin Maung Htwe; and Soe Nyi, the sports editor at First Eleven journal.
"There are 33 different sports at this SEA Games", Soe Nyi said. "It is easier to predict which ones we are not going to win any medals than the events where we have good chances."
"If it doesn't come out as predicted, it will be embarrassing, said Khin Maung Htwe.
Khin Maung Lwin answered the question whether Burma will have an advantage over her rivals being host country.
"You could say that. The reality is that Burma has an opportunity to play on our own home turf with the support of our fans."
The panelists expressed dissatisfaction with the hiring of foreign professional athletes during previous SEA Games, and Khin Maung Htwe said he is also ashamed that Burma took on Thai trainers to help prepare their teams.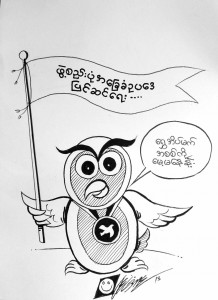 Soe Nyi said he asked the Burmese government before the 2011 Games whether they would enter foreign athletes. They said no, but still had foreigners on the Burmese teams in basketball.
"I have photographic evidence", said Soe Nyi. "They were all Chinese professionals. And at the 2009 Sea Games, Aung Khaing, who won a gold medal, is 100% Turkish. He can't even speak Burmese. At the prize-winning ceremony, he held the Burmese flag upside down."
As an official, Khin Maung Lwin said Burma will not be entering any foreign athletes this year. Referring to the controversy over Burma's sports selection for the games, which has led to protests from other countries, Khin Maung Thwe asked him about the removal of tennis from the list.
"As I said before, there are some sports which we included, knowing we won't win any gold medals. We did it just for sportsmanship", he answered.
He dismissed the argument that the relationship between the Ministry of Sports and the Tennis Association is poor.
"No, it's not like that. Our relationship is very good. But there are some facts we have to consider: out of 4 or 5 games, we had to choose which games we were going to drop. In the end we left out tennis and gymnastics."
In conclusion, the panel highlighted several difficulties and raised some question marks about preparations; however from an official perspective at least, confidence is high that the 27th SEA Games will be a success.
[related]
Next week on DVB Debate, the discussion is on religious tolerance.
You can join the debate or watch the full programme in Burmese, at www.dvbdebate.com
Or share your views with us by commenting on our website at www.dvb.no