Burma's school system is in dire need of reform. The government spends just 5.8 percent of the national budget on education and so schools are poorly equipped, use outdated materials, and teacher training is politically motivated.
On DVB Debate's panel this week: from the Federation of Student Unions (Organising Committee), D Nyein Linn; volunteer trainer from the Myanmar Debate Society, May Phyo Oo; and assistant lecturer for Oriental Studies at Dagon University, Dr Arkar Moe Thu.
The panel focused strongly on teacher training. May Phyo oo said that such training needed to be monitored to examine the performance of the teachers.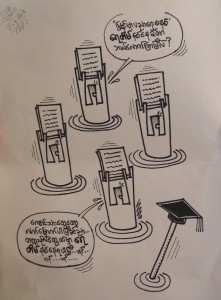 "The training needs to be followed up with monitoring and evaluation to see if the teachers actually apply what they have learnt and how it affects the students," she said.Dr Arkar Moe Thu wanted to include the opinions of students and parents when reforming the education system.
"Students, parents and teachers have opinions that play a significant role," he said.
He went on to say that many students only went to university just to get a degree, to which D Nyein Linn objected.
"We, the students, were never allowed to question the teacher," said D Nyein Linn.
"You say we just wanted to have a degree but we were victims of the system. What use can I make of a degree after graduating? We were given a certificate, nothing more."
Studio guest and writer, Kaung Sett Naing, believed the government needed to change its attitude to education.
"Why are the education standards so low? Because there is weak governance. So if one is looking to implement a student-centred system, the government needs to be the kind that focuses on the public," said Kaung Sett Naing.
[related]
May Phyo Oo stressed the importance of learning English in a developing nation.
"In 2015, Burma will become a free trade nation while more foreign investment comes into the country. If the Burmese students and youths cannot speak proper English, it won't be good," said May Phyo Oo.
The panel roundly agreed that now is the time to reform the education system and focus strongly on the importance of teacher training and implementing a student-centred system.
Next week on DVB Debate: What impact will the next generation have on Burma's future?
You can join the debate and watch the full programme in Burmese at www.dvbdebate.com
Or share your views with us by commenting on our website at www.dvb.no