For decades, Burma's tourism sector suffered under military rule. The country's self-imposed isolation and poor human rights record meant few foreign visitors chose to visit. However, over the last two years, political reforms in Burma have seen the country open up and thousands of tourists are now making their way to the Golden Land. 
On the panel this week: Kyaw Swa Min, from the Myanmar Tourism Marketing Committee; tour operator Aye Kyaw; Khin Maung Pyone from the Myanmar Hoteliers Association; and reporter Aung Thura, who specialises in tourism.
Panellists discussed whether Burma is ready for the onslaught of tourists predicted this year, and raised concerns about high hotel prices and limited accommodation.
"Hotels owned by foreigners are more expensive than those owned by Burmese," said Khin Maung Pyone, in response to claims that hotels in Burma are overpriced.
"Burmese hoteliers take only around US$100. This is a reasonable fee."
However, Aye Kyaw said that prices do not need to be that high. Allowing homestays and bed and breakfast facilities would help with the high demand for rooms, lower prices and allow local communities to benefit more from tourism in their areas.
"There are a lot of solutions to the problems that we have now. The solution of other countries is to allow local people to rent their extra rooms to tourists," he said.
According to the Ministry of Hotels and Tourism, 2013 saw over two million international visitors enter the country – a growth rate of 93 percent on the previous year.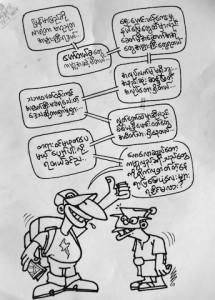 And a "Tourism Master Plan" has set a target of over three million international visitors in 2015 and 7.5 million by 2020.
But the rapid increase in foreign visitors leaves the tourism sector struggling to keep up with demand. Meanwhile, tourists travelling on a low budget face difficulties in finding places to stay.
Tourism has also seen a spike in foreign investment and joint ventures. Burma currently allows 100 percent foreign ownership of hotels rated at three or more stars, and many Burmese-owned hotels have a foreign partner.
Panellists disagreed on whether steps should be taken to ensure more opportunities for local businessmen.
"Tourism businesses should be 100 percent Burmese-owned and not owned by foreigners," said Aye Kyaw.
"In joint ventures, if foreigners own one percent and Burmese own 99 percent, then the Burmese partner is not a real owner but is just giving his name for the company which really belongs to the foreigner."
However, Kyaw Swa Min from the Myanmar Tourism Marketing Committee disagreed. He thinks that joint ventures could benefit Burmese citizens and businessmen in the wider region.
"We need a balanced situation that has benefits for the whole ASEAN economic community. We should create this balanced situation," he said.
The studio also raised concerns about sustainable tourism, preserving the culture and environment. Journalist, Aung Thura said certain hotel associations are trying to build hotels in areas of historical significance and are destroying Burmese heritage.
"A certain hotel association requested to build a hotel zone in the Tu Ywin Mountains in Bagan. I cannot understand why they are doing this? I wonder if they are really Myanmar citizens," he said.
Devi Thant Cin, the chief editor of environmental magazine, Aung Pin Lae, said the same thing is happening in tourist spots of natural significance like Inle Lake. She said Burmese crony businessmen are not thinking of the future and just build without any care for the environment.
"Even if businessmen want to build hotels in these areas, the government should preserve natural sites with a view to sustainability," she said.
[related]
In the past, tourism development has also been explicitly linked with human rights issues such as displacement and forced labour. Revenues from tourism appeared to go directly to generals with little benefit to local communities.
Now, NGOs are trying to ensure that these issues are monitored and there is more accountability from the government in future. Andrea Valentin from Tourism Transparency raised concerns about the current approach to development.
"There is no transparency about who benefits from the planned tourism development zones," she said. "We want to know whether the communities are being consulted or whether this is a top-down development approach. We worry about the lack of meaningful stakeholder consultations and we particularly worry about land rights in tourism development."
Aye Kyaw asked why the policymakers are not in the studio to answer questions. The Ministry of Tourism was invited to attend the debate but declined to join.
However, Kyaw Swa Min insisted that the Tourism Ministry and the Tourism associations are all victims of the changing situation. Aye Kyaw disagreed, and said the system needed to be changed. He said that associations needed to push the government in order to drive positive change.
"All of the hotel & tourism associations should advise the Ministry of Hotels & Tourism about their needs without fear," he said.
However, Khin Maung Pyone interjected, explaining that associations are reluctant to speak out because their ideas are not taken into account.
"It is not that we are afraid. We do propose our needs, but there is no implementation which is why we don't make any more proposals," he said.
The studio generally agreed that more needed to be done if Burma is going to be prepared for increasing tourist numbers, and in order to ensure local communities benefit from the change.
You can join the debate and watch the full programme in Burmese at dvbdebate.com
Or share your views with us by commenting on our website at dvb.no