As Burma prepares for its first national census in over 30 years, concerns have been raised about the timing and method of the nationwide count.
International groups have warned that questions regarding religion and ethnicity could trigger further violence against minority Muslims, and undermine the government's peace negotiations with ethnic groups.
On the panel this week; census campaigner Swe Zin Htike; Chairman of the Shan Real Population Collection Committee, Sai Kyaut Tit; Nang Raw Zakhung, from Nyein Foundation; and Myo Win, Regional Director of the Burmese Muslim Association.
The panellists disagreed about the potential effect of the count at this politically turbulent time.
Nang Raw Zakhung said the census should be postponed until further consultation with ethnic groups has been carried out.
"By delaying, I don't mean we should postpone until there is a full ceasefire, but until there is at least some serious consultation with the ethnic groups," she said. "Right now the categories are a big problem. We cannot deny the fact that there is some political risk."
But Swe Zin Htike thought it was a good opportunity for the whole country to take part, saying the benefits would be national development.
"I think it should be seen as a programme for the whole country. Then the result will be inclusiveness and national development and we will know which role we have to play. Now, everyone is just looking out for his or her own rights and personal interests," she said.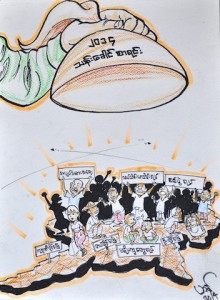 But Myo Win said people were worried that if they declaring themselves in one category or another, it could legitimise discrimination.
"The categories being used by the so-called democratic government come from data gathered by the dictator regime. Therefore, there are concerns about whether this gives legitimacy to the discrimination policy," he said.
The census mentions 135 official indigenous ethnicities, many of which are grouped under a larger ethnic category. Many groups have been angered by the approach to the question of ethnicity. Analysts say that these questions could create more problems in the country.
"It includes, sub tribes, clans, they divide the Kachin into ten different groups. In the Shan list, one group 'Tailong' is mentioned twice.  Once under the Shan name 'Tailong' and the other under the Burmese name, Shangyi. So they're talking about the same people there," said journalist and Burma expert, Bertil Lintner."The purpose of that list or the outcome of that list will be to divide people, not to unite them," he said.
Disagreements have arisen over concerns that the results will be used to strip minorities of their rights.
"The Naga are not a small tribe. We are big race. Today, four tribes of Naga are categorised amongst the 53 Chin groups. They said this is not a political issue, but a developmental issue. For us, it is a political issue," said Nok Tun, from the Naga Community Resource Centre.
However Sai Kyaut Tint said the purpose of the census was not to divide and rule.
"It is not true. It is not systematic division. But since the beginning, it is needed to consult with the ethnics about the categorisation. We spoke with the minister and he said 12 kinds of Shan will be combined as one Shan group.
Other groups have not been represented by census options at all. Ye Min Lwin from the Tamil Youth Association said people, who were ethnically Tamil, would have to list themselves as Indian.
"We estimate that there are over 600,000 Tamils in Burma. But the census only has a category named Indian. My understanding and the worlds' understanding of calling yourself Indian is that it implies you are an Indian citizen. But I am not an Indian citizen at all," he said.
The government have announced that people are free to write whatever name they want under the "other" option. However groups such as the Rohingya, a Muslim minority from Rakhine state which is not officially recognised by the Burmese government, are scared that identifying themselves will lead to further persecution.
"When our party did some research we found that people are too scared to name themselves Rohingya," said Kyaw Soe Aung from the Democracy and Human Rights Party.
[related]
Immigration Minister Khin Yi said that problems are arising because people are politicising the census.
"The major difficulty comes from people relating the census to other issues and looking at it from a political point of view. It appears very complex if it is interpreted from the perspective," said the Minister of Population and Immigration.
However, with unclear messages coming from some officials, panellists say people are still scared.
"They said that there will be action taken against people if they do not answer correctly. The law says they have the right to take action. Law number 16 is about taking action," said Myo Win. "Isn't this intimidation?"
Nang Raw agreed, and suggested that the answers could be interpreted in different ways.
"We see this as a trap. It can be interpreted in different ways. Who will guarantee that they will not take action against us?" she said.
The studio generally agreed there is not enough transparency from the government with regards to the census, and although collecting data is in theory a good idea, there are flaws in the process.
You can join the debate and watch the full programme in Burmese at dvbdebate.com
Or share your views with us by commenting on our website at dvb.no