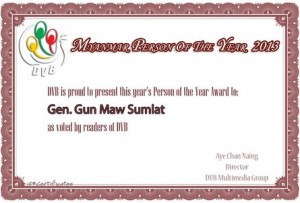 DVB readers have spoken, and their voice was loud and clear: the Burmese Person of the Year for 2013 is Gen. Gun Maw Sumlat, the vice-chief of staff of the Kachin Independence Army (KIA).
We offered a selection of the biggest news-makers of the past year and asked readers to vote for one – their favourite, their most respected or simply the person they thought was the most prolific.
A total of 20,662 readers of DVB's Burmese and English websites voted. The result was that Gen. Gun Maw won with 68 percent of votes cast; some 13,892 readers voted for the KIA peace negotiator.
Second was outspoken Buddhist monk, U Wirathu, with 4,787 votes; third was Dr. Cynthia Maung with 475 votes; and fourth was activist Naw Ohn Hla with 349.
Other votes: Zaw Zaw (230); Phwe Phwe (196); Than Than Htwe (195); Moe Set Wine (116); Ye Htut (110); Irene Zin Mar Myint (44); and others (268).
DVB would like to thank its readers for their overwhelming support. Gen. Gun Maw will now receive a certificate and an engraved trophy from DVB to commemorate this occasion.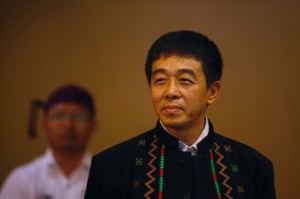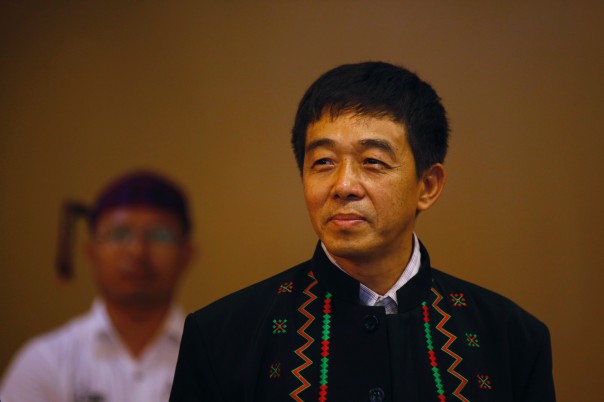 Gen. Gun Maw Sumlat, vice-chief of staff of Kachin Independence Army
Hundreds of well-wishers wearing traditional Kachin costumes welcomed the Kachin Independence Army (KIA) Vice Chief of Staff Maj-Gen Gun Maw Sumlat when he arrived in Myitkyina, the Kachin state capital, in October to negotiate peace with a Burmese government delegation which until then had drastically underestimated his influence.
When hostilities between Burmese government forces and the KIA intensified in Mansi Township in November, Gun Maw bravely paid a historic visit to Rangoon where he met with media, spoke at the Kachin Baptist Church, schmoozed with Kachin celebrities and generally charmed each and every political and business figure who met him.
Media-savvy but humble, Gun Maw exudes a deep sense of integrity. He says he views peace as a process, unlike the Burmese government which defines peace by the number of agreements it signs.