Aye Chan Naing
DVB Chief Editor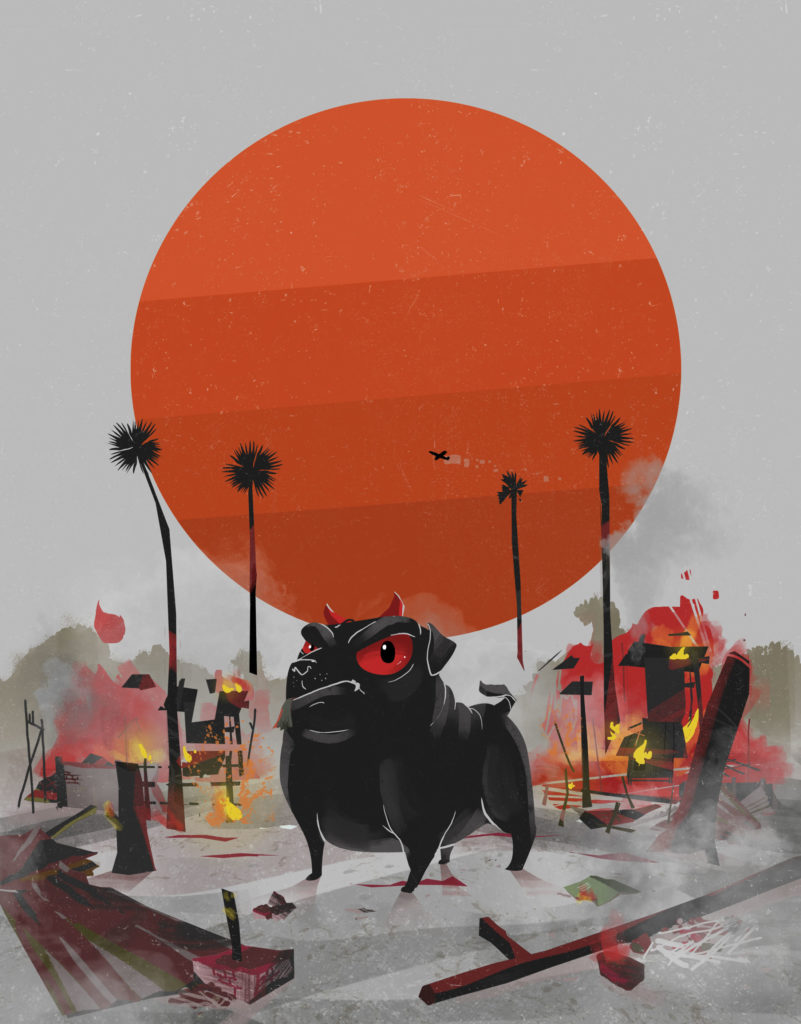 In 1936, the anti-colonial Rangoon Students' Union magazine published an article entitled: "The Hellhound at Large." The story was mocking the British colonial authorities at Rangoon University. The article started with: "Escaped from Awizi (hell), a devil in the form of a black dog. During his brief span on earth a base object of universal odium and execration" and ended with "Will finder please kick him back to hell?" signed by the name YAMAMIN (King of the Hell).
Perhaps, history repeats itself. Senior General Min Aung Hlaing, Burma's military coup leader, could be in the same category. The news about Burma quickly faded from international media coverage after the 2021 military coup. First, stories about the Covid-19 pandemic "delta wave" occupied the headlines in most of the western media followed by the war in Ukraine.
But you don't need to watch the television to know about what is happening in Burma. You can google it, or ask Chat GPT, or Microsoft Bing: "What is happening in Burma?" It will give you the latest information, such as the military abolished 40 political parties on March 29, including the National League for Democracy (NLD), and on the same day, the Burma Army clashed with an ethnic armed group leaving 1,000 villagers displaced, just to give a few examples.
I have been involved in Burma's pro-democracy movement since 1988, first as an activist and then, as a journalist. I have run the Democratic Voice of Burma (DVB) multimedia operation for over 30 years. There have been successive military dictatorships ruling the country since 1962 but I have never seen the scale of gross human rights violations directly targeting civilians all over the country ordered by one man, Min Aung Hlaing.
Both international human rights organizations and local civil society all reported similar numbers: over 3,000 people have been killed; 20,000 have been jailed; 60,000 homes have been burned down; and 1.7 million people were forced to flee their homes and have become internally displaced persons (IDPs). Airstrikes targeting villages, schools, medical clinics, IDP camps, and the borderlands have escalated reaching 760 over the last two years, according to the latest report from the Associations to Develop Democratic Burma (ADDB). Hundreds of thousands have fled the country in fear of arrest or arbitrary prosecution in military courtrooms.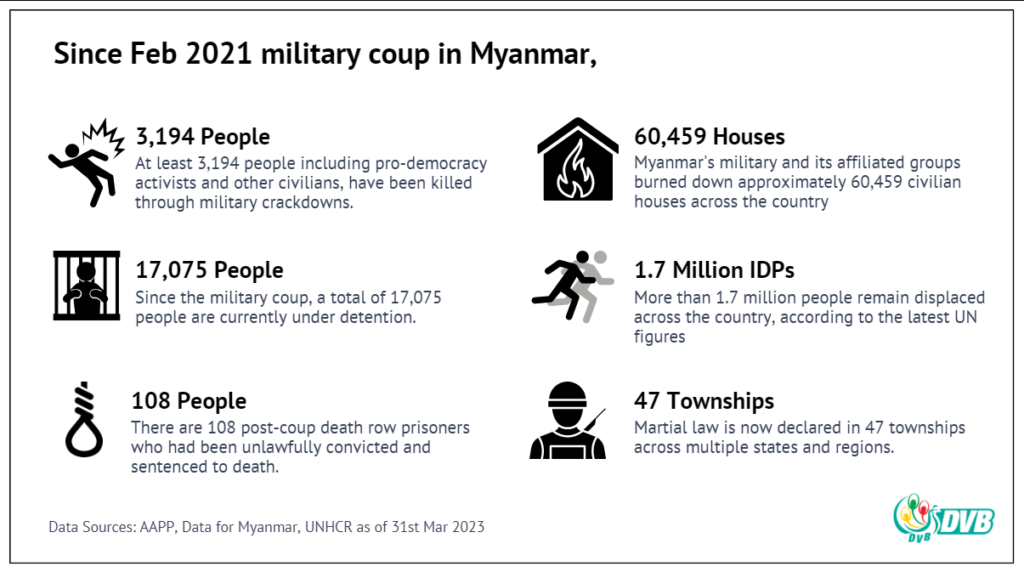 It is not an echo chamber nor is it fake news. We have been reporting the same stories every day from our network of underground reporters, and citizen journalists (CJs), all over the country. Just because you don't see it on your daily news, it doesn't mean things are okay in Burma.
Thousands of young people from Generation Z are now taking up armed rebellion against the military, half of the medical professionals – both doctors and nurses – are still refusing to return to their government jobs and so do thousands of other civil servants in the Civil Disobedience Movement (CDM). They are either hiding in the country, or have sought protection from the People's Defense Forces (PDF) or Ethnic Resistance Organizations (EROs) in liberated areas under their control.
Min Aung Hlaing has put Burma through hell over the last two years. He has terrorized the country. Sadly, there is no sign of easing it soon. And there is not even the slightest hint of credible international intervention either from the U.N. or regional players like ASEAN or China. Ironically, the U.N. Secretary-General himself said last November at the ASEAN meeting in Cambodia that "The world had failed Myanmar."
Alternatively, to find a homegrown compromise, Min Aung Hlaing is not a deal-maker, he is a deal-breaker. During his previous military predecessors, they had never treated Aung San Suu Kyi like the way Min Aung Hlaing did. She was mostly placed under house arrest and they brought her in for talks from time to time when they felt strong international pressure for dialogue and internal democratic resistance movements within the country. They knew she was a thorn in their side, but they also understood she could be part of the solution at some point. That understanding of the military leadership at that time paved the way for the democratic transition from 2012 until the military coup in 2021, even though it was rough sailing.
Unlike his predecessors, Min Aung Hlaing used abrupt statements like: "There is nothing I am afraid of doing," prior to the 2020 election. Perhaps, that was the only time he was telling the truth. He ordered his army to use force when cracking down on peaceful demonstrators after the coup. He used bogus charges against Aung San Suu Kyi and put her in prison for more than 30 years, and she's the only person he could use for his way out. He executed two respected leaders, Kyaw Min Yu (Ko Jimmy) and Phyo Zeyar Thaw, along with two other activists after a 30-year moratorium on the death penalty. He is closing the doors for compromise and shutting down his own escape routes.
Putting himself in the corner and acting recklessly and forcing fear in people has backfired. He is the only military leader who could not stabilize the country with his "law and order." He has lost more territories than he controlled before the coup and is facing fierce fighting from hundreds of newly-formed PDF units all over the country, in addition to existing larger ethnic armed groups. The number of armed clashes has escalated from 483 times in 2020 to 3,733 times in 2022, according to the Event Data Project (ALCED). Burma recorded the highest number of armed clashes globally in 2022 except for Ukraine, according to ALCED.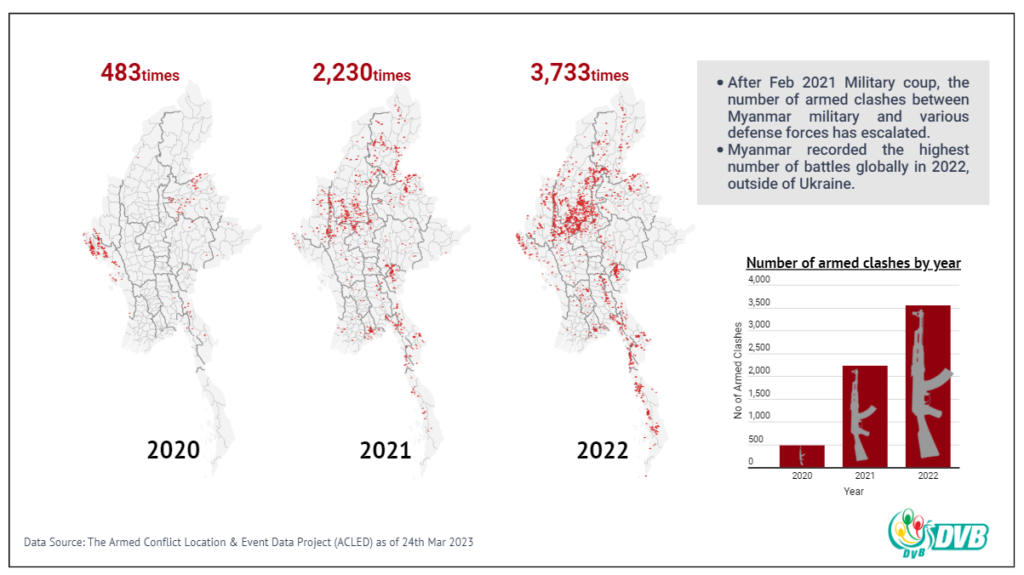 He was forced to declare martial law in 47 out of 330 townships in Burma. What makes it more interesting is most of those townships have never seen armed conflict in decades. His army is in defensive mode and morale among the rank and file in the military is probably the lowest at any point in history, given the fact that thousands of them have already deserted to the liberated areas and they have said many more of their comrades would leave if they had the chance to escape safely.
It may look like top military brass are still united behind Min Aung Hlaing. That is not the case either. During the last two years, he has fired his top government ministers and top military leaders including the defense minister, Chief of the Air Force, heads of the police force, and people in his military junta, which he calls the "State Administrative Council (SAC)." It is just a matter of time before some of his loyal supporters could become the next victims of Min Aung Hlaing. Perhaps, it is time for YAMAMIN to send out the notice again, "Will finder please kick him back to hell?"
(PS, In 1936, The Hell-Hound at Large story was published in the Rangoon Student Union's magazine, Oway, and the editor was Aung San, father of Aung San Suu Kyi. After the story was published, the Rangoon University Rector forced Aung San to give him the real identity of the author and he refused. He was expelled from the university as a result. At least the British colonial authorities did not put him in prison, torture, or execute him).