FROM THE DVB NEWSROOM
EU calls for release of arrested garment factory workers
The European Union Delegation to Myanmar called for the immediate release of six workers and labor rights organizers from the Hosheng Myanmar Garment factory arrested in Shwe Pyi Thar Township from June 14-16. The delegation emphasized the importance of operating in accordance with the International Labour Organization's (ILO) Declaration on Fundamental Principles and Rights at Work. "We also share the wish of the workers at Hosheng Myanmar that their colleagues who were negotiating better working conditions on their behalf should be reinstated," stated the E.U. in Myanmar on its Facebook page. The arrests were in response to a protest staged by the factory's workers during a labor dispute.
'Flower Strike' participants detained in Yangon
Arrests were reportedly carried out across Yangon on those who allegedly participated in the "Flower Strike" to commemorate Aung San Suu Kyi's birthday from June 19-20. One woman was arrested at her home in South Okkalapa Township on June 20. Two other women were arrested in South Dagon and Thone Gwa townships. "There were nearly 70 people arrested in Yangon. Some of them were released already. Ten people were charged and questioned at the interrogation camp," said an unnamed source in Yangon.
US places sanctions on regime defense ministry and two banks
The U.S. sanctioned the regime's Ministry of Defense as well as two state-owned banks on June 21. Myanmar Foreign Trade Bank (MFTB) and Myanma Investment and Commercial Bank (MICB) oversee much of the foreign currency exchange in Burma as well as facilitate financial transactions between the regime and international markets. Read more here.
News by Region
KACHIN—The Burma Army arrested at least 30 people and set fire to an administration office of the Kachin Independence Army (KIA) in Sai Taung village on June 21. It raided the office on June 20. "They fired several gunshots during the raid. They arrested the people who were guarding the office and others from the area," said a Sai Tung resident. The Burma Army also burned down homes that were assumed to be connected with the KIA.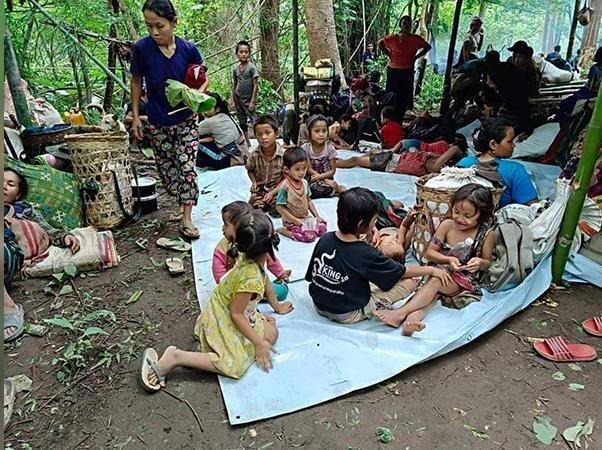 KARENNI—The number of refugees and Internally Displaced Persons (IDPs) has reached nearly 5,000 on both sides of the Thai-Burma border, states the Karenni Human Rights Group (KHRG). There are 2,000 IDPs in Mese Township and 3,755 refugees who've crossed into Thailand. They are in urgent need of food assistance, medicine and hygiene products.
A school and six houses were destroyed during an airstrike on Hpruso Township June 21. No casualties were reported. "Some houses were totally destroyed. Locals have been fleeing since that night. Nobody thought there would be an airstrike as there was no fighting in the area," said a Hpruso resident.
MON—A woman working at the Township Immigration Office was killed near the clock tower in Lamaing town, Ye Township, on June 22. "We heard a gunshot and when we came out to check, she was lying on the road," said a Lamaing resident.
SHAN—The United Wa State Army (UWSA) rejected Thailand's request for it to withdraw from military bases along the Thai-Burma border. The request for the UWSA to abandon its base was raised during the Thai-Myanmar Township Border Committee (TBC) meeting held in Tachileik on June 19. The UWSA stated that these military bases safeguard Wa territories inside Burma and that the Thai government has no right to exert pressure on Burma for it to make such a request.
YANGON—The People's Defense Force (PDF) has denied accusations that it has committed crimes. Regime media reported that six of nine individuals who were arrested in connection with armed robberies and murders in Twantay and North Okkalapa townships between March 2022 and June 2023 were members of the Twantay PDF. "We have not seen these nine individuals, and it is highly unlikely that they would possess weapons such as the M4 and M16. Twantay PDF also has its own organizational policy," said a North Okkalapa PDF spokesperson.
Read our latest story 'This is home now' Rohingya refugees in India fear returning to Myanmar.