FROM THE DVB NEWSROOM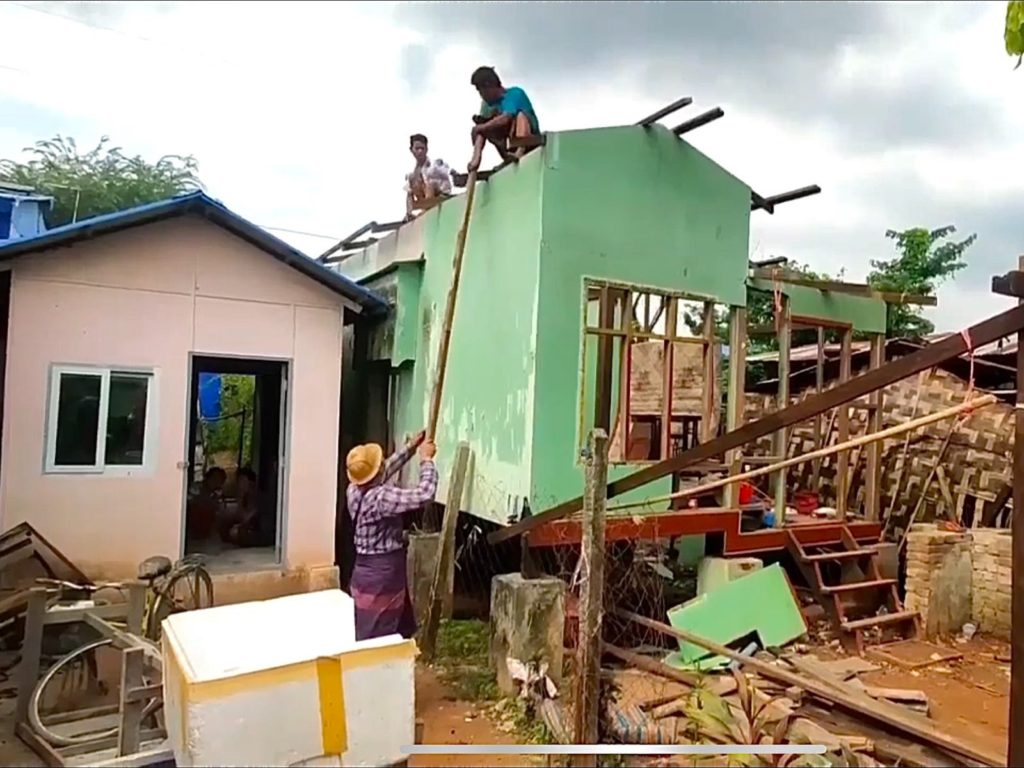 Three residents of Yangon's Mingaladon Township facing eviction from their homes and land in Pyinmabin village tract have committed suicide, according to locals. More than 50,000 people have been made homeless due to the evictions carried out by the Ministry of Defense, which claims that it owns the land. It ordered all residents to vacate the area by Nov. 25.
"The majority of the residents in this area lived there for 10 years and some of them have built nice houses and other buildings. One resident took his life by hanging himself on a tree near his house on the same night he received an eviction notice letter," a resident of Myal Myan Aung ward told DVB. "Although they forced us to leave our homes and told us to destroy our houses, they didn't arrange to relocate us. We are now homeless and it is difficult to move elsewhere as administrators will not put us on guest lists," a resident of San Thamadhi ward said.
Retired Burma Army official assassinated in Yangon
A high ranking retired Burma Army official was killed at his home in Thingangyun Township on Nov. 24. An undefined gunman is reported to have shot Colonel Zaw Naing Win while he was watering plants. "I heard the sound of gunfire. Police and military vehicles entered and [the retired officer] was carried away by an ambulance," a resident told DVB. "He was shot in the chest. He is in grave condition. Now he has been sent to the No. 2 military hospital in Mingaladon," a source close to the junta's administration said. No group has yet claimed responsibility for the attack. On Sept. 24, another retired high ranking Burma Army officer, Ohn Thwin, 72, was assassinated along with his son-in-law in Yangon's Hlaing township.
Political prisoners receive additional prison sentences
Eleven political prisoners, including National League for Democracy MPs and activists, were sentenced to additional 20 years respectively by a special court inside Pathein prison. The 11 have already been sentenced to two to three years on various counts. They have been detained since the coup and charged with treason and other related counts. "It is wrong that they were charged with treason just because they only expressed their desire [in anti-coup protests]," a local political activist said. "The judiciary of this country has reached its lowest point," he added. Kyaw Hla Moe is among those sentenced. He is the husband of Lonema Nyein Chan who committed suicide in April. She is thought to have taken her own life due to depression she suffered after her husband's imprisonment since the early days of the coup. More than 300 male and 70 female political activists have been held in Pathein prison since the military coup.
News by Region
KACHIN—One was killed and two were injured in an explosion at a General Administration Office in Karmai Township on Nov. 24. "A 60 mm shell fired from nowhere dropped into the office. I don't know which group did this," a source said. The ceiling and other parts of the building sustained damage and one of the injured is in critical condition. Security forces set up check-points following the explosion.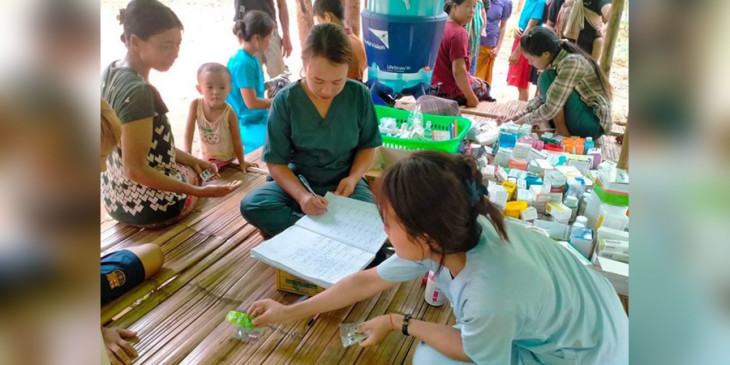 KARENNI—Demoso residents displaced by the conflict need medical supplies following a flu outbreak. "The infections have been occurring since the end of September," a local health worker told DVB. There are insufficient medical supplies in the township due to the increasing number of patients. "The main difficulty regarding health is medicine. We are experiencing a lot of difficulties because of the restrictions on the transportation of medicine," a volunteer said. Around 200,000 people have fled Karenni State since the coup, and 93 people have died, according to the Progressive Karenni People Force (PKPF). Most of the deaths are due to a lack of medical treatment and supplies, the PKPF said.
MON—Three Ye police officers were reportedly killed on Nov. 23. "They were attacked with both small and heavy weapons. The car was also set on fire. An M16 rifle and other weapons were taken [by resistance fighters]," a source told DVB. The resistance group Ye Balu (Ye Ogre) released footage of the attack. "We pledge to the public that we will continue to carry out more missions which are more ambitious than this [attack] in Mon State," a Ye Balu spokesperson said. "They didn't even have time to shoot back. We conducted the attack amid tight security," another member told DVB. Ye Balu alleges it has conducted attacks against more than two dozen soldiers, police officers, and informants.
SAGAING —A 70-year-old woman was killed at her home by an artillery shell in a village located in Kalay Township on Nov. 22. It has been reported that an elderly woman died in a similar attack in Saegyi village on Nov. 21.
Burma Army troops guarding the junta-owned Myanma Economic Bank (MEB) in Myinmu town were attacked with grenades on Nov. 22, allegedly killing five. Three resistance groups jointly claimed responsibility for the attack. "We threw bombs at the site where seven troops were deployed," a member of one of the resistance groups told DVB. The resistance groups did not report any casualties. DVB could not independently verify the resistance groups' claims of Burma Army casualties.
YANGON—A 38-year-old man was killed in an explosion at a restaurant in Sanchaung Township on Nov. 23. "At first I thought it was a gas explosion. Then, I learned that it was a bomb blast, and a man lost both his legs and was injured in the abdomen. An ambulance came to take him to the hospital, but he was already dead," a resident told DVB. The victim was reported to be the nephew of the owner of the restaurant. The motive behind the attack is not yet known and no group has claimed responsibility for the attack.