Cinema-goers in Rangoon are in for an exciting weekend with 37 new movies and documentaries scheduled over four days at the Wathann Film Festival.
No less than 18 of the productions are Burmese, including short films and documentaries, at this competition, which aims to give independent filmmakers a platform and is now in its fifth consecutive year.
Co-founder, organiser and filmmaker Thaiddhi said, "There was no space [for Burmese moviemakers] to show our films. The mainstream movie industry is large in Myanmar [Burma], but there was no space for independent film. So we decided to make a festival for it."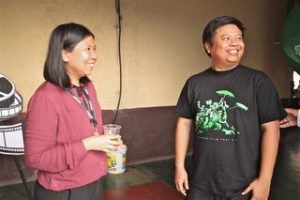 In the opening session on Wednesday, four competing movies were screened, all depicting regular people's lives in Rangoon. Lamin Oo, director of Special One, created a documentary about a football-crazed fishmonger who makes his whole team wear Chelsea FC shirts. Lamin Oo told DVB he wants to show the world that Burma is more than just politics.
"I think the international society sees us very much through a political lens. I want to show that we are more than that."
Lamin Oo´s last movie, 'This Land is Our Land', a tale about the struggles of Burmese farmers, won two awards at the Human Rights Human Dignity Film Festival, and was mentioned by US President Barack Obama when he visited Rangoon last year, when he spoke of the importance of telling stories in order to change society for the better.
Person-centred films seem to be a theme for Burmese short-film makers. 'The Barber' by Anna Biak Tha Mawi received a standing ovation for her depiction of life in an old-fashioned barbershop in Rangoon. The protagonist is a former state employee, and while he talks to his customers about life, politics and current events, he also chatters about how he cuts the hair of government ministers, including travelling all the way to Bagan with one ministerial client to cut his hair.
"I think the film was well received because the barber makes a connection with people, and then that happens with the people watching the documentary as well," says the director, who made the film as part of her studies at Yangon Film School.
[related]
"The topic we worked with was change, and I think the way the barber uses the really old equipment and talks about his past as an official, at the same time as he has younger customers and is able to talk openly about politics, shows some of the change in our society today."
In addition to Burmese short films, about half of the program consists of short movies from elsewhere in Southeast Asia, as well as a small programme of German films, supported by the Goethe-Institut.
The Wathann Film Festival is held in Rangoon´s oldest movie theatre, the Waziya Cinema, and the winners will be announced and have their movies screened on Sunday, 13 September.