At least five people have been killed as homes and bridges were washed away in the Arakan State town of Ann following fresh floods over the weekend, according to locals.
Thwe Thwe Soe, an Ann resident, told DVB the town was severely affected by surface runoff from surrounding hills on 27 and 28 June which inundated the majority of homes.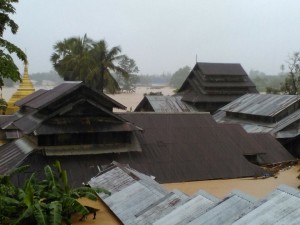 "As of now, we don't have the exact details of deaths and injuries from this disaster but as many as 10 people are feared dead. We have so far recovered and buried five bodies," she said, adding that a schoolboy and a servicemen from the Burmese army's Field Artillery Battalion were among the dead.
"The first victim was a ninth grader who stayed at a local monastery with his younger brother to attend school. When the rain started, the brothers decided to return to their village on a bike. The boy was swept away by strong current upon crossing the Lontan bridge, but his younger brother survived," she said.
The soldier, according to local accounts, was attempting to cross an inundated road when he was swept away by the runoff.
Ann, situated at the confluence of Ann and Tharu creeks, was soon awash from the overflow of the two waterways, despite being built on high ground. Thwe Thwe Soe said many locals had to evacuate their homes amid the fast-rising water and were unable to salvage their belongings.
"We presume the cost of destruction to be high as many rice and cement warehouses were destroyed. People had to flee for their lives as the water came really fast and they couldn't grab any of their belongings," she said.
[related]
Thwe Thwe Soe said some homes were completely inundated or washed away in the flooding, and that transportation had almost completely broken down.
"As for transportation, the road to Tattaung [village-tract] has been destroyed. The Sittwe-Rangoon Highway has also been cut off as bridges along the road have fallen. As a result, the flow of commodity goods has completely stopped and prices have risen," she said.
"The price of oil has gone up from 1,300 kyat to 2,000 kyat (US$1.30 – $2) per a bottle, and rice and vegetable prices are also going up."
As the water subsided on Monday, locals began cleaning up the town, which had been left completely covered in silt. The town is now under threat of waterborne diseases as local freshwater wells were contaminated in the flood. Locals said no relief assistance whatsoever has come from the government or civil society organisations.
Meanwhile, residents in the town of Sandoway [Thandwe], which was also hit by fresh flooding, have begun a clean-up on Monday when the water subsided.