FROM THE DVB NEWSROOM
Fourteen arrested for film accused of harming Buddhism
A Swiss citizen along with 13 Burma nationals, including a 12-year-old girl, were arrested on Aug. 8 for their roles in the film "Don't Expect Anything!" Didier Nusbaumer, 52, and the 13 others are being investigated at Mandalay's Aungmyaythazan Township Police Station for allegedly harming Buddhism. The film was released online July 24. Pro-regime social media channels accused the film of using language that "insults the morals of the monks and harms the cultural traditions of Buddhists." A Mandalay-based monk responded to these accusations, stating: "It's not such a bad [film]. If you watch just one scene, you might think it insults the Buddhist religion. But you will understand what the presentation is about only if you watch the entire film." A spokesperson from the Swiss Federal Department of Foreign Affairs told CNN on Aug. 19 that it is in contact with the relevant authorities to seek clarification.
Prison delivery group lacks funds to meet demand
Htaung Win Sar Po Kya Mal, or Let's Deliver Parcels to Prison, is an anonymous group that provides food and funds to political prisoners across the country. "People have been asking for more help from us lately but we've received less donations," said a member. The group reduced its monthly amount for each political prisoner from K35,000 to 20,000 [$16-$12 USD]. It needs K11 million [$5,238 USD] monthly in donations to assist 500 political prisoners. The group provided goods or cash to 483 political prisoners in August. More than 19,000 people have been jailed and sentenced in Burma since the 2021 military coup, states the Assistance Association for Political Prisoners (AAPP).
H&M to end sourcing from Burma
The fashion retailer H&M will gradually phase out its sourcing from Burma, Reuters reported. "After careful consideration we have now taken the decision to gradually phase out our operations in Myanmar," H&M told Reuters. The move comes after the fashion retailer announced it would investigate 20 alleged cases of labor abuse at its supplier factories in Burma. Other fashion companies such as Zara owner Inditex, Primark, and Marks & Spencer previously cut ties with suppliers in Burma. Labor abuses in the country have become more widespread following the 2021 military coup.
News by Region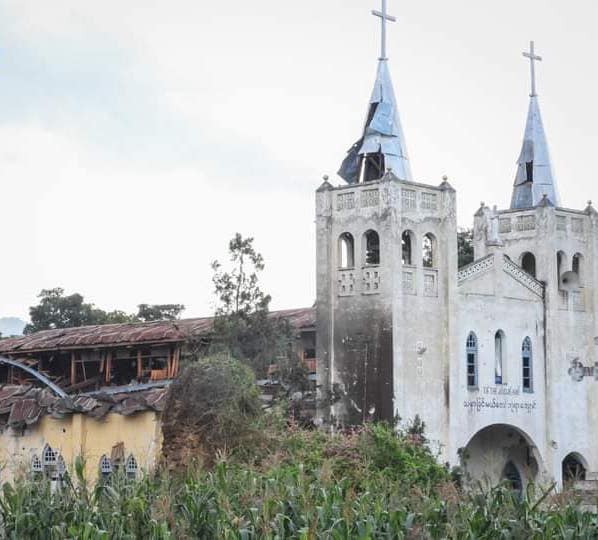 KARENNI—The Karenni Nationalities Defence Force (KNDF) states that a church located in Hpruso Township was damaged in an airstrike on Aug. 12. No casualties were reported. The KNDF advised people not to use the Demoso-Hpruso Road, where fighting was taking place against the Burma Army.
KACHIN—The manager of Green City KTV and Restaurant in Hpakant was killed on Aug. 17, locals said. "The assailants came on a motorcycle and fired four times," said a witness. Last month, the owner of another KTV and hotel in Hpakant was murdered.
MAGWAY—The child mortality rate has reached 60 percent due to the lack of nutritious food, water and medicine for pregnant women in Salin and Gangaw Townships. "Six out of ten children die in childbirth," said Nay Mon, spokesperson of the Myanmar Student Christian Movement-Magway Region (Myanmar SCM-Magway), a group that helps pregnant women. "We get supplements and food if we have donors. But now, we don't even have drinking water and have to rely on rain water," said a pregnant woman from an Internally Displaced Persons (IDP) camp. Since the 2021 coup, Salin and Gangaw residents have been forced from their homes due to fighting between the Burma Army and the People's Defense Force (PDF).
MON—The home belonging to a family member of the deputy chief of the Kyaikto Revolution Force (KRF) in Kyaikto Town was sealed off by the Burma Army on Aug. 17. "That is not my house. It belonged to my mother-in-law. I lived there once and they knew it," said Ye Thway Ni, the KRF deputy chief. Ye Thway Ni is wanted on 10 charges under the Counter-Terrorism Law.
SAGAING—An Indaw military court handed life sentences to two men arrested in June for allegedly providing food to the PDF on Aug. 15, regime media reported. Aung Zaw Oo and Tin Myint from Kan Ni village in Indaw Township were charged with sedition and violating the Counter-Terrorism Law. Martial law was imposed on Indaw Township last February. At least six people were arrested Aug. 9-14 after their phones were searched at a Burma Army checkpoint.
AYEYARWADY—Two men from Hlaingthaya and Dagon Seikkan Townships in Yangon were arrested at a guest house in Ngathaingchaung town of Yegyi Township on Aug.19. "They were carrying weapons," said a source close to the local administration. The two men are being investigated at the Ngathaingchaung Police Station.
BAGO—A freight train on its way from Mandalay to Yangon derailed in Bago Township after a landmine explosion on Aug. 18, according to railway workers. "Many trailers collapsed but not the train head. There is a lot of damage," said a railway worker. Nobody was injured. Cargo was destroyed. The railway will be shut down for repair. No groups have claimed responsibility for the attack. This is the third landmine explosion on the railway since July.
Read our latest op-ed: Empowering Advocacy for Myanmar in the diaspora by James Shwe.