The leadership of Burma's main opposition party, the National League for Democracy (NLD), has ordered a ban on its candidates from speaking to the media ahead of a general election in November.
As party leader Aung San Suu Kyi continued a whirlwind tour of Karenni State this weekend, the NLD's state chairwoman in the region, Khin Sithu, spoke to DVB. She said that party candidates have been told to avoid speaking to the media for three weeks.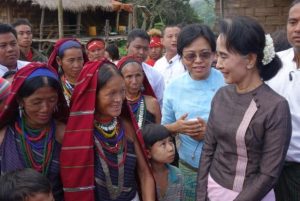 The NLD's spokesperson for election candidate affairs, Win Myint, said the party ordered the ban after discovering that some of its candidates had been making promises to their constituents of their own accord, without conforming to the party's campaigning policies.
"Some of them have even written their own manifestos that are not in line with the party's official policies," he said. "They shouldn't be making promises that they cannot deliver on."
The NLD issued a similar media restriction to its parliamentary candidate nominees while they were awaiting confirmation by the Union Election Commission last month.
Meanwhile, the NLD chairperson continued electioneering in Karenni with some outspoken comments.
Speaking in Shadaw, she blamed the country's poverty on decades of military misrule.
According to a report by Eleven Media, she told supporters at a rally: "Kayah [Karenni] State is very rich in natural resources. However, the people are poor … Our system of government is incorrect. If executives are the first priority and not the people, then the country will never be rich. We must change it. People need to be rich. It is shameful that people are poor while the executives are rich.
"The current government is related to the former military dictatorship that ruled the country for more than 50 years," she reminded her audience.
Speaking to mostly ethnic voters in the Karenni town of Hpruso on Friday, Suu Kyi promised that the NLD would, if elected, take the lead in the peace process and ceasefire talks between ethnic armed groups and the Burmese army. She also said that her party was committed to federalism.
"Since it was formed in 1988, our National League for Democracy has stood firmly for the establishment of a democratic federal union," she said. "This policy has not changed. Federalism will bring the unity and peace to our ethnic nationalities. We stand firm on this policy."
[related]
Suu Kyi has attended party rallies in Karenni State at Demoso, Hpruso, Bawlakhe, Hpasawng, Loikaw and Shadaw since campaigning officially began last Tuesday.
Burma goes to the polls on 8 November.
Read more DVB coverage of the 2015 election