Burma's Department of Fisheries has instituted legal proceedings against twelve factories in Amarapura, claiming that industrial waste from their sites has run off and killed a massive amount of fish and wildlife in Taungthaman Lake, an Amarapura police station officer has confirmed to DVB.
The government department is suing the factories under the Freshwater Fisheries Act, Article 45.
Myo Aung, the director of the Mandalay region for the Department of Fisheries, explained the government's case.
"We have the results of an investigation on water quality and we have evidence from a survey by the municipal Water and Sanitary Department," he said. "We filed the suit at the local police station on 4 May. They [the factory owners] have the right to prove that their waste water was clean with the support of experts."
The factories charged include an alcohol factory, a sugar processing plant, a leather factory, a fertilizer plant, a paper factory and a soap powder factory. All are based in Amarapura and Pyigyitakhon townships, located just south of Mandalay in central Burma.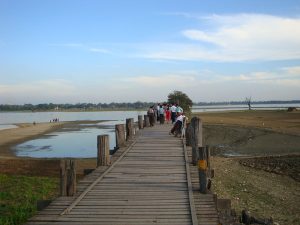 It is alleged that run-off from the factories has severely affected Taungthaman Lake. A short DVB documentary last week portrayed scenes where thousands of fish lay dead on the water's surface while ducks and other wildlife have also died from ingesting the poisoned fish.
The 12-kilometre lake is one of the region's best known landmarks and is home to the world-famous U Bein Bridge, a 1.2km wooden bridge built in the mid-19th century that spans the lake. The site is a favourite among tourists, but many have recently complained of the lake's foul smell. A fish breeding project has failed due to the stagnant water and this most recent case involving polluted waste water will do little to enhance the picturesque reputation of the lake.
Locals have told DVB that this is the third time in recent years that a mass death of fish has occurred; but this time is by far the worst, they said.
Soe Win, the chairman of the local boat club at Taungthaman Lake, explained:
[related]
"A lots of fish died, mostly in the northern part of the lake. The weight of the dead fish is estimated at around 30,000 to 40,000 viss [50,000 – 65,000 kg]," he said. "This year is the worst. I think the water was contaminated with bleaching chemicals. The smell of the water was fishy and when the winds come it mixes with the undersoil and kills the fish. I believe that if waste water continues to be dumped in the water, it will kill the lake."
Local Amarapura authorities say they are now drawing up plans for education and public awareness programmes on waste separation and recycling of waste.
In the meantime, the municipal committee has temporarily postponed the renewal of licenses for 17 factories, including the 12 plants that are being sued.