Two freight trucks carrying fruit became the latest targets in a series of roadside attacks on vehicles in northeastern Shan State as hostilities continue in the region between Kokang rebels and Burmese government forces.
Police Commander Aung Myat Moe of the Shan State Police said an attack using hand grenades was carried out on Tuesday by about 15 unidentified men in camouflage uniforms who pulled the truck drivers over on the highway between the border towns of Muse and Pangsai [also written Pang Hseng].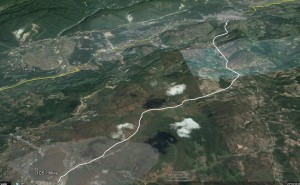 No one was reported injured, but one of the lorries was destroyed.
The trucks were en route from Muse's 105-mile Trade Zone, a large trading camp at the Sino-Burmese border which handles up to 70 percent of all cross-border trade.
"It was reported to us that a group of 15 men in camouflage uniforms approached a truck full of watermelons," the police commander said. "They asked the occupants of the vehicle if they had received a letter demanding extortion money. When the drivers said that they had, one of the assailants shouted, 'Then why didn't you pay?' and threw a homemade bomb into the front seat."
The drivers evidently escaped but the truck was destroyed by the blast.
"They also attacked another fruit truck in the same manner, however the device failed to explode," said Aung Myat Moe.
The police commander said that units of the Kachin Independence Army (KIA) are active in the area where the attack took place, and that they are "notorious" for extorting local businesses.
"They usually send out letters demanding money from local businessmen and threaten them with violence if they do not pay up," he said.
La Nan, a spokesperson for the Kachin rebel group, confirmed that the KIA's 9th Battalion is based in the Pangsai highway area but denied that its soldiers extort local businesspeople.
"This area is patrolled by our 9th Battalion, but also by other armed groups and perhaps even some opportunists disguised as militiamen who are taking advantage and committing crimes," he told DVB on Tuesday. "It is not unusual that someone points a finger at the KIA whenever such an incident happens."
It is unclear whether the KIA is allied with Kokang rebels against government forces in the most recent outbreak of violence in the restive region, which began on 9 February when Kokang units of the Myanmar Nationalities Democratic Alliance Army (MNDAA) launched an attack on Burmese army positions in and around the town of Laogai.
No connection has been drawn between Tuesday's attack on the freight trucks and the Kokang conflict, nor to recent incidents where non-military vehicles have been ambushed.
[related]
A convoy transporting prisoners from Laogai to Lashio was attacked on Monday, according to a state media report. And last week, two separate ambushes took place on Red Cross convoys which were transporting refugees from Laogai. Both the Burmese military and the MNDAA have denied responsibility.
An estimated 130 soldiers from both sides have been killed since the outbreak of hostilities, while the number of civilian deaths is unknown. Between 30,000 and 100,000 people have been displaced from their homes, many of whom have taken refuge in shelters in Nansan, on the Chinese side of the border.
Also last week, a technician for state-run MRTV in Muse was abducted from his home by three masked men – he is yet to be found.