Burma's Regional Military Command (RMC) base in the northern Shan State city of Lashio came under attack by unknown gunmen on Wednesday night. There were no reports of deaths or injuries.
Ko Tun, a local news reporter, told DVB that unknown assailants arrived in two trucks at around 8pm on Thursday in Lashio's Ward 10 neighbourhood and quickly fired two rounds from what are assumed to be RPGs at an aircraft hangar in the RMC headquarters about 200 yards from their position.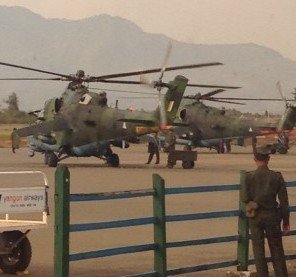 "They fired what looked like RPGs into the hangar where helicopter gunships were stationed," he said. "They shot two rounds, aiming for the helicopters and other aircraft, but missed their targets. The missiles landed in a sugarcane field nearby.
"A local man [name withheld] encountered them. They pointed guns at him and ordered him to kneel down and be quiet. Then they attacked the military base.
"According to the local man, all of the assailants had a Shan-Chinese appearance, and were dressed in civilian clothing. He said there were quite a lot of them but that they fired and were gone within a minute."
Local police say they are currently investigating the incident using CCTV footage from a nearby residence. Speaking to DVB on Friday, Lashio Township police chief Tin Pe Win said security in the town has been tightened.
The Lashio attack marks the second incident targeting high-level Burmese military facilities since the Kokang conflict ignited. Rebel combatants struck at the Military Operations Command headquarters in Kokang capital Laogai in February.
Tens of thousands of civilians have fled the Kokang capital. Most of the ethnic Kokang or Chinese-speaking refugees are mostly being sheltered in Nansan on the Chinese side of the border, while the Burmese have mostly fled to Lashio.
[related]
The Kokang rebels, who call themselves the Myanmar Nationalities Democratic Alliance Army (MNDAA), are currently being supported by ethnic allies, most notably the Ta-ang National Liberation Army and the Arakan Army.
Until the outbreak of hostilities this year, the Kokang Special Region had enjoyed a period of relative peace. The MNDAA, under the leadership of Peng Jiasheng, enjoyed two decades of ceasefire with the government. This calm faltered in 2009 when armed groups came under pressure to transform into a paramilitary Border Guard Force under the control of the Burmese military. The MNDAA resisted this move, and tensions with the Burmese military increased, purportedly exacerbated by the MNDAA's alleged links with the drug trade. Peng Jiasheng was soon ousted in a government-backed coup, and has since lived in exile in China. The Burmese government accuse him of being behind the recent outbreak in fighting.