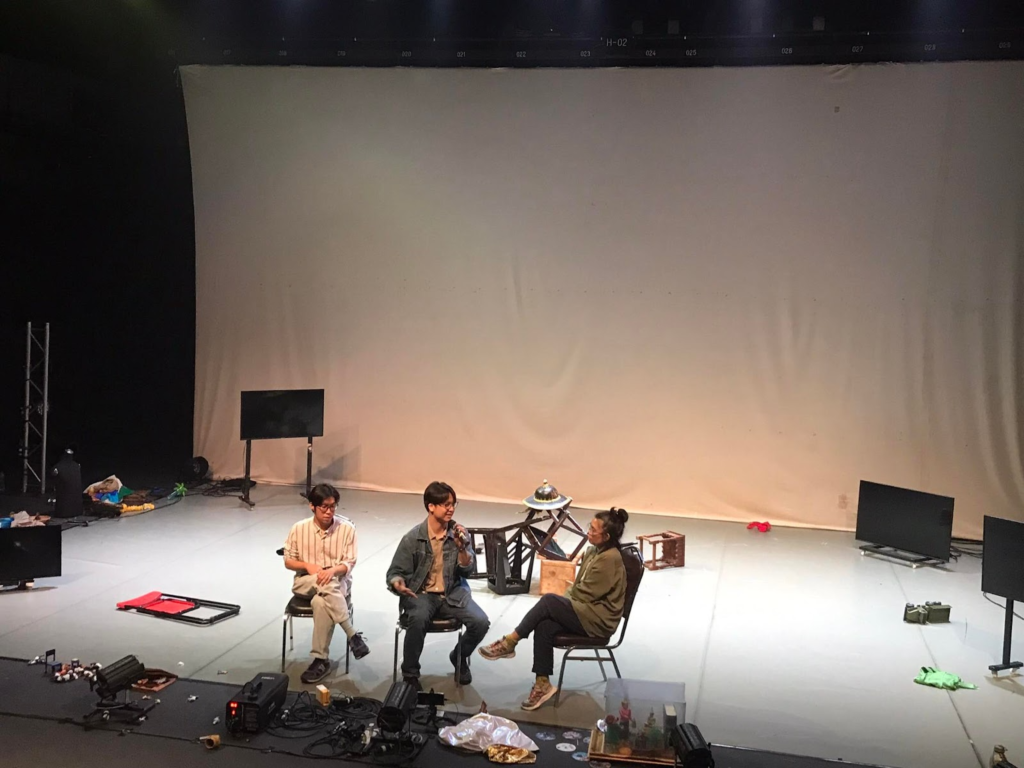 By Nicha Wachpanich from Visual Rebellion
Many countries that share a border like Myanmar and Thailand have a long history of animosity. This raises questions about the reason this mindset still exists and what's behind it. "I Say Mingalaba, You Say Goodbye", a collaborative play staged in Bangkok, attempts to find answers through an unusual theatrical structure and format. "She can not be Ja. She's Burmese!" a Thai actor exclaimed during a rehearsal when he discovered that a young woman named Nyoma from Myanmar was cast in the main role. Another Thai actor tried to help by coming up with a story that Nyoma was not Burmese, but that she just pretended to be. A Thai actress begged to give Nyoma a chance. The situation reflects the prejudice and discrimination that persists between the people of these two neighboring countries sharing a 2,400 km border.
"I Say Mingalaba, You Say Goodbye" is a satirical play by Thai playwright and director Jarunun Phantachat. Commissioned by the Kyoto Experiment, the show was staged in Thailand for the first time during the recent Bangkok International Performing Arts Meeting (BIPAM) in March 2023. This play experiments with fictional narratives and personal experiences from the crew, exploring how personal understanding connects to the political agendas of those in power. Inspired by her experience in a collaborative project with Burmese artists in 2019, Jarunun chose to write a play about Myanmar. However, the 2021 military coup in Myanmar stopped her from visiting the country. As a result, the Thai director researched using textbooks, and by reading the news. She realized that she knew little about Myanmar. And she has been conditioned since childhood to perceive the Burmese as Thailand's greatest historical enemy, from ancient times to the present day.
A historical context must be provided to understand the current tensions between the two countries. Before Myanmar was colonized by the British in the early 19th Century, the kingdoms of Siam (now Thailand) and Burma (now Myanmar) had been waging war over resources and power for many centuries. A conflict called the Burmese–Siamese War led to the loss of the Siamese ancient capital of Ayutthaya in 1767. A lot of stigma is attached to Myanmar due to the way this event is taught in Thai history classes. But Jarunun began to question the nature of this historical stigma between the two countries.
Turning toward the personal approach to staging the play, the three Thai and Burmese actors went through a series of workshops to uncover their personal experiences with the two countries. The experiences contribute to the main focus of the story. It allows exploration of the way personal understanding links intricately with the political agenda programmed by those in power into the people.
In order to challenge the grand narrative, the play blurs the boundary between stage and reality by allowing the actors to go by their real names and act as themselves. For example, arguing over who should play the main character Ja is something Jarunun, herself, experienced. The scene is open to many interpretations. For example, is she a cult leader or a royal family member? This ambiguity is acting as a narrative of this fictional universe where characters fight to have space for their understanding and perception of the two countries. In the fragmented scripts switching back and forth among five languages (Thai, Burmese, English, Japanese, and French), they eventually agreed, "there is not only one Ja. Everybody can be Ja."
"We have to take more time studying world maps," said Jarunun during the post-show talk. She is expressing her desire to expand a worldview beyond Thailand. "Should we adjust what we perceive as the center? Thailand is not the center of the universe," she added. As much as 'I Say Mingalaba' is very political, it is also full of memes. For example, as a cult leader, Ja's face is shown everywhere. How many faces of Ja are in the play? Jokes from Thai and Burmese culture are used throughout. One particular joke involves the border towns of MaeSai-Tachileik. The joke acknowledges the fact that the border town is well-known by Thai tourists for its movie pirating industry. It also includes references to the conflict between the ethnic Mon and the ethnic Bamar populations, which can be perceived as a delicate issue. Relevant to this is the fact that Nyoma is not actually a Burmese, but a Mon from Myanmar.
Another character in the play is Poa, a so-called "Thai guy," who stands up for Nyoma. Originally from northern Thailand, he often points out that he is Lanna – the name of an ancient kingdom in what is now Chiang Mai – a haven for foreign tourists and digital nomads. Located close to Myanmar, Lanna was under the rule and influence of Burmese kingdoms for many centuries as seen today by the many Shan and Mon cultural symbols present in Chiang Mai. It officially became a part of the kingdom of Siam in 1889 through a marriage between a Lanna princess and the King living in what is now Bangkok. The marriage was a diplomatic mission from Siam to prevent invasions by centralizing power in Bangkok.
From ancient times until the modern day, history is written by the victors. It is interesting to find the answers to the question of who the victor is in this situation. The play "I Say Mingalaba, You Say Goodbye" does not give clear answers. As both countries face a similar cycle of seemingly endless military rule, Thai and Burmese people may recognise they share a common pain and struggle. This could lead to more solidarity with their neighboring country than they used to have. The play is successful if it raises the social and political consciousness of its viewers by allowing Thai and Burmese people to recognise that they are not each other's problem.
Follow Jarunun Phantachat and her collective at B-Floor.
Visual Rebellion is a collective of journalists, photographers, filmmakers, and artists who came together in the aftermath of the 2021 Myanmar military coup. Our aim is to provide young creators with the necessary resources to keep producing factual stories about what is happening on the ground. We partner with international organizations and media outlets to fund and spread our work. We also offer diverse ways that you can support the project.