Myanmar's military junta announced the release of Japanese documentary filmmaker, Toru Kubota, and three other foreign nationals on November 17, as part of an amnesty of 5,774 political prisoners. The International Federation of Journalists condemns the junta's ongoing flagrant violations of human rights and calls for all political prisoners jailed by illegitimate military courts to be released immediately.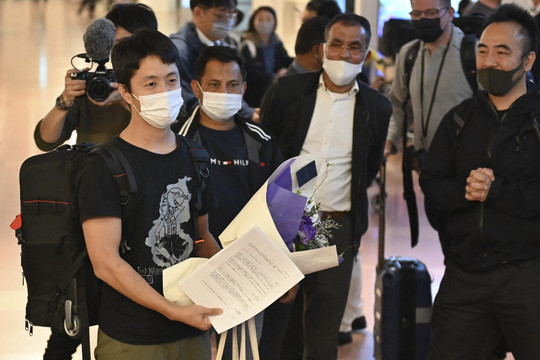 The junta announced the prisoner amnesty under Myanmar's Code of Criminal Procedure, Section 401, Sub-Section (1), with the Assistance Association for Political Prisoners (AAPP) confirming the release of 53 identified prisoners by the evening of November 17.
The released included foreign nationals Toru Kubota, Australian economic advisor Sean Turnell, former British diplomat Vicky Bowman and American Kyaw Htay Oo. Kubota returned to Japan on a commercial flight on November 18.
Kubota, who has contributed to international media outlets including the BBC, Al-Jazeera and Vice Japan, was arrested on July 30 while covering an anti-junta protest in Yangon. The filmmaker was sentenced to 10 years in jail for two charges on October 6, found guilty of violating Myanmar's electronic transactions law, with a charge of seven years in prison, as well as a further three for incitement.
Independent media outlet, Myanmar Now, said the release of the prisoners was announced to mark Myanmar's National Day. According to analysts, the amnesty may be in response to increased pressure from government leaders at the Association of Southeast Asian Nations (ASEAN) summit from November 10-13, who criticised the military junta's lack of progress on the bloc's Five Point Consensus peace plan agreed in 2021.
The mass release comes as the military continues to attack unarmed civilian targets, including schools, churches, hospitals, and festivals, amid the ongoing nationwide civil war. The previous day, on November 16, three Burmese citizens were killed and four injured as a shell exploded in Chaung Tu Village, Rakhine State. Shelling in Maungdaw Township's Gyake Chuang Village the same day also killed 11 local civilians and injured 24 others.
The IFJ's report, The Revolution Will Not Be Broadcast – Myanmar: IFJ Situation Report 2022, highlights the inadequacy of global action, including ASEAN's Five Point Consensus, to reject the junta and restrict the suppression and brutal campaign of aggression against Myanmar's citizens. As of the report's release on November 2, 59 journalists and media workers were incarcerated by the junta in Myanmar.
The IFJ said: "The release of video journalist Toru Kubota and other political prisoners is a distraction to legitimise illegal coup leaders and divert attention from the ongoing human rights atrocities being committed across Myanmar. The junta must release the thousands more political prisoners, including over 50 journalists, sentenced through sham military courts under draconian legislation. The IFJ calls on the international community to increase pressure on Myanmar's military junta to guarantee the safety of all Burmese citizens and call for a return to democracy in the war-torn country."
For further information contact IFJ Asia – Pacific on [email protected]
The IFJ represents more than 600,000 journalists in 140 countries
Twitter: @ifjasiapacific, on Facebook: IFJAsiaPacific and Instagram