FROM THE DVB NEWSROOM
Independent Investigative Mechanism for Myanmar on military crimes
Nicholas Koumjian, the head of the Independent Investigative Mechanism for Myanmar (IIMM), said on Oct. 23 that the number of crimes in Burma have "unfortunately increased" and have become "increasingly brazen" since the 2021 military coup.
"But particularly we've seen many burnings of villages, aerial and other bombardments of civilian areas," said Koumjian. He added that the military has used arrest, torture and extra judicial killing against its opponents. Koumjian sat down for an exclusive interview with DVB to discuss the work of the IIMM.
More political parties to be dissolved by UEC
The Union Election Commission (UEC) Chairperson Thein Soe told political parties in Mandalay on Oct. 21 that those without the required number of members will not be allowed to operate. The regime's Political Parties Registration Law states that parties competing nationwide must have at least 100,000 members, while parties that compete within a region or state must have at least 1,000.
The UEC has approved 37 of the 64 political parties that have registered to participate in the regime's planned elections. It dissolved Aung San Suu Kyi's National League for Democracy (NLD) party and others for failing to re-register with the UEC.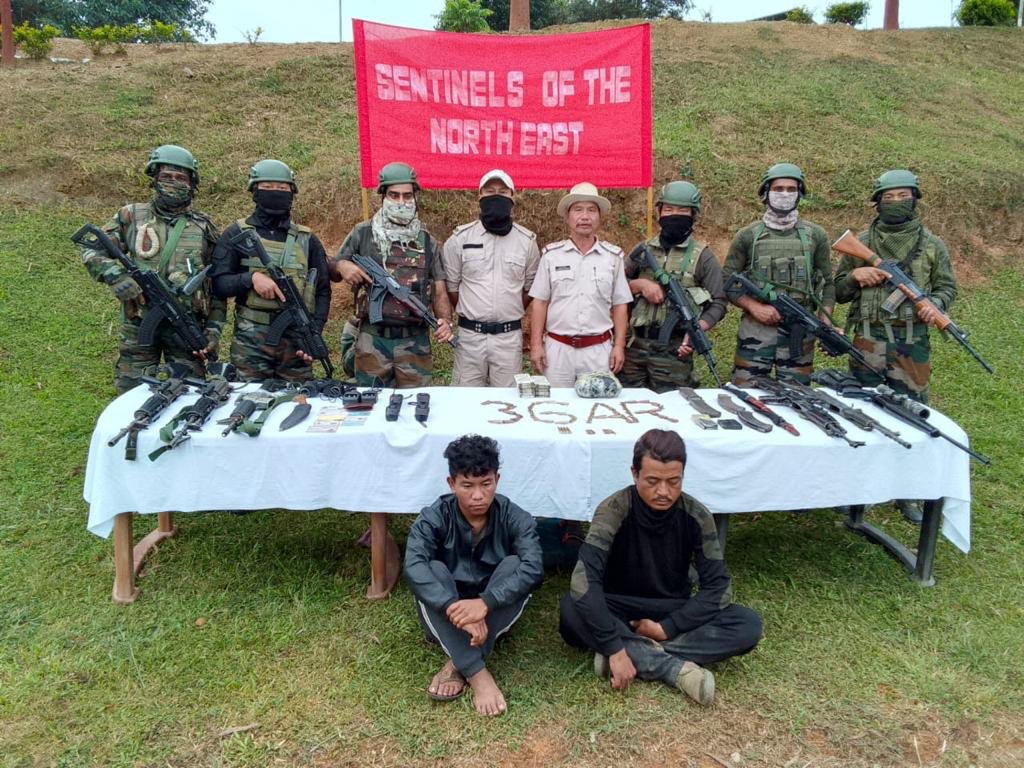 Manipur authorities arrest alleged members of Burma-based group
Manipur's Chief Minister N. Biren Singh claimed on Oct. 23 that two members of the Burma-based Chin-Kuki Liberation Army (CKLA), arrested in India's Manipur State, proved that "terror outfits" from Burma and Bangladesh have exploited recent unrest in Manipur. He cited India's National Investigation Agency (NIA).
"Today's apprehension of CKLA cadres and the recovery of weapons has yet again underscores a transnational plot aimed at destabilizing both Manipur and our nation," N. Biren Singh posted to social media. Weapons, narcotics, and cash were allegedly seized during the arrests. Over 200 people have been killed since May in violence between the minority Kuki and majority Meitei communities. Kuki have ethnic ties with Chin people of Burma.
News by Region
ARAKAN—The parents of a man who was killed during an interrogation by the Arakan Army (AA) received a compensation of K2 million on Oct. 17, the Western News reported. The victim from Kyaukphyu Township was arrested for allegedly stealing a motorbike. His body was handed to his family for burial on Oct. 11.
The AA spokesperson Khaing Thukha told Western News that it takes responsibility for the man''s death. He added that the AA members that killed the man will face "appropriate action."
BAGO—Farmers state that nearly 10,000 acres of rice fields have been destroyed due to floods in Bago Township since Oct. 8. "The local agriculture office has not even visited the affected area to assess the situation," a farmer told DVB.
The regime claimed that floods have destroyed 4,000 acres of rice paddies. More than 100,000 acres of rice fields were submerged and at least 30,000 acres were damaged by rains.
MON—One third of small businesses in Mawlamyine have been forced to close due to insufficient electricity. "Authorities provide the electricity on a rotating basis, but it is not provided correctly. So, we mostly rely on generators for our bakery. It is difficult to do business at this time," said a bakery owner. Each ward will have electricity for two hours at a time on a rotating basis.
MANDALAY—A village administrator was killed at his house in Shwedon village, Singu Township on Oct. 22. "Two gunmen with a motorcycle arrived at his home and fired four to five gunshots," said a Shwedon resident. No group has claimed responsibility for the murder.
SAGAING—A woman was arrested after being injured in an explosion inside a hospital compound in Shwebo town on Oct. 23. "The bomb was thrown at the security gate by unidentified men on a motorcycle. A woman who passed by near the explosion was injured. But they arrested her for the attack," said a Shwebo resident.
The woman wasn't allowed to be treated at the hospital and was taken to a police station. Regime media reported that she was with the group that threw the bomb.
(Unofficial rate: $1 USD = K3,280, Official rate: $1 USD = K2,100)