A few patients wearing wrinkled longyi stroll through a hallway so quiet that their conversation echoes through the North Okkalapa General Hospital, the second largest public hospital in Rangoon [Yangon].
There are no obvious signs of modernity in the facilities or atmosphere of the 40-year-old building. A wheezing air-conditioner and numerous scratches on the pale, yellow walls testify to years of hard usage. Taking photos is strictly prohibited due to concerns over privacy, perhaps only when there are international guests around.
There are 24 government hospitals in Rangoon, not nearly enough to provide reliable medical services in a city of 7.3 million. And since private hospitals serve only the affluent few, access to standard healthcare services remains poor.
[pullquote]"My father had cancer but it was initially misdiagnosed as tuberculosis by a well-known lung doctor. We found out he had stage IV cancer two days before he passed away."[/pullquote]
The development of healthcare in Burma [Myanmar] suffered badly during 60 years of isolation under the former military regime. In a 2013 World Health Organisation (WHO) report, Burma came last on a list of 190 countries for overall health system performance.
Burmese citizens who can afford it seek medical care abroad, especially in Thailand. Not everyone is so fortunate. A student who talked to Bangkok Post blames the loss of her father three years ago on the shortcomings of the local system.
"[My father] passed away three weeks after he was admitted to hospital," she said, asking not to be named. "What happened was he had cancer but it was initially misdiagnosed as tuberculosis by a well-known lung doctor. We found out he had stage IV cancer two days before he passed away.
"This experience pretty much makes me sick and scared of the healthcare system in Rangoon. The doctors are incompetent and if I'm being completely honest, there is no healthcare system."
Now that Burma has opened up to the world, it is attracting more aid, which includes medical technology, but few people in the country know how to use the equipment that has been donated.
However, the reformist government is aware that, aside from attracting high-profile investment projects, it needs to make poverty reduction an essential part of development. It plans to double healthcare spending to 4 percent of gross domestic product (GDP), notes Dr Theingi Zin, director of the Drug Control Department at the Ministry of Health.
Even that figure is modest given that equally impoverished Laos spends 4.5 percent of GDP on healthcare and Cambodia 5.6 percent.
"The planned budget is under parliamentary consideration and is expected to get approved soon in 2015. There will be a lot more expenditure on health facilities such as public hospitals and government-funded clinics compared to the past," said Dr Zin.
Only 12 percent of healthcare expenses now are borne by the government while patients, or insurers if patients can afford premiums, are responsible for the rest. Even when surgery is required, the patient must go out and purchase the surgical materials at local suppliers.
In the 2009-10 fiscal year, the most recent for which figures were available, patients in Burma had to cover 81 percent of their healthcare costs themselves, the highest of any country in Asia, according to the World Bank.
"In 2012, the budget was just approved [to pay] for emergencies. But now since there are more budget funds, almost half of some over-the-counter (OTC) drugs can be given freely," said Dr Mya Thaung, senior medical superintendent of North Okkalapa General Hospital in Rangoon.
"That needs to improve – not only the facilities but definitely the availability of manpower, doctors and other medical expertise, and there is a master plan for expansion in that respect."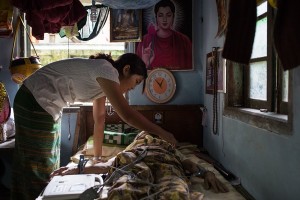 In Burma, demand remains high for simple communicable disease treatments that are safe, accessible and affordable. Inadequate sanitation and nutrition also results in high levels of malaria and tuberculosis, creating high demand for antibiotics. Malaria remains a leading cause of morbidity and mortality, while TB rates in Burma are estimated to be three times the global rate and the majority of cases are drug-resistant, according to a Forbes report.
Local people tend to consume more vitamins and food supplements than most of their Asian peers, perhaps in hopes of warding off serious illness.
"Healthcare outcomes in Myanmar have yet to achieve the level of its neighbours, especially Thailand where medical services are far more advanced and equipped with more sophisticated medical expertise," said Andrew Frye, head of the healthcare business unit at DKSH, a major logistics services provider.
"The medical system in Myanmar still lacks a lot in terms of specialised medications and other high-end medical operations compared to other countries, but the OTC drug market is growing and becoming more accessible to the people."
[pullquote]"Even though the size of the Myanmar operations compared to our global operations is still modest, it is one of the fastest-growing markets for the company."[/pullquote]
Higher government spending on healthcare has created opportunities for investors in healthcare consumer products, pharmaceuticals and medical devices. The country currently imports 98 percent of its pharmaceutical and medical products through various multinational companies.
Switzerland-based DKSH has been in Burma for 20 years, serving companies seeking to expand in four categories: consumer goods, healthcare, performance materials, and technology. It recently opened a new healthcare distribution centre in Hlaing Tharyar in Rangoon to meet growing demand.
"Even though the size of the Myanmar operations compared to our global operations is still modest, it is one of the fastest-growing markets for the company," said Dr Varun Sethi, head of the healthcare business unit for DKSH Myanmar.
The company's Burmese operations employ more than 1,600 staff at its head office in Rangoon and branches in Mandalay, Myitkyina, Taunggyi and Moulmein [Mawlamyine]. It the serves 78 international manufacturers including 32 in healthcare, delivering products to 28,300 distribution customers, including 5,200 in the healthcare category.
DKSH has seen its client base grow from just four companies in 2007 to 78, and Dr Sethi expects the number to double in the next few years. The healthcare multinationals that distribute through DKSH include US-based Johnson & Johnson and Switzerland-based Roche.
"The size of the total Myanmar healthcare market in terms of product sales is estimated at US$500 million with a growth rate of 15-20 percent," he said. "By 2018, total market sales will reach $1 billion if it continues steadily like this."
Medical products manufactured in the United States dominate the market in Burma. European clients tend to be more cautious about new markets, but they move quickly once they decide to enter. Japanese investors are the most confident because they are more familiar with the region. Ten percent of healthcare goods marketed in the country are from Association of South East Asian Nations (ASEAN) and Chinese businesses.
"International companies usually come with questions or uncertainties about whether and how to tap into the Myanmar healthcare market. Most want us to provide an empirical forecast on how fast they can grow in Myanmar, and how much DKSH can help ease their expansion plan," said Mr Frye, adding that international sanctions was a major concern in the past but it is now easing.
[related]
"We encourage any company to come to the market to get in touch with the reality and to relish the benefit of economic changes because there is huge opportunity in terms of growth potential."
Abundant investment opportunities in Burma, boosters believe, are supported by a land area double the size of Vietnam, a population base of 53 million, an expanding middle class, improving disposable income, and stable GDP growth in the range of 8 percent yearly.
However, challenges include unclear regulations, complicated marketing channels, cash-oriented transactions, and access to rural market areas. Frequent electricity outages, even in Rangoon, increasingly congested traffic, and weak physical infrastructure, such as telecommunication systems and transport, are also drawbacks.
Bertrand Sauvageon, the DKSH regional vice-president of the healthcare business unit for Indochina (Vietnam, Laos, Cambodia and Burma), believes these obstacles will be overcome in time.
"The reformist government has committed to driving the country forward," he said. "The national economy is performing at its best in terms of growth acceleration. If the reform continues as it has started, the market will certainly catch up and it will grow really fast."
The advent of the ASEAN Economic Community (AEC) should provide a further lift, although it will not be a panacea, Mr Frye cautioned. There is already strong collaboration across the region but ASEAN still cannot be seen as a single market platform as there are differences between countries in terms of languages, stages of logistics development, and in distribution platforms, he said.
"The AEC will pose fewer barriers, but at the same time promote more competition in which healthy competition is good for regional economic growth," he said.
"After things stabilise, there will be acceleration. Now the future is still unclear but we are eager to see what's coming next."
This article was originally published in the Bangkok Post on 9 February 2015.