A Japanese company has contacted the Burmese embassy in Tokyo with a request to buy fresh green tea leaves in bulk.
"The Japan Greentea Company distributes dried tea leaves around the world," the embassy's economic councilor Min Zaw Oo told DVB.
"Now they are thinking about fresh leaves – the same as the ones we eat in lahpet [pickled Burmese tea leaf salad].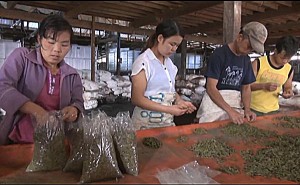 "They want to import tea leaves from Burma, then retail them in Japan and perhaps other countries," he said. "They have requested that the embassy connect them with reputable firms who cultivate and sell fresh green tea leaves. And we are working on it."
Min Zaw Oo said details of the offer to import fresh tea leaves to Japan has been passed to the Ministry of Commerce.
Yujiro Mishima, the head of the Overseas Trading Department at Japan Greentea Co Ltd, confirmed the company's interest to DVB, noting that Burma is a major producer of fresh tea leaves.
Mishima said that the concept of eating green tea leaves was completely new to the Japanese, and that he had "no idea" how it would be received.
"We can export green tea overseas. But we eat no green tea in Japan, you know," he said on Tuesday. "It is quite another business. But I think – we think – eating green tea is suitable for the Japanese market."
Japan Greentea Co Ltd was established more than 40 years ago, and has regularly imported green tea and other medicinal plants from around Asia, Europe and the Americas.
"Those Burmese companies who want to export tea leaves to Japan should be mindful of the quality,' said economic councilor Min Zaw Oo.
"The quality and packaging should be good. It should contain no dyes and be purely organic."
Tea is native to Burma, both Camellia sinensis and Camellia assamica, which are grown mainly on the hills in northern Shan State around Namhsan in the Palaung sub-state of Tawngpeng, but also around Mogok in Mandalay Division, and Kengtung in southern Shan State. Zayan leaves, which make up about 80 percent of the harvest, are best picked in April and May before the onset of the monsoon season, but they can be picked until October.
[related]
According to 2007 data, more than 700 square km of land is under tea cultivation with an annual yield of 60,000-70,000 tonnes. Of this, 69.5 percent is green tea, 19.5 percent black tea, and 20 percent pickled tea. Annual consumption in Burma runs at 52 percent green tea, 31 percent black tea and 17 percent pickled tea.
Green tea is ubiquitous in Japan, where it varies vastly in quality and price. Many teas are considered precious, and are carefully selected for refined tastes.
Renowned for its health benefits, studies have found green tea consumption can decrease the risk of many cancers, cardio-vascular disease and dementia,