FROM THE DVB NEWSROOM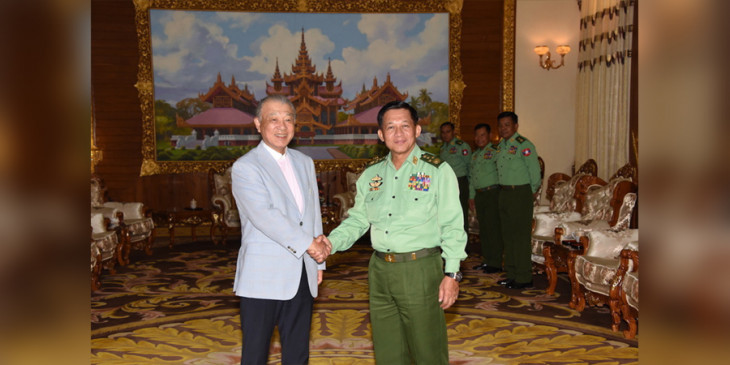 Japan's Special Envoy for Burma calls for ASEAN to open office in Burma
Japan's Special Envoy for Burma, Yohei Sasakawa, said that the Association of Southeast Asian Nations (ASEAN) should open an office in Burma until the political crisis is resolved. "Just blaming from afar will not solve the problem," he said. Sasakawa encouraged more dialogue between ASEAN and the military junta in Burma. Sasakawa believes dialogue with the military is what allowed him to provide humanitarian aid to the displaced people in Rakhine State, and to negotiate a temporary ceasefire between the Burma Army and Arakan Army (AA). Sasakawa expressed his support for the ASEAN Foreign Ministers statement that "state-level dialogue involving all relevant groups is key in finding a way to resolve Myanmar's conflicts."
Junta aims to allow civilians to own up to three guns
The junta has declared that civilians will be allowed to own firearms, according to a leaked announcement on social media. A civilian would be allowed to own up to three guns. At the moment, the announcement issued on Jan. 31 has circulated online, and the junta's friendly news outlets have not been able to confirm it yet. The junta said that rules and regulations on the use of force and firearms issued on May 9, 1977, have been re-examined and amended in order to be "in line with the changing situation" regarding ownership of the weapons.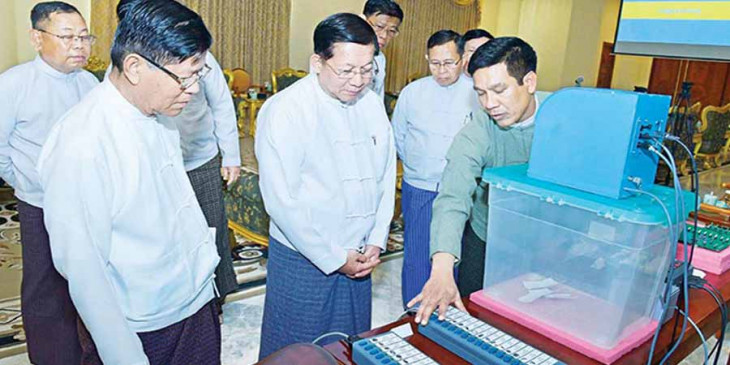 Junta leader trumpets voting machines ahead of his planned elections
Junta leader Min Aung Hlaing attended an event that featured Myanmar Electronic Voting Machines (MEVM) that were created by the Union Election Commission (UEC) on Feb. 9 in Naypyidaw. Deputy Commander-in-Chief Soe Win and other junta officials also attended the gathering. According to regime media, the spokesperson of the UEC explained how the MEVMs were built. Min Aung Hlaing has yet to announce a date for the junta's planned elections, set to take place later this year.
News by Region
BAGO—A 45-year old man was killed and three were injured after the Burma Army fired more than 50 artillery shells at villages inside Karen National Union (KNU) territory in Kyaukkyi Township. Around 4,250 residents from seven villages were also displaced. Fighting between the Karen National Liberation Army (KNLA) and the Burma Army broke out inside Kyaukkyi Township on Feb. 7 near Ohm Pin Su village.
KAREN—The United Nations Office for the Coordination of Humanitarian Affairs expressed concern over the humanitarian and security situation in Karen State as 170,000 residents from 20 villages in the state have been displaced due to fierce fighting. They are currently sheltering in the forest and mountains near the Thailand-Burma border and are in urgent need of shelter, food, and medicine.
Locals and businesses in Myawaddy town have been facing difficulties for nearly two months due to power cuts. Since Dec. 16, 2022, the whole town has faced blackouts, forcing locals to rely on gas and charcoal to cook and solar power to charge their mobile phones. Businessmen also claimed they have been facing challenges due to rising fuel prices as they rely on generators. According to a source close to the junta's Ministry of Electricity and Energy, local authorities are trying to restore electricity by the end of February but are unsure when the blackouts will end. Myawaddy began experiencing power outages after the town's Thingan Nyi Naung power supply factory was attacked with a drone on Dec. 16 last year. Fighting broke out near Kawkareik town on Aug. 20, 2022, causing damage to the electric tower.
KARENNI–An airstrike hit a church in a village in Pekon township on Feb. 10, according to the Karenni Nationalities Defence Force (KNDF). Some parts of the church were destroyed. There were no reported injuries.
MANDALAY—About 40 residents from Shin Hla (north) and Po Wa (south) villages in Madaya Township were taken on Feb. 9. "On that morning, reinforcements from Madaya town arrived, then the troops used the civilians as human shields and fired nearly 30 times of artillery," a Madaya resident said. The villagers were told to carry the bodies of military personnel during the fighting. The troops allegedly beat the civilians and demanded K100,000 ($47.64 USD) per person to be released on Feb.10. There were casualties from the military side as the local resistance forces attacked with five drones that carried explosive devices. Four houses in Po Wa (north) village were destroyed due to the military's shelling.
Three men were found hanged to death in Meiktila township, according to social rescue teams on Feb. 7. Three locals from three separate villages in the township were found hanged to death. The social rescue teams claimed they have never experienced this kind of case. The reason behind these incidents are unknown.
Four Burma army troops were injured by a local resistance force's attack in Chanmyathazi Township on Feb. 10. "The sound of the explosion is loud. The injuries were sent to the hospital," a local said.
YANGON—An unidentified gunman took around K5 million ($2,382 USD) after robbing a branch of CB bank at Thiri Mingalar road, Ward 6, in East Hlaing Thar Yar Township on Feb. 10. The man entered the bank, pointed the gun to the female staff at the counter and took the money. "We found out about the robbery when the security forces arrived at the bank as we didn't hear any sound of gunshots," a resident told DVB. Regime forces set up a checkpoint on Yangon-Pathein Road near the bank. There were at least 10 bank robberies in 2022.