FROM THE DVB NEWSROOM
DVB returns to the radio airwaves in Burma to inform Cyclone Mocha survivors. Starting today, DVB will provide  the latest disaster relief news every day from 7:00-7:30 pm at emergency frequency 21840 kHz. 
Journalist sentenced to 10 more years
Yangon's Thingangyun District Court convicted Hmu Yadanar Khat Moh Moh Tun of violating the Counter-Terrorism Law and handed her an additional ten year prison sentence on May 26. A journalist with Myanmar Press Photo Agency, Hmu Yadanar Khat Moh Moh Tun was arrested alongside another reporter while covering a flash mob anti-coup protest in Kyimyindaing Township. A total of 156 journalists have been arrested since the 2021 coup, 105 have been released but 53 are still being held on various charges.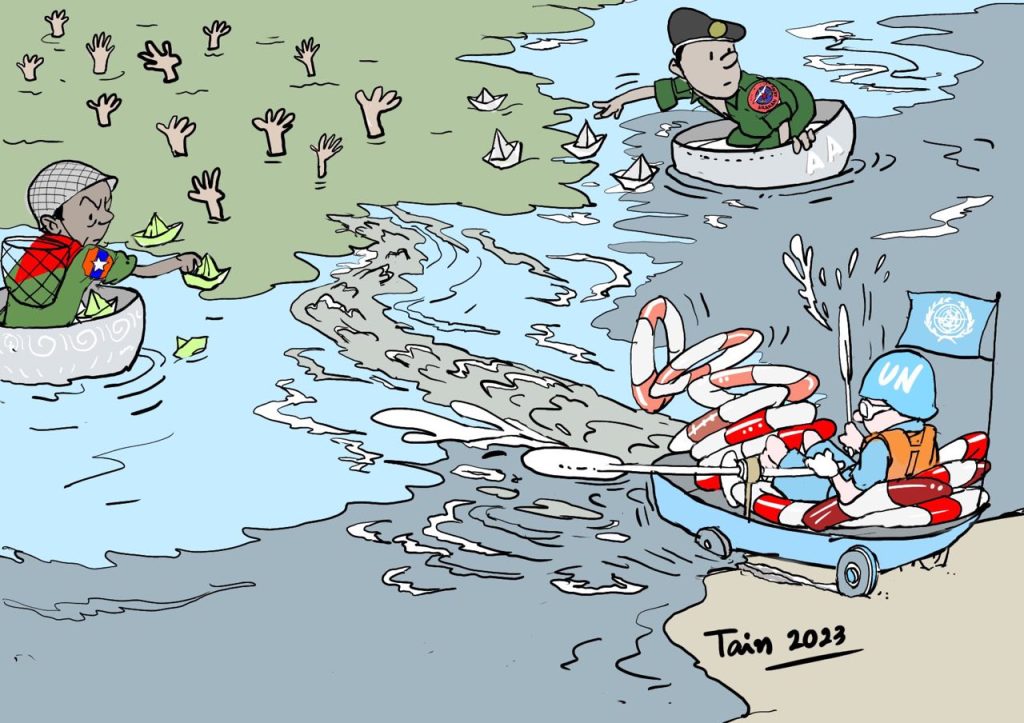 Cyclone Mocha death toll examined
DVB records that 121 bodies have been recovered in Sittwe Township, Rakhine State. This includes 116 Rohingya and 5 Rakhine, according to local journalists and aid groups. Thirty-eight bodies have been recovered in Rathedaung Township. Two bodies have been recovered in Pauktaw and another two in Kyauktaw townships. The military states that 148 people were killed by Cyclone Mocha. The National Unity Government (NUG) claims that over 400 died. The U.N. states that 1.6 million vulnerable people are in urgent need of assistance in Burma.
EU and France provide assistance
The French Embassy in Burma announced that it will allocate one million euros ($1.07 million USD) worth of emergency humanitarian aid to Rakhine, Chin, Magway and Sagaing. It expressed condolences to those killed by Cyclone Mocha and the 900,000 people who lost their homes. The funds will be used for essentials such as emergency shelters and access to drinking water. The E.U. announced that it will donate 2.5 million euros ($2.68 million USD) to Rohingya communities impacted by Cyclone Mocha. It stated that the funds will attend to the urgent needs of Rohingya in Rakhine State and Bangladesh. It added that both countries are expecting heavy rainfall that will increase the risk of floods and landslides.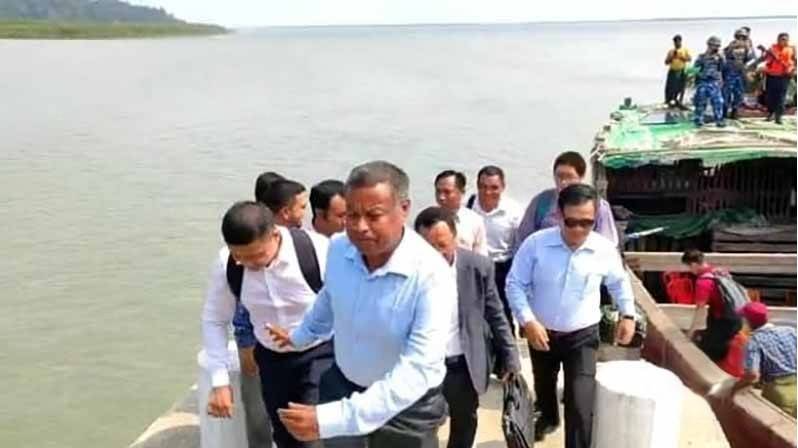 Rohingya refugees in Bangladesh make demands
A regime delegation visited a Rohingya refugee camp in Teknaf, Bangladesh on May 25 to discuss repatriation, the Dhaka Tribune reported. The delegation was led by Aung Myo, regime Minister for Social Welfare in Rakhine State. He met for the second time with Rohingya refugees participating in the repatriation plan to discuss their return to Burma. Rohingya held signs with four demands: a guarantee of citizenship, the return to their homes and properties, freedom of movement, and security assurances.
News by Region
BAGO—The Paungde Town Prison Court in Tharrawaddy district convicted and sentenced five men under the Counter-Terrorism Law on May 24. Two of the five men were arrested in July 2022 for allegedly killing a Paungde town administrator. They were sentenced to 50 years in prison. "They were arrested as suspects in the case. They were interrogated for two months and not allowed to access healthcare services," a source told DVB. Three electricians were arrested in August 2022 for allegedly bombing an Electric Power Corporation (EPC) office in Zigon town. They received ten years in prison each.
KARENNI—The Mobye Rescue Team states that a child was killed by an artillery shell fired by the Burma Army in Mobye town on May 27. Homes and a Buddhist monastery were damaged.
RAKHINE—Aid workers confirm that the NUG has provided financial support to survivors of Cyclone Mocha in northern Rakhine state. It provided K20,000 ($9.53 USD) per household and K20 million ($9,527 USD) for 1,000 families to purchase tarpaulin. "We are very happy for this financial support when we are facing difficulties obtaining food and shelter due to the storm. We are facing this because aid and rescue teams did not arrive on time," said a local who's family was affected by the storm. Major General of the Arakan Army (AA) Twan Mrat Naing states that the NUG has provided K100 million ($47,634 USD) to the AA to support relief efforts.
Twenty Burma Army troops were surrounded by the Arakan Army (AA) at Siningyi village in Ponnagyun Township on May 26. "The military claimed their presence was for providing security for the workers who come to fix the communication towers and power poles," said a source with the AA. Residents fled their homes fearing fighting. "We have no proper place to live, and no food to eat due to the aftermath of the cyclone. If clashes occur while we are still trying to recover, this would only compound our hardships," said a Siningyi village resident.
SAGAING—More than 70 residents of Kyunhla town were arrested May 25-26. "The majority of the arrested civilians are villagers in Kyunhla Township who returned to their villages from the farms near Thaphan Seik Dam where they worked. They returned to their villages as the Burma Army conducted offensives near the dam," a source told DVB. Thousands of residents have fled fighting in the area.
Airstrikes occurred after fighting between All Burma Students' Democratic Front (ABSDF) and the Burma Army in Hmaw Taik area, Indaw Township of Katha district on May 25. "I didn't hear of any civilian casualties," said an ABSDF spokesperson. A monastery was destroyed. Residents of six villages fled their homes prior to the airstrikes.
The National League for Democracy (NLD) party office in Butalin Township was attacked by police on May 25. "They destroyed the party's sign board, then smashed the name of the party that was written on the building with hammers. And they cursed at the NLD party, Aung San Suu Kyi and the People's Defense Force," a witness said.
TANINTHARYI—Two people, including a three-year-old, were killed and one person was injured in Palaw Township on May 26. A woman and her child died when an artillery shell fired by the Burma Army landed on her property.