Video by Phoesi
At the break of dawn, battalions of unarmed Karen soldiers marched in a parade past hundreds of jubilant visitors at Shwe Kokko Myine in Myawaddy Township as part of the celebrations which marked Karen New Year.
But what was most unusual about this year's celebration was that the soldiers represented opposing armed factions which have faced each other on the battlefield – the Border Guard Force (BGF), the Karen National Union (KNU) and the KNU/ KNLA Peace Council (KPC).
Hosted at the BGF headquarters near the Thai border, BGF Maj. Saw Maung Win explained the symbolism of the soldiers marching without arms. "The aim of this event is to reunite the Karen people and the rival armed forces – it is time to reunite and cooperate."
Saw Maung Win was referring to the recent history of splits, divisions and defections that has marred and weakened the Karen resistance, perhaps most notably the Buddhist/Christian Karen split in 1994, which resulted in the formation of the Democratic Karen Buddhist Army (now renamed the Democratic Karen Benevolent Army) or the DKBA.
A handful of strikingly benign DKBA soldiers laden in military hardware did not march, but mulled around the event grounds and enjoyed watching boxing bouts next to their BGF, KNU and KPC counterparts.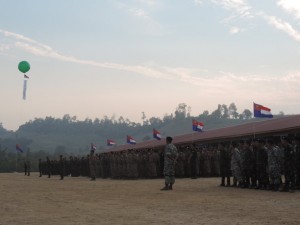 Representatives of the three Karen armies have been meeting since September 2013 to organize this landmark event, which ran from 30 December– 1 January. Based on the full moon and held on the first day of the month of Pyatho in the Buddhist Lunar Calendar, Karen New Year coincidentally fell on 1 January this time round.
During the three-day event, Shwe Kokko received thousands of visitors including ethnic Karens from all five townships of Karen State –Kawkreik, Myawaddy, Kyain Seikgyi, Hlaingbwe and Hpa An. Many Karen migrants and refugees also returned to Burma across the Moei River for the festivities.
Thai Karen as well as curious Thais and international visitors also enjoyed the packed program of traditional "don" dancing, boxing and musical performances. Huge helium balloons, glowing 20-foot candelabras adorning palm trees and countless Karen flags added to the festive atmosphere.
But there were undoubtedly some political points to be made, and speeches were delivered by some notable persons of influence: Aung Min, the chief negotiator for the Burmese government and minister of the President's Office; Deputy Minister of Border Affairs Gen. Maung Maung Ohn; and KNU Chief of Staff Gen. Saw Johnny.
Dr. Saw Htun Myint spoke for the Karen BGF, which was formed in 2010 as an ally of the Burmese army. "We have our dignity as Karen people," he said. "We chose our way – by way of the constitution."
Outlining the focus of the BFG in Myawaddy Division, he said, "We aim to protect our nation, our region and our Karen people. Our country is Burma."
Speaking on the sidelines to DVB, Saw Hlo Tun, a chief KNU administrator and vice-chairman of the event organizing committee, echoed Saw Htun Myint. "The ethnic revolution did not succeed. The best solution is peace in Burma, and Karen New Year is a time for unity."
[related]
KNU Chief of Staff Gen. Saw Johnny shared more skeptical reflections, noting that: "Peace is still not a reality for all ethnicities, there is only peace for some." However he pointed out that peace would be good for the economy and would lead to increased tourism in Karen State.
When asked about the history of the Karen flag (of which there were hundreds if not thousands flying proudly at the event), the BGF's Saw Htun Myint was quick to strip it of its sovereignty or revolutionary symbolism, calling it an ethnic flag. "The Myanmar flag is our national flag, it symbolizes our union with other ethnic groups."
Among the Karen visitors to the New Year's celebration, brothers Lay and Thein said they came to witness unarmed Karen soldiers standing and marching together and to enjoy some boxing.
Lay said he barely remembers being displaced with his parents from his village, Nwong Ya Wa, 20 years ago when the family fled to Mae La refugee camp in Thailand. His younger brother Thein can only remember growing up in Mae La. When Thein was 12, his parents, two sisters and him were granted UNHCR status and resettled in Omaha, Nebraska.
Thein has since gone back to Mae La but fears he will not be able to return to the United States because of visa trouble. Thein said he is very wary of the Burmese army and Thai officials because of his precarious status.
For many Karen, the prospect of achieving unity still appears distant; at best it is expected to be a long process. Even without weapons, the lines between the rival Karen groups are stark.
For Lay and Thein, the Karen New Year's celebrations at Shwe Kokko are a distraction from the daily trials of life in a refugee camp, but the festival also reminds them of their culture. Thein explains: "Being Karen is a state of mind."