FROM THE DVB NEWSROOM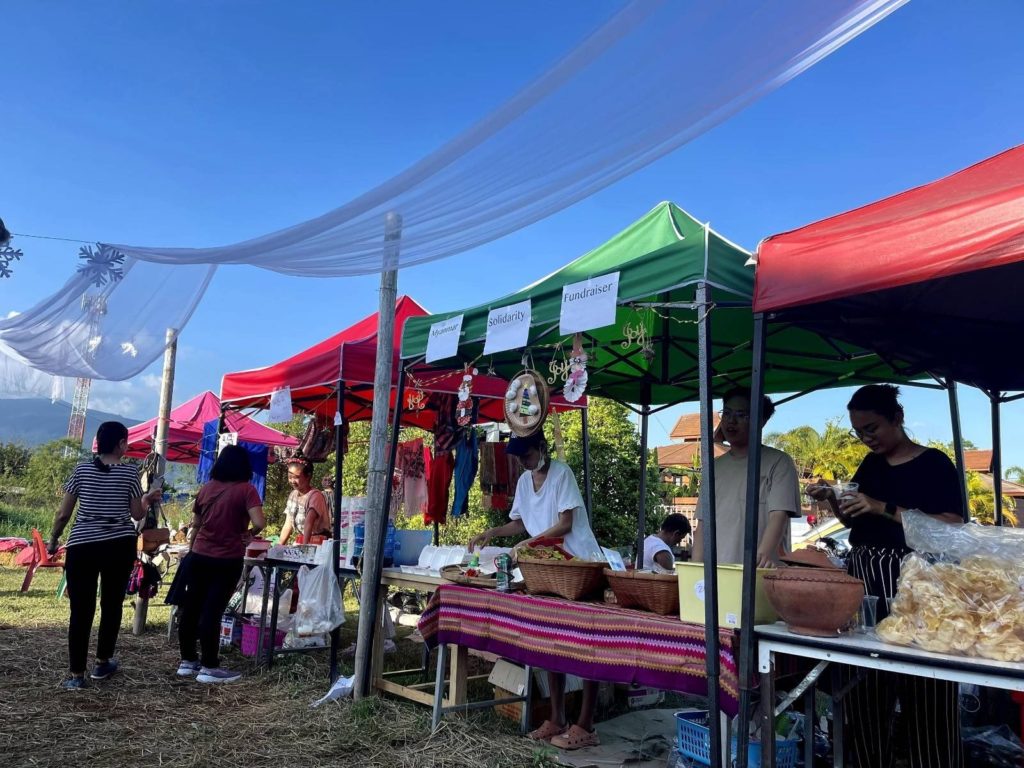 Karenni youths hold fundraising event in Chiang Mai
Karenni youths hosted a fundraising event in Chiang Mai for internally displaced people (IDPs) from Karenni State on Dec. 3-4 at the Chiang Mai Drama Centre 2. The event was a part of the Creative Christmas Market organized by the center and vendors raised funds by selling traditional Karenni snacks as well as Christmas cards created by students from refugee camps along the Thai-Burma border.
Index on Censorship's Tyrant of the Year 2022: Min Aung Hlaing?
In its annual Tyrant of the Year, the Index on Censorship has nominated Burma's junta chief Min Aung Hlaing alongside other despots such as North Korea's Kim Jong-Un, and China's Xi Jinping. Min Aung Hlaing faces off against his allies, Russia's Vladimir Putin, and Belarus' Alyaksandr Lukashenka as the most despised dictator in the world. Vote for MAH here.
UNOCHA 2023 Global Humanitarian Overview addresses lack of education for school children in Burma
The United Nations Office for the Coordination of Humanitarian Affairs (UNOCHA) Asia Pacific: Needs and Response for 2023 states that since the 2021 coup in Burma: "More than 4 million children — half of Myanmar's school-aged children — have not accessed formal education for two full academic years. While efforts are under way to support alternative education solutions, this is currently reaching only a fraction of children. This situation places children at much higher risk of negative coping mechanisms, such as child labour, trafficking and early marriage, and the longer it goes on, it increases the likelihood of permanent disengagement from education." Read more here.
The junta's Ministry of Education claims that seven million students are currently enrolled in the 2022-2023 academic year. It goes on to state that the enrollment rate in the upcoming academic years will increase. The number of students enrolled in school in Sagaing region, Kayah and Karen states, is in decline due to the conflict in these areas.
News by Region
BAGO—Junta airstrikes took place in three villages of Nyaunglebin District on Dec. 2, the Karen National Union (KNU) announced. It stated that five explosions occurred. No casualties have been reported as most locals had already fled the area.
KARENNI—The Karenni Revolution Union (KRU) announced that it had seized Kone Thar village in Demoso town from the Burma Army on Dec. 2. "There were some clashes before we took the whole village back. Maybe they left the village because there is a coalition force of Karenni Army and Karenni National Defense Force near this area," a KRU spokesperson said.
RAKHINE—The Arakan Army (AA) announced on Dec. 1 that it will assist in harvesting paddy fields in Buthidaung, Ponnagyun, Kyauktaw, Mrauk-U and Minbya townships of Rakhine State. The paddy was planted by both locals and those displaced from their homes due to the conflict between the AA and the Burma Army. A "humanitarian ceasefire" was signed between the warring armies on Nov. 26.
SAGAING —A 14-year-old was killed and his three family members were injured by artillery in a village of Indaw Township on Dec. 3. "At first, I didn't know where the artillery came from. Then, I learned that they were shot from Indaw police station. Four artillery shells were dropped in Natmahote village," a villager told DVB. In June, a 50-year-old woman was killed in a similar incident.
A 40-year-old man was reported to have been injured by a knife in a village of Kanbalu township on Dec. 13. "When the villagers entered the village, they found the injured man. He [had been] stabbed with a knife, so he was gravely wounded." a resident told DVB. "The [Burma Army] entered the village. They destroyed the villagers' properties and took what they wanted," a resident added. It is said about 60 local residents were arrested and examined, and their mobile phones were confiscated.

Two elderly women were killed by arson in Salingyi Township. The victims – one 90-years-old, the other 85 – were visually impaired. "When the village was attacked, the two elderly died because they could not flee," a villager told DVB. In addition, on Nov. 30 and Dec. 1, the Burma army is said to have also conducted arson in three nearby villages, damaging an estimated 250 houses.
Moe Nyo Revolution Force (MNRF) said it attacked the Burma Army at a school compound in Myinmu town on Dec. 1. The MNRF told DVB that the female commando unit had carried out its first mission against the Burma Army. On Nov. 30, seven Burma Army troops were reportedly killed after local defense forces attacked Taw Chaung Oo police station in Myinmu township.
TANINTHARYI—Six People's Defense Force members were killed in clashes against the Burma Army during the month of November, according to the Dawei District People's Defense Front. There were operations in Thayatchaung Township, Myeik District, Pulaw District and Tanintharyi Township. The DDPDF claims it killed several Burma Army troops.
Dawei District Court handed out an additional seven year sentence to Yazar Tun, according to the Dawei Political Prisoners Network. Yazar Tun, 24, is now sentenced to 48 years in prison. He was convicted of murder under Sec.302/114 of the Penal Code. Last October he was convicted of Sec. 50 (j), Sec. 54 and Sec 302/34.
YANGON—Nine members of urban guerrilla groups were arrested in Botahtaung and North Okkalapa townships from Nov. 26 to 30. The junta media said that the nine were arrested with a pistol, 13 bullets and two handmade explosive devices. "The People's Defense Force are from people. We had different lives before the coup. I'm sure that people who joined the local resistance forces are not thieves or jobless. We do not do such things that harm the people," said Akara, a spokesperson in North Okkalapa township.