Myitkyina township court on Wednesday handed lengthy prison terms to 155 Chinese nationals charged with illegal logging earlier this year.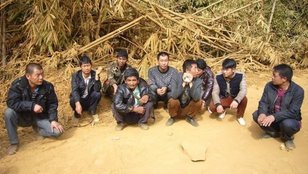 Khin Maung, a high court lawyer in the Kachin state capital who represented the defendants, said 153 of the men were handed the maximum punishment of life imprisonment, while two others, who are minors, were sentenced to 10 years.
"In this case, 153 of the defendants were handed the maximum sentence, which is life imprisonment, under Article 3 – the Public Property Protection Act – while two others, both aged 17, were sentenced to 10 years' each," said the lawyer, adding that he will file an appeal against the verdict at a higher court if his clients wish.
Earlier this year, Burmese authorities launched a crackdown on illegal logging activities in Kachin towns close to the Chinese border, including Waingmaw, Washaung, Manwein, Siniku, Mantaung, Lawhkunyang and Sadone. The 155 Chinese nationals were detained along with machinery, vehicles and equipment.
Official reports indicate that the logging activities have been ongoing for years at the Sino-Burmese border, with timber shipped directly to China, but that government authorities were unable to react because of armed conflict in the area between government forces and Kachin rebels.
[related]
Following the arrest of the loggers, Beijing urged the Burmese government to ensure a fair trial.