Locals in Hpapun are fleeing their homes to escape being drafted as the Karen National Union (KNU) conducts a recruitment drive in the region, according to a local headman.
Maw Hta, village head of Myinkapye in the northern Karen State area of Hpapun, said residents from his village as well as nearby Hatgyi, Shwephalaja and Kwe Leh, have taken to sheltering in the forest since 25 September to avoid being drafted by the KNU's 5th Brigade.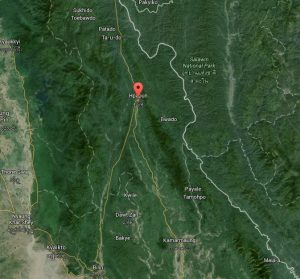 He said, "The Karen rebels have demanded that villages in the area provide two recruits each, and they began making arrests if locals failed to comply.
"Fearing detention, families have fled their homes, as the KNU is also press-ganging elderly persons."
He said around 300 families are currently sheltering with friends and relatives in another village, and have received assistance from local community organisations.
The KNU's 5th Brigade was unavailable for comment, however KNU deputy-chair Naw Zipporah Sein denied any knowledge of the recruitment drive.
The reasons why the KNU would move to strengthen their troops at this time are unclear, as hostilities against the Burmese army have all but ceased since government forces shifted attention to the Kokang conflict in northeastern Shan State in February.
Furthermore, the KNU is one of the few ethnic armed groups that has agreed to sign a controversial ceasefire accord with the government next week. A signing ceremony is slated for 15 October in Naypyidaw, however at least nine ethnic militias, including the Kachin Independence Organisation, have refused to accede to the truce on the grounds that the agreement does not include the armed groups still engaged in the Kokang conflict.
[related]
In an interview with DVB on Wednesday, the KNU's Zipporah Sein said, "Personally I think it would be better for all the ethnic armed groups to sign the NCA [nationwide ceasefire agreement] altogether. It is worrying that only a few will be signing [next week].
Asked if the KNU would take steps to bring its fellow ethnic partners on board the peace process, she said, "That depends on the situation. Many groups that are not signing the agreement because of the ongoing clashes in Kachin and Shan states. I think the worrying thing about the non-inclusiveness of the NCA is that without getting a majority on board, it could be damaging to both [signatory groups and non-signatory groups] if the conflict continues."
Read more about Burma's faltering peace process