The Mahasantisukha Monastery in Rangoon's Tamwe Township was raided on Tuesday night by officials from the Religious Affairs Department and riot police who escorted the resident monks to the State Sangha Maha Nayaka Committee while detaining their supporters.
The Buddhist monastery is the domain of a well-known abbot, Rev. Penang Sayadaw, who is currently on a mission to Japan. It has for years been the subject of an ownership dispute between the abbot and the State Sangha Committee – the highest office of Buddhist clergy in the land – which assumed control of the property some ten years ago while Penang Sayadaw was on a journey abroad. The clergy then rented the location to film producers as a commercial enterprise until the abbot's return last year ignited a legal dispute.
Tamwe Township police have confirmed to DVB that 32 monastery staff – 17 men and 15 women – were released on Wednesday at 9am. However, security forces continue to be deployed around the compound.
The land of Mahasantisukha Monastery was originally donated in 1995 by former dictator Snr-Gen Than Shwe to Penang Sayadaw, who is so named because he was previously based in a monastery on the Malaysian island of Penang.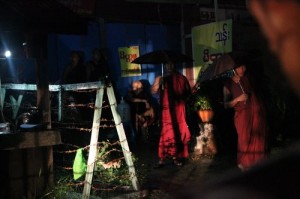 The monastery was confiscated by the military government in 2004 and put under the control of the State Sangha Committee, which reiterated in March 2013 that it legally owned the property and would not give it back to Penang Sayadaw. However, on 1 October last year, the president issued a notification returning the monastery to the revered abbot.
This action only provoked the State Sangha Committee to increase pressure on Penang Sayadaw, claiming that his continued defiance was an affront to Buddhist doctrine.
In February of this year, Penang Sayadaw, also known as U Pannavamsa, wrote to President Thein Sein requesting that he intervene again in the ongoing dispute.
He also reportedly sent videos, photographs and copies of other documentary evidence to prove he was the original owner of the land grant.
But on 15 March, the State Sangha Committee sent an open letter to Penang Sayadaw, reclaiming the plot of land, and giving him and his supporters until 31 March to vacate the premises.
Last night, the Buddhist brotherhood finally put their threats into action.
Penang Sayadaw has travelled the world as an envoy of Burmese Buddhism and was a prominent dissident during the 2007 Saffron Revolution, drawing the ire of the then ruling junta.
[related]