FROM THE DVB NEWSROOM
Manipur chief minister blames violence on Burma-based groups
India's Manipur Chief Minister N Biren Singh blamed Kuki armed groups in Burma and Bangladesh for the ethnic violence in his state on Oct. 1, the Scroll reported. "The current crisis in Manipur is not a clash between ethnic groups and not a law-and-order issue of the state, but purely a war against the Indian union by Myanmar and Bangladesh-based Kuki militants in collaboration with militant groups operating in Manipur," he said.
Violence between the minority Kuki and majority Meitei communities has killed over 200 people since May. Kuki have ethnic ties with Chin people of Burma. Over 2,500 refugees from Burma have fled to India's Manipur State to escape violence in Chin State and Sagaing Region since the 2021 military coup. Manipur officials accuse the refugees of causing communal violence.
UNOCHA states nearly two million displaced
The number of Internally Displaced Persons (IDPs) who've been forced from their homes in Burma is nearly two million, stated the U.N. Office for the Coordination of Humanitarian Affairs (UNOCHA) on Oct. 2. This has been caused by both man-made and natural disasters.
U.N. OCHA claimed that the IDPs require urgent humanitarian aid. It states that 18 million people across the country are in need of international assistance. At least 1.7 million people have become IDPs and over 63,000 have sought refuge in neighboring countries since the 2021 military coup.
SAC-M calls on UN to change its approach
The Special Advisory Council for Myanmar (SAC-M) released a report on Oct. 3 calling for the U.N. to stop engaging with the military regime. Members of SAC-M include former U.N. officials and it advocates for a return to democracy in Burma.
"People who have been displaced due to the military's attacks have not received any support from international humanitarian organizations, particularly from the U.N. agencies," said Kyay Latt May, a humanitarian worker in Karenni State. The SAC-M called on the U.N. to instead engage with the National Unity Government (NUG), Ethnic Resistance Organizations (EROs), and civil society organizations to ensure aid deliveries across the country.
News by Region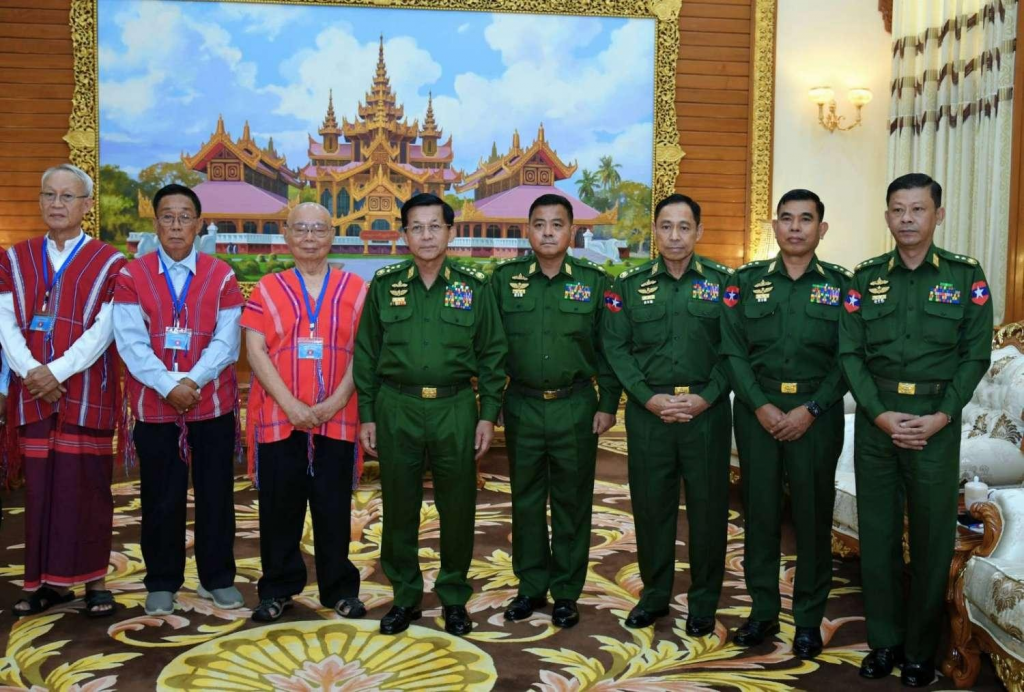 KAREN—The Karen National Union (KNU) stated that it did not condone a meeting between its former chair Saw Mutu Say Poe and Min Aung Hlaing in Naypyidaw on Sept. 30. The regime claimed it discussed peace with a leader of the Karen ethnic group, referring to Saw Mutu Say Poe. Two other former KNU Central Committee members, Saw Roger Khin and Padoh Shwe Maung also attended.
"No matter who they invite, we will not engage with the regime that seized power illegitimately," said a KNU spokesperson. Padoh Ta Doh, the KNU secretary general, declared that he considered the Nationwide Ceasefire Agreement (NCA) void following the military coup. The KNU stated that it will not attend the NCA anniversary on Oct. 15.
A manager of a Kanbawza (KBZ) bank in Myawaddy was killed on Oct. 2. He was shot by two unidentified armed men while he was commuting home. The motive behind the murder remains unknown. Several armed groups maintain a presence in Myawaddy.
KACHIN—Three airstrikes were launched near the Kachin Independence Organization (KIO/KIA) headquarters of Laiza on Oct. 2, Kachin News Group reported. The Burma Army also fired artillery shells in the area. No casualties have been reported so far.
Conflict near Laiza intensified since the KIA seized a Burma Army outpost at the end of September. A KIA outpost was occupied by a pro-military militia on Oct. 2 in Tanai Township. It lost a cache of weapons during the attack, a source confirmed to DVB.
One KIO administration official was killed and three others were arrested by the Burma Army in Myitkyina on Oct. 2 . "One member was initially arrested and then he was pressured to disclose information about other KIO officials. The military pursued them and opened fire after they tried to escape," a Myitkyina resident with knowledge of the arrests told DVB.

TANINTHARYI—Two security guards at Dawei Prison were killed when five prisoners escaped on Sept. 30. The prison break took place when the guards were escorting the inmates outside to gather wood. Prison authorities became aware of the escape on Oct. 1, a source close to the prison told DVB.
The guards were discovered with gunshot wounds and their hands tied behind their backs. Three villagers have been arrested in connection with the killings. The escaped prisoners have not been apprehended.
YANGON—Customs authorities at Yangon International Airport have been seizing new Apple products, including the iPhone 15 Pro, from passengers who have brought them into the country since Sept. 24. "Seven iPhone 15 and Pro Max phones have been seized," said an unnamed passenger at Yangon Airport.
Authorities have allegedly demanded bribes for the return of the confiscated belongings. "We had to pay K200,000 to 300,000 [per phone]," another resident added. Passengers returning from abroad are typically allowed to bring at least two phones into the country, and any others could be confiscated under the pretext of "illegal trade," according to the authorities.
(Unofficial rate: $1 USD = K3,320, Official rate: $1 USD = K2,100)