FROM THE DVB NEWSROOM
Martial law declared in Kutkai, northern Shan State
The Brotherhood Alliance of three ethnic armed groups operating in northern Shan State declared martial law in Kutkai, Muse district of Shan State on Oct. 29. It banned residents from leaving their homes until Nov. 5. "Everyone in the town is staying inside their houses. Shops and restaurants are [closed]," said a Kutkai resident.
Many residents fled their homes to safety at temples in neighboring Lashio. The Brotherhood Alliance consists of the Myanmar National Democratic Alliance Army (MNDAA), the Ta'ang National Liberation Army (TNLA), and the Arakan Army (AA). Its troops are deployed along the Lashio-Muse and Lashio-Chinshwehaw-Laukkai highways, outside of Kutkai and Hsenwi towns.
Migrants from Burma arrested in Thailand
Twenty migrant workers from Burma were arrested by Thai authorities in Hat Yai district of Songkhla Province on Oct. 28, the Bangkok Post reported. Authorities discovered that the Burma nationals had fake entry stamps from the Suvarnabhumi International Airport immigration office.
During questioning, they said that they had paid brokers 120,000 THB ($3,331 USD) each for jobs in Malaysia and had their passports stamped for entry into Thailand. They entered Thailand at Kanchanaburi Province, then took a bus south to Hat Yai, where they were arrested awaiting transport into Malaysia. Police charged the migrant workers with illegal entry and forgery.
Ousted officials not allowed prison visits
Regional chief ministers and Hluttaw members of parliament jailed following the 2021 military coup are not allowed to receive prison visits. "Aung Moe Nyo, chief minister of Magway Region, is not allowed to have visitors. However, his nephew and brother-in-law who are being held in the same prison [have] received visitors," said a former member of the Magway Region government.
Win Thein, the ousted chief minister of Bago Region held at Thayat Prison, and Tun Tun Oo, the ousted immigration minister held at Paungde Prison, and Thein Tan, the ousted National League for Democracy (NLD) member of parliament held at Thayarwady Prison, are not allowed to receive visitors.
The ousted chief ministers of Karen State and Magway Region are also not allowed to receive visitors. Ousted Rakhine Chief Minister Nyi Pu was allowed visitors at Thayarwaddy Prison. Mandalay Chief Minister Zaw Myint Maung also received visitors at Taungoo prison in Bago Region, where President Win Myint received a family visit on Oct. 29.
News by Region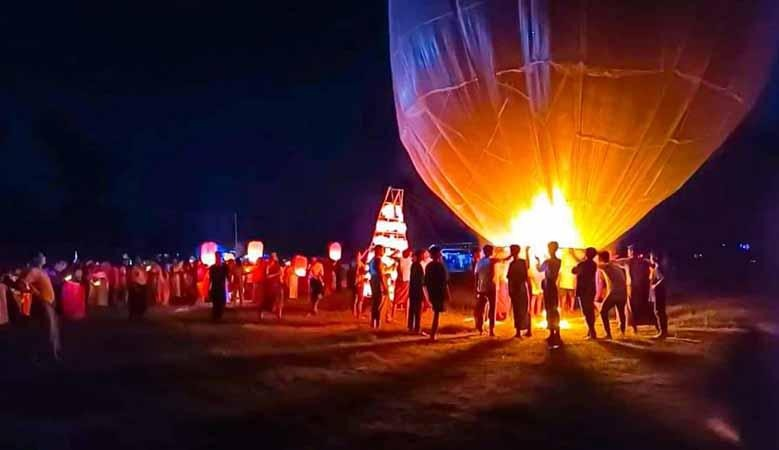 SAGAING—Pilgrims visited Shwezigon Pagoda in Monywa during the full moon day of Thadingyut on Oct. 29. "This year, the pagoda was packed with pilgrims. No one dared to go out in previous years," said a Monywa resident.
MAGWAY—Four civilians were killed and nine others were injured by artillery shells in King village of Myaing Township on Oct. 29. "It is okay to fire artillery when there is fighting between armed forces, but it is not good to do it over civilian targets," said the spokesperson of an unnamed anti-coup resistance group who claimed that the military was responsible.
YANGON—Yangon International Airport announced that all passengers flying to Mandalay will have to fill out departure and arrival cards starting from Nov. 1. The directive was made by the regime's Department of Civil Aviation.
All passengers must carry and present their National Identity Registration Cards (NIRC) and other travel documents. The military has monitored airport passengers since the 2021 military coup.
KARENNI—Internally Displaced Persons (IDPs) living in Demoso town are facing a shortage of food. "We can only provide four baskets of rice per family. It is not enough. Some IDPs have farms next to their tents but no space [to grow food]. Most IDPs rely on [donations]," stated the Kayan Women's Organization (KyWO).
A transportation and telecommunication ban imposed by the military on Demoso has made it difficult to obtain food and medicine deliveries. There are 250,000 IDPs in Karenni State living in makeshift shelters at IDP camps.
ARAKAN—A Development Media Group (DMG) reporter was arrested for taking photos of a donation ceremony in Sittwe on Oct. 29. The military raided the DMG office and seized cameras, computers, and documents. A security guard was arrested and the office was sealed shut.
The two are being held at Sittwe police station. "The office was closed for the Thadingyut holidays. Our neighbors said they came with three police vehicles and took our stuff as they said we have no [publication license]," said DMG editor Zaw Zaw.