For six intense days this month, Soe Lin Htoot sat in the front row of the Union Election Commission's media room in Naypyidaw, using an iPad and iPhone to post the latest polling numbers on Twitter.
His account, @ResultsCenter, released its first tweet two days before the election, on 6 November, but after the vote it quickly became a go-to resource, shooting to 1,105 followers in a matter of days. As announcements wrapped up over the weekend, many publically thanked the service without being able to thank Soe Lin, who remained anonymous.
Until now.
Soe Lin is a 32-year-old social media whiz and tech geek from Yankin Township who works as a senior program officer for the Myanmar office of the International Foundation for Electoral Systems, or IFES. Before the election, he managed the organization's voter education page on Facebook, answering questions from the public. The page received nearly 50,000 "Likes."
IFES works closely with the UEC, and Soe Lin spends most of his time in Naypyidaw, where his office is right down the hallway from where the UEC media center was set up. IFES provided tech support for the media room, which the Ministry of Information equipped with the fastest internet in the country.
The idea to create a separate, unofficial Twitter account for results was Soe Lin's idea. He wanted to use Twitter because it had a more immediate feel, and because the international media would find it more convenient than Facebook. Besides broadcasting live on state media, the UEC had its own official Facebook account that posted results with a delay of about 30 minutes.
At first it was called "Media Center," but that was quickly changed to "Results Center," perhaps to distinguish it from the UEC. The description on the account tried to be clear that it was a separate entity.
"Direct from official Election Results Center of the UEC for announcements of Myanmar's 2015 general elections results (but this is not official UEC account)."
Naturally, that created some confusion, but once the results started pouring in, no one cared.
Soe Lin wanted to get the results out as quickly as possible, so he kept it as simple as possible. He took a photo of the slides as they were posted on the big screen at the UEC media center, then posted that photo to Twitter with the hashtag #MyanmarElectionResults.
#MyanmarElectionResultspic.twitter.com/tJfMfZABXM

— Results Center (@ResultsCenter) November 12, 2015
Tweets went out about 5 to 10 seconds after the slides appeared on the UEC stage in the media room. Soe Lin also used periscope to livestream announcements, which happened several times a day from November 9 to November 15.
Though the announcements were on live television, observers and journalists preferred Soe Lin's Tweets, probably because you could keep them as a reference.
As more followers appeared and the retweets picked up, Soe Lin started to feel more responsible. He had an audience and it was not small. He was up at 8am and ready to go 15 minutes before the first announcements came out at 9am. On most days he worked from 9am to 11pm, surviving on coffee and various snacks, including spring rolls, paratha and Chinese buns.
He devised an inventive way of using both the iPad and iPhone at the same time. In the beginning he was juggling both to snap photos and record video. Later, he set up a kind of makeshift tripod for the live stream, which freed up both hands to snap images.
As the days wore on, he became more of a journalist than an NGO worker, selecting interesting parts of the daily press conferences to Tweet about, and livening up some of the missives to add a little drama.
UEC Chair and verification committee coming out soon from the war room for the first batch of announcements for today. Let's get ready.

— Results Center (@ResultsCenter) November 13, 2015
He resisted questions on Twitter about the account, preferring to fly under the radar. But he found it hard to keep the secret. One of his friends noticed him on SkyNet's broadcast, took a photo and posted it on Facebook, tagging Soe Lin. It's blurry, but you can see him in the front row, phone up, iPad balanced on lap.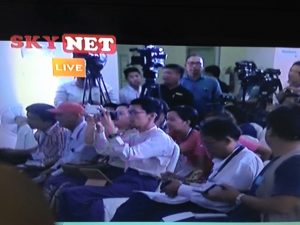 He controlled @ResultsCenter for almost the entire week until the very end, when colleagues assisted him with the live stream. In all he logged 462 Tweets. That may not seem like much, but by being the first person to use Twitter as a way of methodically covering election results in Myanmar, it's safe to say he made social media history.
It's also safe to say he enjoyed the job. This is the last Tweet, and it's a shot of his office desk.
and here's a big good bye to you all from the @ResultsCenter. See you all again, may be in 2020! pic.twitter.com/dO67dZ0gLY

— Results Center (@ResultsCenter) November 15, 2015
Put together, the letters across the different screens say one thing: "Thank you."