In her role as Road Safety Ambassador of United Nations Development Programme (UNDP), Malaysian movie star Michelle Yeoh met with Burma's Transportation and Communications Minister Thant Zin Maung in Naypyidaw on Wednesday.
According to Ye Htun, the ministry's assistance secretariat: "Michelle Yeoh's team has been working on road safety with the governments of other countries. As our Road Transport Administration Department is currently working on a road safety programme, Ms Yeoh pledged to support it."
The Ministry of Transportation recently launched a 100-day programme to alleviate road accidents.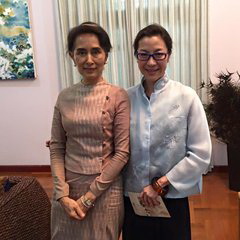 Also on Wednesday, Yeoh met with Burma's democracy icon, State Counsellor Aung San Suu Kyi.
The Malaysian actress starred as Suu Kyi in a 2012 biopic titled "The Lady".  A month after the Burmese Nobel Prize laureate was freed from house arrest in November 2012, Yeoh visited her at her dilapidated lakeside home in Rangoon to research for the role.
Yeoh, 53, is a former Miss Malaysia. She shot to international fame when she co-starred with Pierce Brosnan in the 1997 James Bond film "Tomorrow Never Dies" as a tough but beautiful Chinese spy. She then starred in Ang Lee's "Crouching Tiger, Hidden Dragon", a Chinese-language martial arts epic that was an international hit. She also played the leading role in "Memoirs of a Geisha", a film based on the best-selling novel by Arthur Golden.
Alongside US presidential nominee Hilary Clinton, Yeoh is a board member of the Burmese leader's Suu Foundation, founded in 2014, which aims to support health care and education in Burma.
[related]