OPINION: By Dr. Peerasit Kamnuansilpa and John Draper
Thailand is home to at least two million migrants, over half of whom are in the country illegally due to the poverty of Thailand's neighbours, porous borders and corrupt officials. In 2014, the Bangkok Metropolitan Area was home to 525,245 documented migrants, 58 percent of whom hailed from Burma, officially known as Myanmar, says the Ministry of Interior. The other main migrant sources are Cambodia and Lao PDR.
The majority of migrants work in Thailand's 3D jobs — dirty, dangerous and demeaning work in industries including agriculture, construction and fishing, just condemned by the EU, or informal domestic labour.
In the past decade, hundreds of thousands of migrant children have also entered Thailand with their parents. Many of these children are here for the long term; most migrant families in Bangkok do not move around, and over 63 percent of them stay over three years — long enough to enter the Thai education system.
Thailand is trying to accommodate
these children. Enrolment of migrant children in Thai mainstream schools has increased markedly since the 1999 adoption of the UN Education for All (EFA) policy and a 2005 cabinet resolution acknowledging the country's legal obligation to these children.
Thai law now stipulates that all children, irrespective of their legal status or nationality, are guaranteed 15 years of free basic education. However, of the approximately 300,000 migrant children in Thailand, only 100,000 are in education. Of these, 5 percent attend unaccredited learning centres, and only approximately 35 percent attend mainstream schools.
Of those in Thai schools, 30 percent are in kindergarten, 67 percent are in primary school, 3 percent are in lower secondary, and less than 1 percent reach upper secondary school. The lower levels of enrolment at higher grades suggests children drop out and enter the labour market, both legal and illegal, within Thailand, in the country of their parents' origin, or in a third country.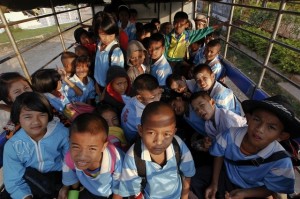 Migrant children who don't go to school are more vulnerable to exploitation. Up to 200,000 children are being forced to work illegally, many as child prostitutes in Thailand's sex industry. Others toil in construction, the fishing industry or cleaning houses.
These children are likely to enter a form of slavery called debt bondage, where the expenses for their smuggling are set against their earnings as prostitutes or labourers. Such children are reminded constantly that they are in Thailand illegally, and communication with their families may be prevented.
Why are so many children out of the education system? Tragically, some parents from Thailand's poorer neighbours traffic their own children and want them to work to avoid destitution. However, there are also serious obstacles hindering migrant parents who want their children to enter mainstream education and obtain high-school certificates and university degrees, as well as for NGOs and policymakers who want to help Thailand's undocumented migrant children.
A recent report by World Education and Save the Children says problems include the lack of hard data on migrant children, a lack of funding for rescuing or educating the children, language barriers, inconsistencies in the application of the EFA policy due to a lack of political will, unawareness of the opportunities for education among migrant communities and both perceived and real racial discrimination.
The report recommends community mapping of out-of-school children with the Office of Basic Education Commission through school community outreach programmes. Mapping could be performed by local administrations and community- and education-oriented NGOs such as the Population and Community Development Association.
Language barriers affect both the suitability of the curriculum and communication between teachers, students and parents. They lead to student drop-outs and problems with obtaining data.
Addressing these issues requires schools to employ additional staff, from either the communities themselves or from similar indigenous Thai ethnic communities, to serve as interpreters and translators. This would also promote families' awareness of educational opportunities.
Nevertheless, remedial evening, weekend or summer courses are needed to help these children move from using their maternal tongue to a dual system where they can function academically in Thai. Such courses require additional financial resources.
[related]
However, budgeting should not stop the Thai government from trying to remedy the fact that 200,000 migrant children do not go to school. Ministries responsible for this issue, including the Ministries of the Interior, of Education and of Health, together with the Royal Thai Police, all need to work together to reduce the trafficking and abuse of children at the border, rescue those already trafficked, and incorporate them into the mainstream education system.
Such an effort, led by the Prime Minister's Office, would allow Thailand to better implement the Education for All initiative and improve the country's reputation abroad, such as its standing with the US Department of State's Trafficking in Persons Report or with the EU. The prime minister has declared the migrant labourer situation a national priority, and a concerted drive to solve the plight facing migrant children is a natural corollary.
Thailand actually needs migrant families and their children to stay in Thailand. Its population size is not expected to change much over the next 15 years. However, the labour market needed to sustain Thailand's economy is shrinking. With a fertility rate of 1.5 children per family, fewer Thais are being born per year and after 2020, Thailand will experience an increasingly inverted population pyramid and lower productivity.
Creating incentives for young migrant families to stay means creating a path for permanent residency. That would give legal protection to a plurality of ethnic identities and conform with the International Convention on the Elimination of All Forms of Racial Discrimination while reducing xenophobia.
Ultimately, mainstreaming migrant children means adjusting attitudes so that Thailand can welcome ASEAN migrant families as equals. By 2016, Thailand will be part of ASEAN. That mainstreaming migration benefits all of society is an essential truth that should be recognised on its own merits without constant reminders by the West.
This article was originally published in the Bangkok Post on 23 April 2015.
Authors Dr. Peerasit Kamnuansilpa is founding dean, College of Local Administration, Khon Kaen University, while John Draper is project officer, Isan Culture Maintenance and Revitalisation Programme, College of Local Administration.