FROM THE DVB NEWSROOM
Military claims Burma at risk of fracturing
The military-installed Acting President Myint Swe said that the offensive by anti-coup resistance forces may fracture the country if it is not contained. He made these remarks during the National Defense and Security Council meeting in Naypyidaw on Nov. 8.
The Brotherhood Alliance launched its "Operation 1027" in northern Shan State on Oct. 27. It has seized around 150 military outposts in northern Burma. Since Nov. 6, towns in Sagaing Region and military outposts in Karenni States have come under the control of resistance forces.
The Brotherhood Alliance announced that it will soon join forces with others fighting the military across the country. Its stated aim is to end dictatorship and cyber scams along the China-Burma border. Regime media reported that the fighting "could harm" relations between the two countries.
New report details enforced disappearances
The Karen Human Rights Group (KHRG) released a report about enforced disappearances in southeast Burma on Nov. 8. The report states that at least 159 people in Karen and Mon states, as well as Tanintharyi and Bago regions, have disappeared since the 2021 military coup.
KHRG laid blame on the military but admitted some disappearances were done by resistance groups. "These crimes against humanity of enforced disappearance are dramatically increasing in Southeast Burma, with devastating consequences for local communities," added the report.
KHRG called on the international community to support the work of civil society groups in Burma and for the National Unity Government (NUG) and Karen National Union (KNU) to educate their armed wings about international humanitarian law.
UN visits Rohingya villages in Arakan
A delegation led by the U.N High Commissioner for Refugees (UNHCR) Assistant High Commissioner for Operations, Raouf Mazou, visited Rohingya villages in Maungdaw Township, Arakan State on Nov. 7.
"We [Rohingya] are not allowed to travel to Yangon and Sittwe for emergency medical treatments. Our children can't go to college with National Verification Cards. They instead have to obtain paperworks from immigration offices in order to attend the colleges. We also told them to provide food to us as there are no job opportunities here," said a Gongnyar village resident and spokesperson for the community.
Gongnyar village received aid from the International Committee of the Red Cross and World Food Programme in 2023. It also received aid in 2017 following the 2017 military "clearance operations" which was condemned as genocide by the U.S. in 2022. Mazou visited an Internally Displaced Persons (IDP) camp in Buthidaung Township on Nov. 5.
News by Region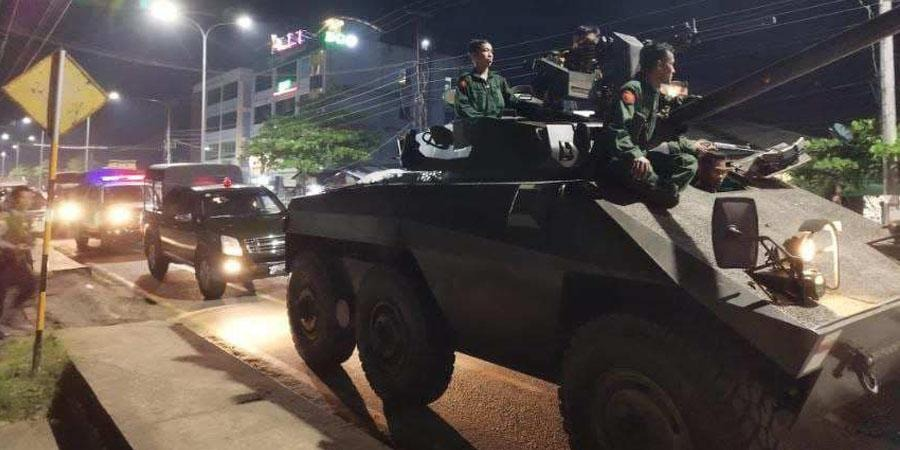 BAGO—Burma Army personnel and administration officials under its Southern Command patrolled Bago with armored vehicles on Nov. 7. "It was like it was to scare the people in the town. Clashes are going on in the western part of Bago but there is no fighting in the town," said a Bago resident.
The Southern Command ordered its forces to recite Buddhist sutras – meant to protect the people – everyday from Nov. 8-16. Military officers have been questioned for leaking this order on social media.
CHIN—The Chinland Defense Force (CDF) Mindat stated that three civilians were injured by two airstrikes on M'Kuiimnu town in Mindat Township on Nov. 7. Nineteen buildings were destroyed.
"I don't know why they conducted airstrikes where there were no clashes or presence of armed forces. They are intentionally targeting civilians and committing war crimes," said a CDF Mindat spokesperson.
KACHIN—Around 100 people staged a protest against the Kachin Independence Army (KIA/KIO) and the People's Defense Force (PDF) outside the Northern Command in Myitkyina on Nov. 8. The KIA and PDF have been fighting the Burma Army in Hpakant, Shwegu, Momauk, Bhamo, Mohnyin, Waingmaw and Mogaung townships.
"They protested around the Northern Command but did not walk around the town. They said they don't want the KIA and PDF. I'm not sure they were from the town as they wore face masks," said a Myitkyina resident.
SAGAING—The Tigyaing PDF announced the shutdown of the Tagaung-Tigyaing-Indaw Road due to fighting in Tigyaing on Nov. 8. It asked residents to leave town. "There were airstrikes that afternoon. We had to hide as shooting occurred inside the town as well," said a Tigyaing resident.
The number of casualties hasn't been reported. The National Unity Government (NUG) claimed that the PDF and its allies have seized the towns of Pinlebu, Khampat and Kawlin in Sagaing Region.
SHAN—Three women were killed by artillery in Kaungkan village of Lashio Township on Nov. 9. "On that morning, they were in their kitchen cooking breakfast but the shell dropped and killed a 60-year-old and 11-year-old," said a Kaungkan resident.
Another victim died on the way to Lashio hospital. The shells landed inside a monastery compound where more than 150 IDPs are sheltering. No one was injured. The village is a home of over 30 households and is located 15 miles (24 km) from Lashio town.
Read our latest: What the Myanmar diaspora should be doing for the BURMA Act by James Shwe.