European Union observers will be permitted access to polling stations within military zones across the country, according to the organisation's chief observer.
Excluding national security concerns, the assurance came during talks yesterday between EU chief observer Alexander Graf Lambsdorff and armed forces Commander-in-Chief Min Aung Hlaing in Naypyidaw.
Speaking at a press conference today, Lambsdorff said, "I was very satisfied that the commander-in-chief instructed the military services yesterday to allow access to our observers, where security reasons do not prevent this. We will now continue to follow up on this, and we will hopefully be observing as many stations as possible."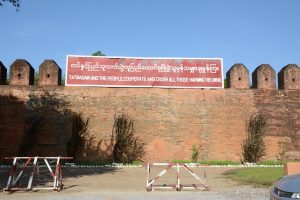 Access to polling stations on military grounds is considered a crucial factor for international observers in ensuring the democratic process is upheld throughout the course of the election. Burma has a massive military presence, with a troop strength of over 350,000. Many thousands of military families live in 'cantonments' – restricted residential zones where access is controlled.
The EU confirmed that it will have a final team of some 150 observers and analysts on the ground in Burma, representing the European Union nations, as well as Norway and Switzerland. The coalition of European nations pledged to uphold its observer mission with respect for human rights, and in accordance with its mandate agreed with the Burmese government. Thirty long-term observers arrived in the country on 7 October, and are set to be joined by 62 additional short-term observers on election day.
The EU said it would release a preliminary report within two days of the election, with a final report to follow.
[related]
The United States-based Carter Centre have also confirmed they will observe the election.
Burma's powerful military has controlled the country either directly or indirectly for decades. Under the country's 2008 constitution, military appointees are automatically granted 25 percent of all seats in each and every parliament and assembly throughout the country.