FROM THE DVB NEWSROOM
Military regime reshuffles cabinet
The regime announced a major cabinet reshuffle on Aug. 2, one day after it extended the state of emergency by another six months. Several officials were removed from their posts, including Chief Justice Tun Tun Oo, Human Rights Commission Chairperson Hla Myint, Anti-Corruption Commission Chairperson Htay Aung, and Union Auditor General Tin Oo. Electricity Minister Thaung Han, Energy Minister Myo Myint Oo, Labor Minister Pwint San, and Religion and Culture Minister Ko Ko will be replaced in the coming days. Health reasons were cited for the removal of regime ministers Ko Ko and Thaung Han, Hla Myint, Htay Aung, and Tin Oo. Two other regime members, Maung Ko and Aung Kyaw Min, will also be replaced. 
Tin prices rise due to Wa State ban on mining
Global tin prices have risen as authorities in Wa State suspended tin mining on Aug. 1. "We have confirmation that Wa State mines were closed on August 1 as mandated," the International Tin Association (ITA) told Reuters. The ban was originally announced last April. Burma is the third largest tin producer, responsible for 12 percent of tin mining globally, with Wa State accounting for at least 70 percent of its production within Burma in 2022, according to the ITA. The reason for the tin mining ban is still unknown.
Germany investigates company accused of supplying military
A German state prosecutor in Augsburg launched a criminal investigation into MAN Energy Solutions for allegedly supplying components to a Burma Navy ship, according to Justice for Myanmar (JFM). MAN Energy Solutions is a manufacturing company and a subsidiary of Volkswagen Group. A criminal complaint against the business was first filed by Greenpeace. The navy ship UMS Moattama was reportedly used by the military in Rakhine State operations in 2022. "We welcome the action taken by the German public prosecutor in Augsburg in response to the criminal complaint by Greenpeace Germany," said JFM spokesperson Yadanar Maung, who also called on Germany to open criminal investigations into other companies accused of providing equipment to the military regime. Providing support to the military in Burma is in violation of Germany's Foreign Trade Law and E.U. Dual Use Regulations.
Kim Aris dismisses Aung San Suu Kyi's partial pardon
Aung San Suu Kyi's son Kim Aris told Reuters that her partial pardon is meaningless. "It doesn't go far enough in any way. The whole world knows the military have played these games with propaganda, trying to make themselves look better on occasion," said Kim Aris. Aung San Suu Kyi was pardoned of five convictions that lowered her 33-year prison sentence by six years to 27. Aris called for tougher sanctions against Naypyidaw. He told Reuters that he is working with the National Unity Government (NUG) to raise awareness about his mother's plight.
News by Region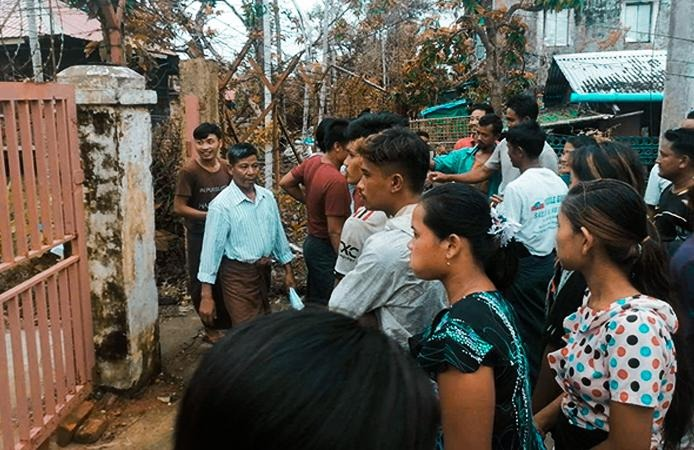 RAKHINE—The regime announced on Aug. 2 that it released 61 political prisoners charged under Section 17(1)(2) of the Unlawful Associations Act for alleged ties to the Arakan Army (AA). The actual number of those released is still being counted. Among them was the composer Ko Sanko. Other individuals who were charged for unlawful associations have not yet been freed. Activists and former political prisoners called for their release. "There are people who are being released under 17(1). On the other hand, there are still people facing trial under 17(1) in prison," said a former political prisoner.
BAGO—Fifteen political prisoners are currently locked up in Thayarwady Prison, according to the Myanmar Political Prisoners Network. They were reportedly jailed after they wore black ribbons to commemorate Martyrs' Day on July 19. "The prisoners were also subjected to beatings. Among them is an elderly person named Yi Yi Swe, who is around 50 or 60 years old. They have been locked up since Martyrs' Day, and the majority of the inmates held there are political prisoners," a spokesperson told DVB. The Myanmar Political Prisoners Network condemned the reported use of torture in prisons and expressed concern that prison authorities have not allowed parcel deliveries to inmates to resume.
MANDALAY—Properties owned by National League for Democracy (NLD) party member Aung Myo Lat were sealed off in Myingyan Township on Aug 2 . The properties include a bakery, a hotel, and his home. "The land that was sealed off actually belongs to the MP's mother, but it appears to have been targeted due to his affiliation with the NLD party," said a Myingyan Township resident. Aung Myo Lat has been in hiding since a warrant was issued for his arrest in 2021. His two sisters were arrested in Mandalay on July 26.
SHAN—A monk and two women were injured by Burma Army artillery in Muse Township on Aug 2, as fighting began between the Burma Army and the combined forces of the Ta'ang National Liberation Army (TNLA) and People's Defense Force (PDF). The TNLA and PDF reportedly killed Burma Army troops and seized weapons. "There were a lot of casualties on the Burma Army side, and they are struggling to retrieve the bodies," said a Muse Township resident. The exact number of casualties remains unknown.
Read our latest contribution: Myanmar's unpleasant reality by Moe Gyo.