FROM THE DVB NEWSROOM
New front opens in Arakan State
The Arakan Army (AA) claims it attacked and seized two military trucks, a police station, and a guard post near the Bangladesh border in Rathedaung and Minbya townships on Nov. 13.
Two military officers and an unknown number of soldiers were taken prisoner. The military has blockaded main transportation arteries into Arakan State, the Sittwe-Yangon highway and the Maungdaw-Angumaw road. Read more here.
Beijing issues arrest warrants for Kokang officials
Chinese police issued arrest warrants for four people in the Kokang Self-Administered Zone, located in northern Shan State on Nov. 12, the Diplomat reported.
Ming Xuechang is a former Kokang official and member of the military-proxy Union and Solidarity Development Party (USDP). His son Ming Guoping is a brigade commander of the pro-military Kokang Border Guard Force (BGF). They and two more of Ming Xuechang's children had warrants issued for their arrest in China.
All four are wanted for their alleged involvement in operating cyber crime centers in the Kokang Self-Administered Zone. This comes as the Brotherhood Alliance has seized over 150 military outposts in northern Shan State near the China border.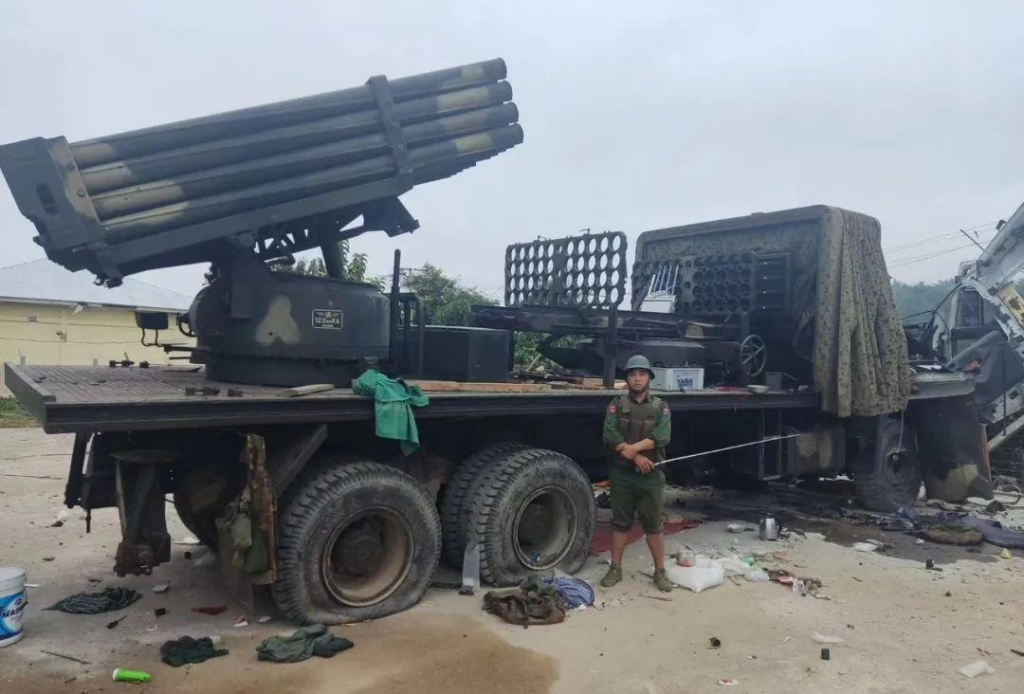 Martial law imposed in eight northern Shan townships
The military imposed martial law in Kutkai, Kunlong, Namkham, Muse, Lashio, Hsenwi, Konkyan and Laukkai townships of northern Shan State on Nov. 12 as the Brotherhood Alliance seized Kunlong. Judicial and executive powers have been handed to the military's Northeastern Command HQ. 
The Brotherhood Alliance consists of the Arakan Army (AA), the Ta'ang National Liberation Army (TNLA), and the Myanmar National Democratic Alliance Army (MNDAA). It has reportedly seized over 150 military outposts in northern Shan State since Oct. 27. Martial law has been imposed in 55 townships across Burma since the 2021 military coup.
News by Region
BAGO—Two municipal staff were killed and four others injured when a bomb detonated at a government office in Pyay on Nov. 11. "We warned people not to go around the regime's government offices," said the Pyay District People's Defense Force (PDF). Its spokesperson claimed that they attacked the office with a remote-controlled explosive.
KARENNI—Fighting between the military and anti-coup resistance groups began in Loikaw on Nov. 11. "Artillery shells landed at our house but we are okay. Our neighbors have been injured and we have to take care of ourselves. None of the rescue groups are coming as the military is continuously shelling and using airstrikes," said a Loikaw resident. Many have fled to Demoso Township.
SHAN—Four civilians were killed and ten were injured by artillery in Moebye, located at the intersection of Shan and Karenni states on Nov. 11. "They fired artillery all over the town. They don't even avoid the monastery anymore," said a PDF member in Moebye.
The Karenni Interim Executive Council (IEC) Vice-Chair Khun Bedu said that more than 40 military personnel were killed and nearly 100 weapons were seized at seven military outposts in Moebye, Loikaw, Demoso and Nam Mae Kon.
One person was killed and two were injured in an explosion at a military armory in Mong Hsat Township on Nov. 12. All weapons, explosives, and ammunition were destroyed, according to an unnamed source from the Military Ordnance Directorate. The Brotherhood Alliance claimed that it was a drone strike.
YANGON—Regime spokesperson Zaw Min Tun said that 15 fuel ships will arrive in Yangon as the country faces a shortage. "There is enough domestic fuel. We're always working to have one month's supply of any type of fuel, domestically," said Zaw Min Tun. He added that four fuel ships were docked in Yangon on Nov. 11-12.
The military claimed that the fuel shortages were occurring due to the limited distribution capacity of three gasoline storage terminals. The sales of 92 Ron fuel in some fuel stations in Yangon spiked on Nov. 10. More than 13 million gallons of 92 Ron, 3 million gallons of 95 Ron, 1.4 million gallons of 97 Ron and 29 million gallons of diesel remain in stock, regime media reported.
Read our latest: Brotherhood Alliance to join forces with anti-coup resistance.