FROM THE DVB NEWSROOM
NLD expels Henry Van Thio for attending regime meeting
The National League for Democracy (NLD) party announced that it had expelled Second Vice President Henry Van Thio. The NLD Central Committee made the announcement on Aug. 9, stating its reason for the expulsion was made because he attended the regime's National Defence and Security Council (NDSC) meeting on July 31. Henry Van Thio was elected as the NLD representative in the Amyotha Hluttaw for Thantlang Township, Chin State in the 2015 election. He was re-elected in 2020. Henry Van Thio served as Burma's vice president from 2016-2021 under the NLD government.
South Korea defends regime envoy's attendance at arms event
South Korea stated that it continues to ban arm sales to Burma despite inviting a regime envoy to an event promoting the sale of weapons last May, Reuters reported. Burma's ambassador to South Korea Thant Sin attended the event hosted by Seoul. "Our government has been still strictly implementing countermeasures against Myanmar since they were announced shortly after the outbreak of the crisis, including a ban on exports of military supplies," stated South Korea's Ministry of Foreign Affairs.
Indian official blames Burma's civil war for Manipur violence
India's Interior Minister Amit Shah blamed Burma's armed conflict for ethnic violence in Manipur State on Aug. 9, Reuters reported. More than 180 people have been killed in violence between ethnic Meitei and Kuki in Manipur since May. Kukis share close kinship with Burma's Chin. Shah said that Chin refugees from Burma that have fled to Manipur have created "a feeling of insecurity" among Meitei. At least 50,000 people from Burma have fled into India since the 2021 coup.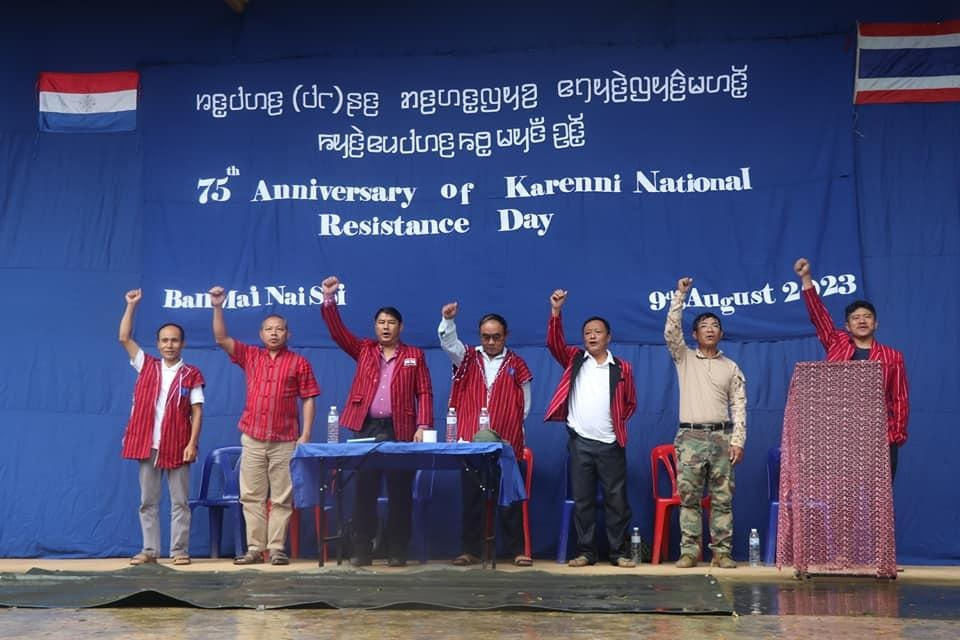 KNPP and KIA call for continued resistance against military
The Karenni National Progressive Party (KNPP/KA) urged the Karenni people to continue to resist the military regime during the 79th anniversary of Karenni National Resistance Day on Aug. 9. More than 200,000 people in Karenni state have been displaced while over 400 people were killed due to attacks by the Burma Army. The KNPP stated that it will join forces with other ethnic nationalities in Burma to build a federal democratic union. The event was held near the Thai border.
The Kachin Independence Organization (KIO/KIA) claimed that the regime's end was near during a ceremony marking Kachin Martyrs Day on Aug. 10. "The military is already in a difficult situation as the fighting is going on across the country. I've heard that their soldiers are failing and the number of them fleeing is increasing. As a result of this, the military decided to use force against unarmed civilians, torture women and children and committing war crimes bluntly and these are the signs of the downfall of the military," said N'ban La, the chairperson of the KIO/KIA. Kachin Martyrs Day commemorates the assassination of KIO/KIA founder Lahtaw Zau Seng and others killed at a KIA base near the Thai border in 1975.
News by Region
BAGO—More than 100 houses and four monasteries in Letpadan Township were destroyed by a tornado on Aug. 7. "Almost all the homes in our village were destroyed. Rain is continuing and we are homeless. We are staying at our relatives' houses and are in need of help," said a Nabekwin village resident.
CHIN—Over 20 houses have been damaged as a result of heavy rain in Paletwa town since July 27. "All the retaining walls in the town collapsed because of the continuous rainfall. All plantations were flooded and damaged," said a Paletwa resident. Those evacuated from their homes are staying with relatives and at local churches. The prices of basic commodities are rising as flooding has stopped goods being transported to markets.
KAREN—More than 10,000 residents from Hpa-an town were evacuated to shelters due to flooding. The water levels of the Salween River exceeded critical thresholds on Aug. 9. Homes and the town's market were damaged by water. "People in the shelters are facing shortages of food and everything else," said a flood victim. Residents are sheltering at seven locations, including the town's stadium, schools, monasteries and a pagoda.
RAKHINE—The bodies of 13 Rohingya who went missing after their boat sank were discovered near Basara village in Sittwe Township on Aug. 8-9. "The bodies were discovered on the beaches of two villages," said a spokesperson of Shwe Yaung Myitta Foundation who assisted with the rescue. A boat carrying 55 Rohingya left Rathedaung Township on Aug. 6 but capsized near Sittwe Point beach. The discovery of the 13 bodies raises the confirmed death toll to 15. Eight survivors were detained by police. At least 189 Rohingya have been arrested outside of Rakhine State in 2023. They face charges under the Immigration Law for "illegal entry," according to regime sources.
SAGAING—A Chin man was killed and two others were injured by a landmine on Kalay-Yarzakyo Road in Kalay Township on Aug. 8. "[His] cow stepped on the landmine and killed him on the spot. Two people near the explosion were injured," said a Letpanchaung village resident. Locals don't know which group planted the landmine.