FROM THE DVB NEWSROOM
NUG claims military burned down 1,750 homes in August
The National Unity Government (NUG) claimed that the Burma Army destroyed 1,750 homes in arson attacks across the country last month. In Sagaing Region, 1,128 houses, one hospital, one school were burned down and four civilians were killed.
In Magway Region, 313 houses were burned down and one civilian was killed. In Bago, Mandalay, Kachin, Karenni, Karen and Tanintharyi, 307 homes were also burned down by regime troops.
Final ASEAN summit of 2023 begins in Jakarta
Burma's political crisis will be discussed at the Association of Southeast Asian Nations (ASEAN) final summit of 2023 in Jakarta Sept. 4-7. U.S. Vice President Kamala Harris, Russian Foreign Minister Sergei Lavrov, and Chinese Premier Li Qiang are expected to attend.
Fighting between pro-regime forces and resistance groups has escalated since Naypyidaw agreed to the ASEAN Five-Point Consensus in April 2021 to end violence in Burma. ASEAN Chair Indonesia has been engaged in closed-door mediation efforts with all stakeholders in Burma. Laos will become ASEAN Chair in 2024.
List of tycoons operating in Singapore
Whistleblowing group Justice for Myanmar (JFM) published its "Dirty Over 30 list" of business people that have imported military equipment and funds from Singapore to assist the regime.
It includes Tay Za at Htoo group, Naing Htut Aung at International Gateways Group of Companies, Aung Hlaing Oo at Myanmar Chemical & Machinery Group, Aung Moe Myint at Dynasty Group of Companies, Tun Min Latt at Star Sapphire Group of Companies, Khin Phyu Win at Asia Sun Group of Companies, Jonathan Myo Kyaw Thaung at KT Group and Thein Win Zaw at Shwe Byain Phyu Group of Companies, and the investor George Yin Soon.
Military organizes video contest to boost troop morale
Military bases have been asked to participate in a contest Sept. 3-5 to create social media videos praising the Burma Army and condemning resistance groups. "All officers can join the contest," said an unnamed military officer.
A military veteran in Mingaladon Township said the purpose is to persuade soldiers to go to the frontlines. First prize will go to the one with the most likes on Facebook and receive K100,000 ($47.33 USD). Second prize will be K50,000 ($23.66 USD) and third prize will be K30,000 ($14.20). Min Aung Hlaing will reportedly select the winners.
News by Region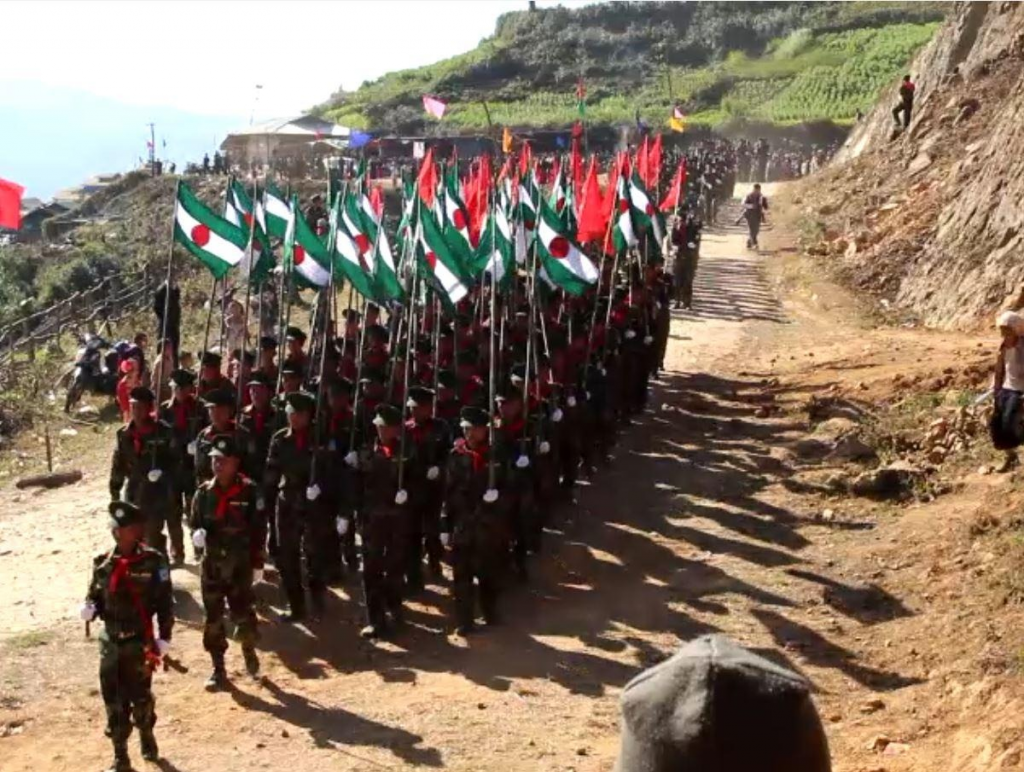 SHAN—The Ta'ang National Liberation Army (TNLA) has expanded its administration in northern Shan State, states the International Crisis Group (ICG). "Since Myanmar's 2021 coup, the Ta'ang National Liberation Army has significantly expanded its territory in northern Shan State, and now has checkpoints on the outskirts of major cities," said Thomas Keane, the ICG Senior Consultant on Myanmar and Bangladesh.
Keane added that the Burma Army has done little to stop the TNLA from expanding its presence. It has established schools, courts, and healthcare facilities in areas under its control. It has been fighting against the Burma Army since July and is providing support to resistance groups.
KACHIN—The Burma Army bulldozed a house and a fuel station in Mogaung town and arrested 20 of its employees on Sept. 3. "They accused the owner of the station of being connected with the People's Defense Force," said a Mogaung resident.
KAREN—Five regime officials, including a lieutenant colonel, were reportedly killed and eleven police officers were injured by a drone strike on Sept. 3. "The drone dropped two bombs at around 6.40 p.m. and dropped another two when the district officers arrived," said a source close to the Myawaddy District Police headquarters.
MANDALAY—Fifty-six people were arrested and four houses were seized by the regime last month, claimed a resistance group called Mandalay Strike Force. "We collected the information from media outlets and sources, but we don't know the details of who was arrested and their charges," said its spokesperson. The properties seized included a private school, a stationary store, and a doctor's home.