FROM THE DVB NEWSROOM
NUG concerned over President Win Myint's health
The National Unity Government (NUG) expressed concern over reports that jailed President Win Myint's health was deteriorating inside Taungoo Prison. He has reportedly been placed on a urine tube. "The responsibility for President U Win Myint's declining health rests squarely on the genocidal military junta, and they must be held accountable for their brutal actions and the atrocities they have committed against the people of Myanmar," stated the NUG. Win Myint and Aung San Suu Kyi have been imprisoned by the regime since the 2021 military coup.
NUG documents 130 cases of sexual violence since 2021
The NUG documented 130 cases of sexual violence, taking place mainly in conflict-affected areas, since the 2021 coup. The Burma Army was responsible for the vast majority – 108 cases of sexual violence. Resistance forces were responsible for 13 cases of sexual violence with civilians responsible for nine. The report was released on June 19 – the International Day for the Elimination of Sexual Violence in Conflict. The NUG has implemented legal measures to address sexual violence.
US to sanction two regime-owned banks
The U.S. will sanction two additional regime-owned banks on June 20, Thai PBS World reported. The banks are the Myanma Foreign Trade Bank and the Myanmar Investment and Commercial Bank. An unnamed diplomatic source told Thai PBS that the sanctions are designed to limit the regime's financial access to limit its ability to wage war. The U.S. has previously imposed targeted sanctions on regime officials and their affiliates.
News by Region
MON—Six Rohingya were arrested at a police checkpoint in Kyaikto Township on June 19. They were discovered hiding underneath a motorboat's cargo during its journey from Yangon to Myawaddy. The Rohingya intended to travel to Thailand or Malaysia, according to unnamed sources close to the regime.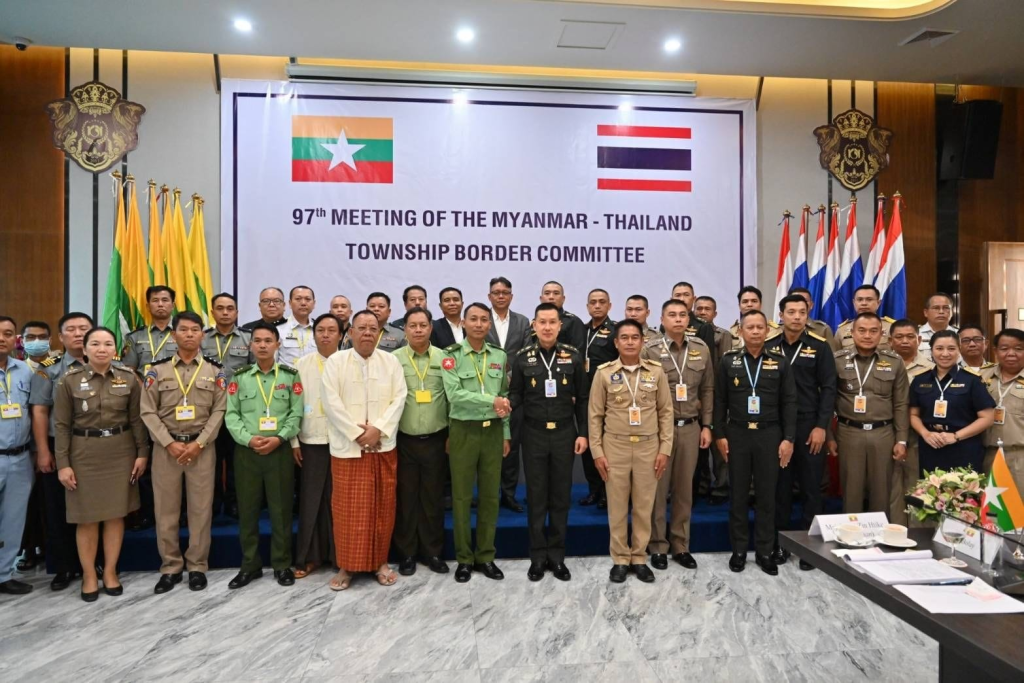 SHAN—Thai authorities have requested the Burma Army to pressure the United Wa State Army (UWSA) to withdraw from its five outposts along the Thai-Burma border. This request was made during the 97th meeting of the Thai-Myanmar Township Border Committee (TBC) held in Tachileik on June 19. The Burma Army has faced previous requests for the UWSA to withdraw from its border posts. Other topics discussed in the meeting were environmental concerns, drug smuggling, and human trafficking. Officials want more collaboration on apprehending "fugitives" from Burma who seek refuge in Thailand.
TANINTHARYI—Aung Pe, the father of Democracy Movement Strike Committee member Min Lwin Oo, was arrested in a village in Launglon Township on June 19. He was detained by the Burma Army during a raid on his home. Min Lwin Oo said his father was not involved in anti-coup activities. "He has nothing to do with it," he said. Min Lwin Oo's mother was detained for four days in November 2022. In April, the regime announced a reward of K300,000 ($142.87 USD) for any information regarding Min Lwin Oo, who has been leading anti-coup protests in the township. The Democracy Movement Strike Committee condemned the arrests as a "cowardly act" of hostage-taking.
YANGON—Chief security officer of the Yangon International Airport Ye Khaing was killed in Mingaladon Township on June 19. A group calling itself Urban Owls claimed it had assassinated Ye Khaing because he implemented stringent security measures at the airport and arrested Civil Disobedience Movement (CDM) workers trying to leave the country. "Revolutionary groups, CDMers, as well as ordinary visitors, have been arbitrarily arrested and tortured. There will be more targeted attacks," an Urban Owls spokesperson told DVB. Ye Khaing is a former Burma Army major. Urban Owls claimed it had killed Minn Tayzar Nyunt Tin, a well-known legal advisor to military officials on March 24.
At least 13 people working at a Aung Thamardi Jewelry shop in Pabedan Township were arrested for participating in a "flower strike" to commemorate the 78th birthday of Aung San Suu Kyi on June 19. Regime forces detained Aung Thamardi Jewelry staff members wearing roses on Monday. "The shop has been closed since they were arrested," said a Pabedan Township resident. Around 50 women wearing flowers were reportedly arrested in Yangon on allegations of being involved in the flower strike.