FROM THE DVB NEWSROOM
Eight killed in attack on Yangon's Insein prison
Eight people were killed during an attack at Insein Prison on Oct. 19. Two explosions occurred at the prison's parcel receiving area. Read more here.
One killed and five apprehended after Sagaing prison break
Five escapees were re-captured and one was killed in a major prison break in Sagaing's Hkamti. Fourteen political prisoners broke out of the prison around 3 a.m. on Oct. 18 and fled, according to locals. Read more here.
One million people displaced from their homes since coup
The UN Office for the Coordination of Humanitarian Affairs (UNOCHA) reports that there are nearly 1.4 million internally displaced persons (IDPs) in Burma as of Oct. 10. Around one million have been displaced since the coup last year. More than 16,000 of the IDPs have become displaced since fighting between the Arakan Army and Burma Army resumed in Rakhine State and Chin's Paletwa Township. Around 1,000 residents have become displaced across Shwegu Township in Kachin State as fighting has intensified since the beginning of October. Most of the IDPs in Shwegu returned after the security situation stabilized later in the month. UNOCHA states that ambush attacks and airstrikes have intensified in townships of Karen and Mon states as well as Sagaing and eastern Bago regions. The Assistance Association for Political Prisoners (AAPP Burma) reports that at least 2,367 civilians have been killed since the coup. A total of 15,875 people have been arrested. Data collected by the Armed Conflict Location & Event Data Project (ACLED) estimates that 26,794 people have been killed in armed conflict and political violence since the military ousted the government last year.
Malaysia deports 150 asylum seekers from Burma
Malaysia deported 150 Burma nationals and plans to send more back in the future, according to Reuters. Those deported include six former Burma Navy officers seeking asylum. The officers were arrested by Malaysian security forces last month and were deported on Oct. 6. One officer and his wife were detained upon return to Yangon. The UN High Commissioner for Refugees (UNHCR) expressed alarm over the deportations. "Not only in Malaysia but in the region, people fleeing Myanmar must be allowed access to territory to seek asylum and be protected against refoulement," the UN agency stated. The deportations come as the Malaysian government has positioned itself as a strong critic of Burma's junta. Deportations in Malaysia have recently surged as immigration policies have tightened in the country.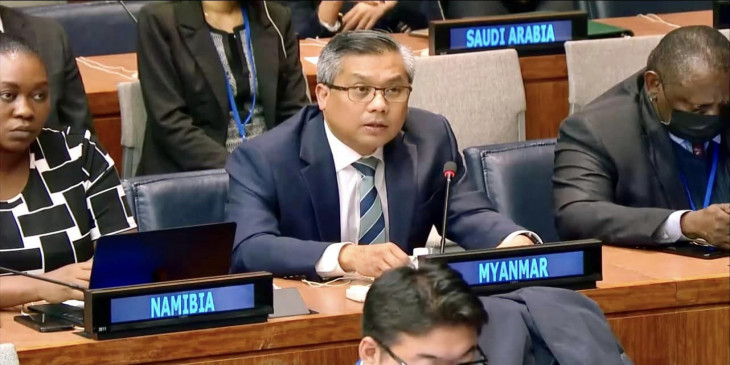 News by Region
YANGON—People have reportedly had to wait up to three months to get an appointment to apply for a new passport. Since last March, the process for issuing new passports has changed. Instead of directly applying at the office as before, people have had to make an appointment online before visiting the office. It has been reported that an estimated 2,500 to 3,000 people queue at the Yangon passport office daily for services. Due to high demand, passport applicants have had to pay brokers about K500,000 ($239 USD) for expedited services. There have been reports that some have been scammed by people posing as brokers. Warnings have been posted online with photos of men in front of the passport office offering expedited services.
NAYPYIDAW—A prison court is proceeding with the corruption trial of ousted leaders State Counsellor Aung San Suu Kyi and President Win Myint. Suu Kyi and Win Myint have been charged with five counts of corruption under Section 55 of the Anti-Corruption Law, said a source close to the court. The hearings for the charges were held on Oct. 18. "Seven prosecution witnesses for each case have been called. Four will testify at the next trial," the source added. The regime has accused Suu Kyi and Win Myint of misusing state funds regarding the purchase and maintenance of a helicopter. Suu Kyi has been sentenced to a total of 26 years in prison.
RAKHINE—A 13-year-old girl was killed by a shell fired by the Burma Army in Pyein Taw village of Rathedaung Township on Oct. 19. "Five heavy shells were fired this morning. She was playing nearby. She was blown away and died on the spot," a villager told DVB. A 43-year-old man was killed during shelling by the Burma Army near Dain Net Pyin village of Buthidaung Township on Oct. 18. "He died while he was receiving medical treatment at a hospital," a local told DVB. Since Aug. 28, nine civilians have been killed and 16 have been injured by Burma Army artillery, according to social aid groups.
The junta has suspended Sittwe to Phaktaw ferry services indefinitely on Oct. 18. "A [Burma army] major came and ordered it to be shut down. We do not know why…maybe it's related to the [current] military situation," a motorboat service provider explained. Other motorboat ferry services from Sittwe to other townships have also been suspended due to fighting across the state. "Now only the Sittwe-Kyaukphyu-Ramree-Taungup-Manaung line is still operating," a local told DVB.