A commemoration of the co-founder of the National League for Democracy (NLD) and former political prisoner Win Tin was held in Rangoon on Tuesday on the one-year anniversary of his death.
Those in attendance at the event at the Royal Rose Hall in Rangoon included members of the NLD, activists, former political prisoners and his admirers.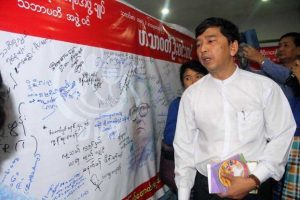 While paying tribute to Win Tin, Aung San Suu Kyi made a call to sustain the democratic movement that he helped to found.
"A leader is like a roof that cannot stand without support. With no comrades, there will be no leader. U Win Tin was not only a political leader for us, but also a reliable and energetic democracy comrade. We need many comrades like him," said Suu Kyi.
"Our democratic movement is yet to end and there is still a lot of work for us to do. I wish that all of us can set aside our personal desires and emotions – greed, anger and ignorance – and consider for the good of the country and continue our effort as democracy comrades.
"Win Tin would have wished the same," she said.
Win Tin endured nineteen years of imprisonment for his democratic activism at the hands of the military dictatorship. He was first jailed after trying to bring the attention of the United Nations to the human rights violations in Burma's prisons.
All of those in attendance wore blue. In a show of solidarity with other political prisoners remaining behind the bars, following his release from prison in 2009, Win Tin would where only blue shirts – the colour of a prison uniform – up to his death in 2014.
[related]
"He decided he would only wear blue shirts in a call for the release of political prisoners remaining behind the bars. Today, at the one year anniversary of his passing, we have organised the blue shirt campaign in solidarity with him, and we reiterate his call," said Phyu Phyu Thin, a lower house NLD MP and committee member of the Hanthawaddy Win Tin Foundation.
A multi-faith prayer session was held at Win Tin's grave after the event.
Events commemorating the one year anniversary of Win Tin's death were held in other towns and cities across Burma, as well as in Thailand's Mae Sot, on the Thai-Burma border.
The Hanthawaddy Win Tin Foundation is currently working to establish at museum at the politician's former residence.