Burmese journalist Par Gyi was buried in Rangoon on Friday, finally laid to rest after a public exhumation from a shallow grave and a public outcry over his killing while in the custody of Burmese government soldiers last month.
But many questions remain as to why he was killed with such brutality. The Burmese military has maintained that Par Gyi (a.k.a. Aung Naing) was suspected of being a rebel soldier and detained, and that he was shot when he tried to wrestle a gun from a guard, then tried to escape. However, it was immediately apparent when his body was exhumed that he had been tortured or severely beaten before he was killed.
DVB spoke exclusively on Friday with Sitt Myaing, the chairman of the Myanmar National Human Rights Commission (MNHRC), about the investigation into Par Gyi's untimely death.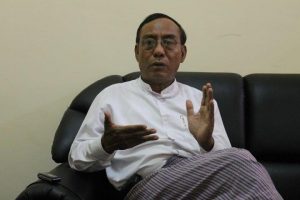 Q: Can you tell us how much freedom the MNHRC was given to investigate Ko Par Gyi's death?
A: We were given free rein. We were allowed to question persons of interest at our preferred locations. The Tatmadaw (Burmese armed forces) sent soldiers who we wished to question, including battalion commanders. The Tatmadaw itself is also investigating the case with a tribunal they formed. We have also called upon members of that tribunal for questioning. We also questioned the police, including the police commander, as well as eye-witnesses and village leaders. We also demanded materials as evidence, including photographs, paperwork and faxes.
Q: Did you get to question the army unit responsible for arresting Ko Par Gyi? Did you meet with those who personally took part in his detention?
A: Yes. We questioned the key persons of interest and senior officers from the units involved.
Q: Did you get the chance to interview the solider who shot Ko Par Gyi?
A: Yes. He is a lance corporal. We have questioned him and are looking to conduct a further interview. For now, there is nothing conclusive to indicate how accurate his testimony is. We need to ascertain more details from witnesses.
Q: When will the MNHRC be ready to present its report?
A: We cannot say exactly when. We are waiting for the autopsy report from the forensic team. There needs to be more lab tests. It shouldn't take too long.
Q: So the investigation is ongoing?
A: I think the first phase is finished here in Moulmein. For now, we will analyse all the testimonies back in Rangoon. I expect we will have more questions after that. We have informed the army that we will return to conduct further enquiries if necessary.
Q: From your analysis so far, do you think it is true that Ko Par Gyi was shot as he tried to escape?
A: It's too early to say. And as this case is in the centre of much attention, we don't want to make any assumptions. We need to conduct a thorough investigation first.
[related]