Several protesting workers from the E-Land Myanmar Garment factory in Shwepyithar Industrial Zone 2 were injured when they clashed violently with police on Friday evening.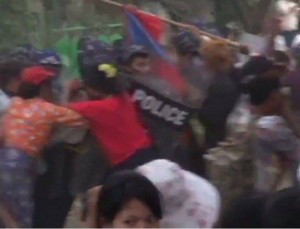 Striking workers said the injuries were caused when police tried to forcibly remove dozens of workers who were blocking access to the factory. It is unknown whether the police sustained casualties.
Police also moved in to disperse and arrest striking or boycotting workers who were staging sit-ins at other factories in the Shwepyithar industrial estate, located some 15 kilometres north of Rangoon. Strike leaders were reportedly taken to the local police station.
Striking workers from the E-land Myanmar Garment, Ford Glory Garment, Costec International, and Han Jen Textile and Garment factories have been holding industrial action for the past two weeks, demanding pay increases from basic salaries of 30,000 kyat (US$30) per month to 60,000 kyat a month. They are also calling for: casual daily workers to get the same labour rights as permanent workers; an increase in salary for workers once they complete one year on the job; and the participation of labor unions in the drawing up of industrial regulations.
[related]
Workers had been picketing and blocking the factory entrances, and preventing workers who wanted to go to work. They had also detained some factory owners and their teams, while blocking containers leaving the site on trucks, Deputy Minister Htin Aung from the Ministry of Labour, Employment and Social Security told media on 20 February.