A parcel of land wedged between a busy road and multi-story apartment blocks has been transformed into a concrete skate park in Rangoon's north.
With the sounds of car horns, trucks and city life unrelenting, the location in Kamayut Township might not be to everyone's taste. For the 150 or so skateboarders in Rangoon, it is nirvana.
Built with the aid of German non-profit 'Make Life Skate Life', the concrete skate park is the first of its kind in the country. 'Pushing Myanmar' project coordinator Ali Drummond is justifiably proud of the result.
"The new skate park basically puts Myanmar on the map as a place for skateboarders to come," he says. "It's one of the best in Southeast Asia with the way it's built – its flow and its transitions. Plus, it's free."
Months in the planning, the skate park took just two weeks to construct with a team of international and local volunteers. An Indiegogo crowd funding campaign was set up to cover the costs of the project with more than US$21,000 raised by donors from around the world. The city's development committee donated the land to the project.
Kultureshock killed it at today's skatepark opening party!

Posted by Pushing Myanmar on Saturday, 5 December 2015
On Saturday the build team were celebrating their efforts, testing out the bowl and ramp and showing off new tricks. Locals lining the park seemed rapt with the skills on show, smiling, clapping and regularly gasping with astonishment.
The event was a celebration of the many hours, dedication and hard work that volunteers from across the world devoted to the park, where well-known Burmese punk band Kultureshock played a free show.
The skate park officially opens at the end of the month but many are already keen to try their hand at the sport.
"[On Friday] all these kids just descended on the park," says Drummond. "There must have been at least 50 and they all live in the neighbourhood. There's a real need for this space."
Roughly two million people are under the age of 25 in Rangoon yet there is a serious lack of free recreation facilities. Once known as a green city, the pace of development in recent years has significantly encroached on public space.
"[On Friday] all these kids just descended on the park. There must have been at least 50 and they all live in the neighbourhood," says Drummond. "There's a real need for this space."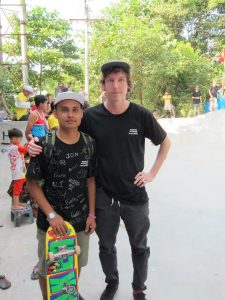 Drummond hopes the skateboard park will be a common ground for Rangoon's youth who come from nine major ethnic groups and four major religions. There are now up to 150 active skateboarders in Rangoon with many more keen to learn.
"Skating is an international language," he explains. "It's a certain little subculture. You can learn your own tricks but still skate in a collective."
Local skateboarder Ko Hein agrees: "Skateboarding is freedom. You have no constraints so you don't feel tied down," he says.
However, work still needs to be done on the perception of skateboarding in the Rangoon community, as the sport is commonly seen as unsafe and associated with delinquency.
"Some people think skateboarding is a dangerous activity," says Ko Hein.
Drummond agrees, but appears unperturbed by the stigma. "Skateboarders around the world have a negative image amongst most people. But Burmese skateboarders are very aware of that stereotype. They want to set a good example and show they're responsible citizens."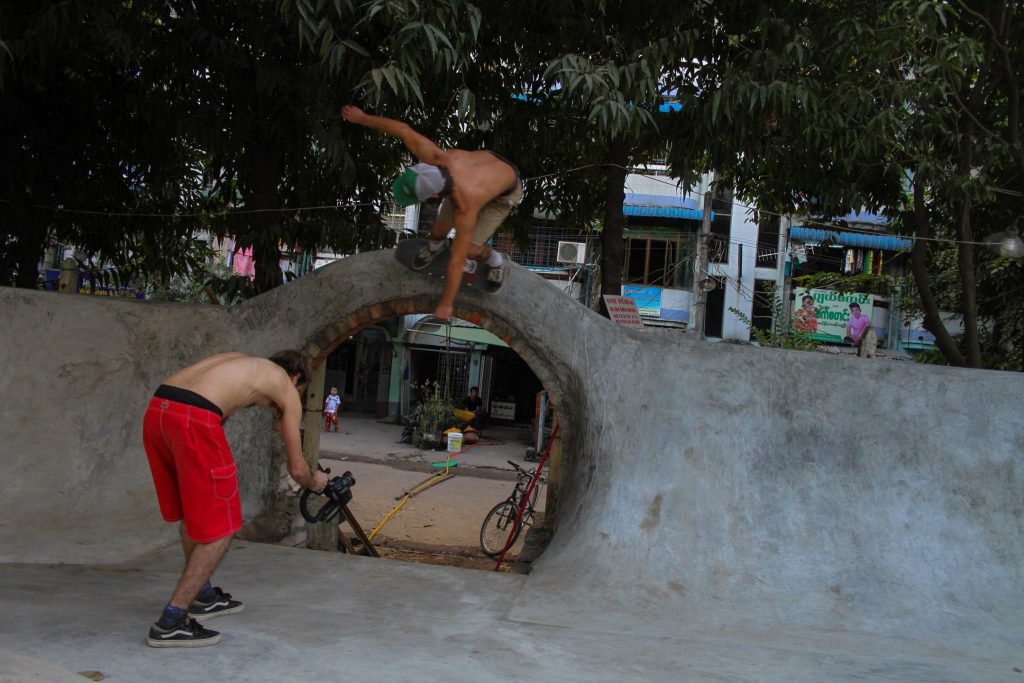 A maintenance committee has already been organised for the new skateboard park. Skateboards will be available for rent cheaply and free lessons will be provided by local skateboarders including Ko Hein.
In time, Drummond is keen to see more skate parks built in Burma.
"We want [this skate park] to become a pilot project for the government to replicate," he says. "A lot of Burmese skaters have learnt techniques on how to build skate parks so now they can use their skills to build more in other places."