Representatives of the International Committee of the Red Cross (ICRC) and Myanmar Red Cross Society (MRCS) arrived in the town of Kunlong in northeastern Shan State on Wednesday to assist the 5,000 civilians displaced by the ongoing fighting in the Kokang region.
Health Department Director Dr Thein Nyo said, "The representatives observed the relief work mission and asked if anything else was needed. They promised to provide what they can. They brought along blankets and clothing, as well as some medicine and medical equipment."
He said the ICRC pledged to provide tents to help alleviate the overcrowding of Kunlong's hospital.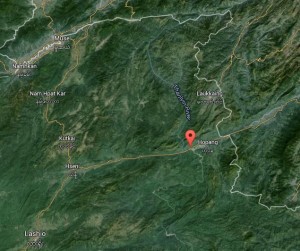 He said that four doctors, 13 nurses, more than 100 local Red Cross members and more than 60 local volunteers are currently providing the relief effort for refugees who have arrived in the town over the past two weeks from Laogai [Laukkai] via Chinshwehaw.
Around 200 refugees arrived in Kunlong on 25 February. Thein Nyo said most had arrived on foot from Chinshwehaw, about 20 kilometres to the east, and are Burmese migrants from Magwe Division who had been working on sugarcane plantations around Laogai.
The ICRC and the MRCS say they have also stepped up relief efforts in Chinshwehaw.
Since the fighting erupted in the Kokang Special Region on 9 February, Red Cross workers have made about 70 trips and evacuated the more than 5,000 refugees to Kunlong on 10 trucks.
On 17 February, a Red Cross convoy transporting refugees out of Laogai came under attack en route to Chinshwehaw, leaving two aid workers injured.
Then on 21 February, a second convoy bearing Red Cross insignia was attacked, leaving five persons injured.
[related]
Both the Burmese army and Kokang rebels have denied responsibility for the attacks, while domestic and international agencies have called for both sides to allow humanitarian vehicles unimpeded access to sites of conflict.
Amnesty International slammed the first attack on the Red Cross convoy near Kunlong as "unacceptable" and noted that, as an intentional attack on humanitarian personnel, the incident may constitute a war crime.
Meanwhile, over 30,000 refugees have fled over the Chinese border and are receiving humanitarian assistance there. Some 125 camps are catering for displaced people in Nansan Township, Yunnan Province.