FROM THE DVB NEWSROOM
Regime claims 605 police officers killed since coup
At least 605 police officers have been killed and more than 384 injured since the 2021 military coup, states sources close to the regime's Ministry of Home Affairs. "The data was collected from the police department as well as the military and sent to the office of the Commander-in-Chief," said an unnamed source in the Ministry of Home Affairs.
Most attacks occurred in Sagaing, Magway, Mandalay regions as well as Chin and Karen States. Out of the 384 injured, 112 were discharged from their positions. "The officers who are unable to work from injuries, like lost limbs, have to retire," said a source in the Chief of Police office.
NUG 'dissolves' jewelry association
The National Unity Government (NUG) Ministry of Natural Resources and Environmental Conservation (MONREC) stated on Sept. 17 that it dissolved the Myanmar Gems and Jewellery Entrepreneurs Association (MGJEA) for providing tax revenue to the regime. The NUG forbade the use of the association's funds and properties.
Jewelry businesses unaffiliated with the military will not be affected. The NUG added that it will take further action against anyone cooperating with MGJEA. The regime monopolized the Burmese jewelry industry – worth $2 billion USD – last year.
Resistance group alleges its leader tortured
The Union National Resistance Army claimed its leader Khin Kyaw has been re-arrested and tortured by the Military Security Affairs. "We heard he is now in Yae Kyi Ain interrogation center. He was severely tortured by the military and his health is very bad," said Saw Phral Di, the group's spokesperson.
Khin Kyaw founded the group in 2014 following his departure from the All Burma Students' Democratic Front (ABSDF). He was arrested in June 2021 by the Burma Army and later confessed to regime media that his group provided military training to resistance fighters.
Burma national arrested in Thailand
A woman was arrested in Sangkhla Buri district in Kanchanaburi Province on Sept. 16 for illegally possessing 920 empty M16 cartridges and 24 magazines loaded with M16 ammunition, the Bangkok Post reported.
The arrest came after a parcel company in Sangkhla Buri warned police about a parcel packed with bullets. Police had the company deliver the parcel and apprehended the suspect after she collected it. The Burma national was charged for illegal entry into Thailand as well as owning ammunition without permission.
News by Region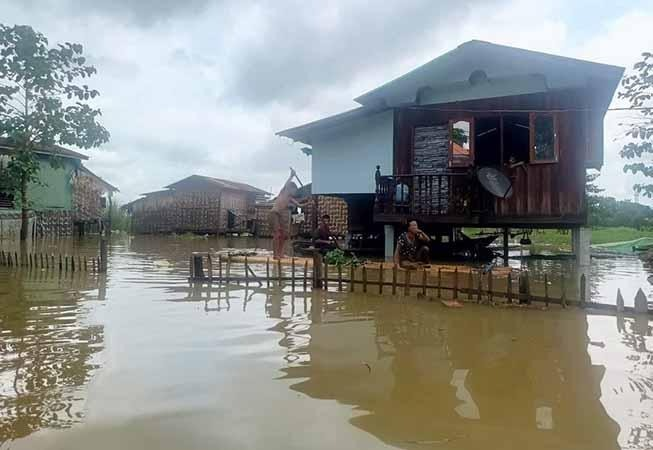 BAGO—Flooding in parts of Bago town due to heavy rainfall has been ongoing since Sept. 16. "It has been three days since the flooding in the wards," said a Bago resident. More than 100 residents are staying at religious buildings where charity groups are providing them with food and water. More than 10,000 people were displaced due to flooding in August 2023.
MAGWAY—More than 2,000 residents of Kantha village in Gangaw Township fled due to an airstrike and fighting between the Burma Army and resistance forces on Sept. 18. "Civilians from the village are fleeing," said a resident of Gangaw Township. Fighting has been ongoing since Sept. 12. Two people were killed and seven were injured in Myintha village on Sept. 16.
SAGAING—Six civilians from Tokegyi village in Katha Township were killed by arson on Sept. 17. The Burma Army burned down 37 homes after clashing with resistance forces. "They raided the village, killed civilians, set fire to homes and even burned the bodies inside those houses," said a Tokegyi resident. The Burma Army detained five villagers. Several are still missing.