FROM THE DVB NEWSROOM
Regime claims 'accidental' explosion killed 29 civilians
Regime spokesperson Zaw Min Tun called the explosion at Munglai Hkyet Internally Displaced Persons (IDP) camp, located near Laiza in Kachin State, an accident at an ammonium nitrate storage facility. Twenty-nine civilians were killed and 56 others were injured in what was at first reported as an airstrike on Oct. 9, then labeled a bombing as the scene of destruction – and the 1.6 km-long bomb crater – became visible the next morning.
"A military training school of the Kachin Independence Army is located there. There was also a storage unit of ammonium nitrate explosives. We found out the explosives were owned by the KIA," said Zaw Min Tun. He added that the Chinese police were investigating as Laiza is located near the China-Burma border.
The Kachin Independence Army (KIA/KIO) rejected Zaw Min Tun's claims. "We have difficulties naming the exact types of explosives that the Burma Army used in the attack. Our investigation team initially reported that it may have been caused by a powerful bomb," said Naw Bu, the KIA spokesperson.
Naypyidaw and Moscow discuss new gas pipeline
The Russian Ministry of Energy announced that regime and Russian officials held talks in Moscow to discuss constructing a gas pipeline to Yangon on Oct. 11, Reuters reported. The ministry did not provide further details. Regime media reported Oct. 11 that Minister of Energy Ko Ko Lwin visited Moscow for talks with the Russian state-owned International Operations Department at ROSGEO.
The regime minister and his Russian counterpart reportedly discussed oil extraction and identifying new oil and gas fields. Naypyidaw and Moscow have forged increasingly close ties since the 2021 military coup with Russia vowing to assist Burma in building a nuclear power plant.

Hun Sen and Yohei Sasakawa to visit Naypyidaw
Former Cambodian Prime Minister Hun Sen said that he is willing to work with Japan to hold talks with Naypyidaw to broker peace, the Khmer Times reported. Hun Sen made the remarks during a call with Japan's Special Envoy for Burma Yohei Sasakawa on Oct. 11. "Samdech Techo Hun Sen and the Chairman of Nippon Foundation have agreed to visit Myanmar together," stated the ruling Cambodian People's Party (CPP) in the capital, Phnom Penh.
The date of the visit to Burma has yet to be decided. As the 2022 Association of Southeast Asian Nation (ASEAN) Chair, Cambodia's then-Prime Minister Hun Sen visited Naypyidaw to meet with Min Aung Hlaing. Hun Sen relinquished his position as prime minister to his son Hun Manet in August.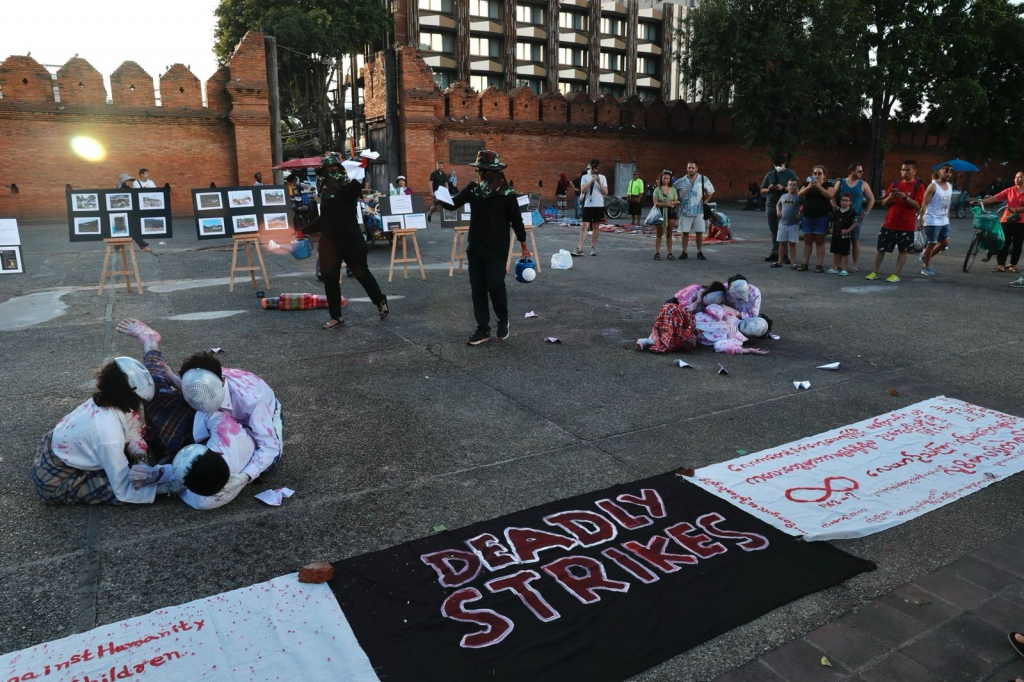 News by Region

KACHIN—A restaurant owner in Hmawsisa village in Hpakant Township was killed on Oct. 11. "Two gunmen entered the restaurant and opened fire at him while he was sitting at the counter," said a Hpakant resident. The man died on the spot. No group claimed responsibility for the murder.
KAREN—A total of 3,865 Burma Army personnel were killed and 2,260 were injured in 3,570 clashes inside Karen National Union (KNU) territory from January to September 2023, the KNU stated. At least 112 resistance fighters were killed and 399 were injured.
KARENNI—The U.N. Office for the Coordination of Humanitarian Affairs (UNOCHA) stated that fighting in Hpruso Township in early October has forced locals to seek refuge in forests. The IDPs need shelter, food, and other essential goods, UNOCHA added.
The delivery of humanitarian aid to people in Shan and Karenni states has been impeded due to the blocking of major roads by the Burma Army since late September. Nearly two million people are currently displaced from their homes due to both man-made and natural disasters in Burma.
MON—At least 3,712 methamphetamine tablets were seized at a home in Kanthaya ward of Bilin Township on Oct. 10. "We received a report about a drug dealer. We raided the house with a warrant and arrested him. We will continue to take action in accordance with the law," said a source close to the Bilin Township police station. A mobile phone was also seized and the police vowed to arrest other suspected drug traffickers and dealers.
YANGON—More than 10,000 Hlegu Township residents impacted by floods are in need of assistance. The water level in the Nga Moe Yeik creek and Nga Moe Yeik dam has risen since heavy rains began on Oct. 8, which led to flooding in certain villages.
"It has been four days since there has been no electricity in the flooded areas. Transportation is also currently difficult and people are in need of food, drinking water, medicine and are facing hygiene problems," said an aid group in Hlegu Township. More than 2,000 people have been relocated to shelters while others remain in their homes.
Listen to the Weekly Briefing on Spotify, YouTube Music, Apple & Google Podcasts. DVB English News is available wherever you get your podcasts.