FROM THE DVB NEWSROOM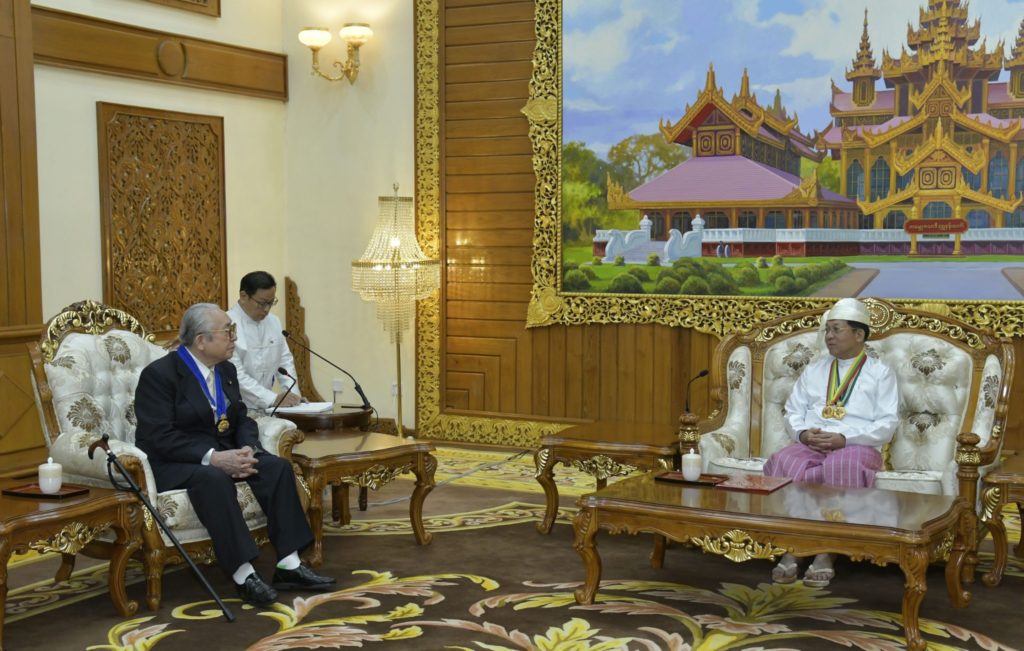 Regime honours two Japanese politicians 
Two senior Japanese politicians have received honours from the junta for their contributions to "the peace and prosperity of Myanmar," regime media reported. Japan-Myanmar Association Chairperson Hideo Watanabe, and former Japanese Prime Minister Taro Aso, received the awards. The honorary titles and medals were bestowed to commemorate Burma's 75th anniversary of independence in 2023. Watanabe attended the award ceremony hosted by Min Aung Hlaing in Naypyidaw. The junta leader "conferred Thiri Pyanchi title and insignia on Mr. Hideo Watanabe for his excellent performance in the development and peace and prosperity of Myanmar," regime media reported. Min Aung Hlaing also presented "the Thray Sithu title and insignia" to Taro in absentia "for his excellent performance in the development and peace, and prosperity of Myanmar." Watanabe accepted the award on Taro's behalf and vowed "to further promote friendly relations between the two countries."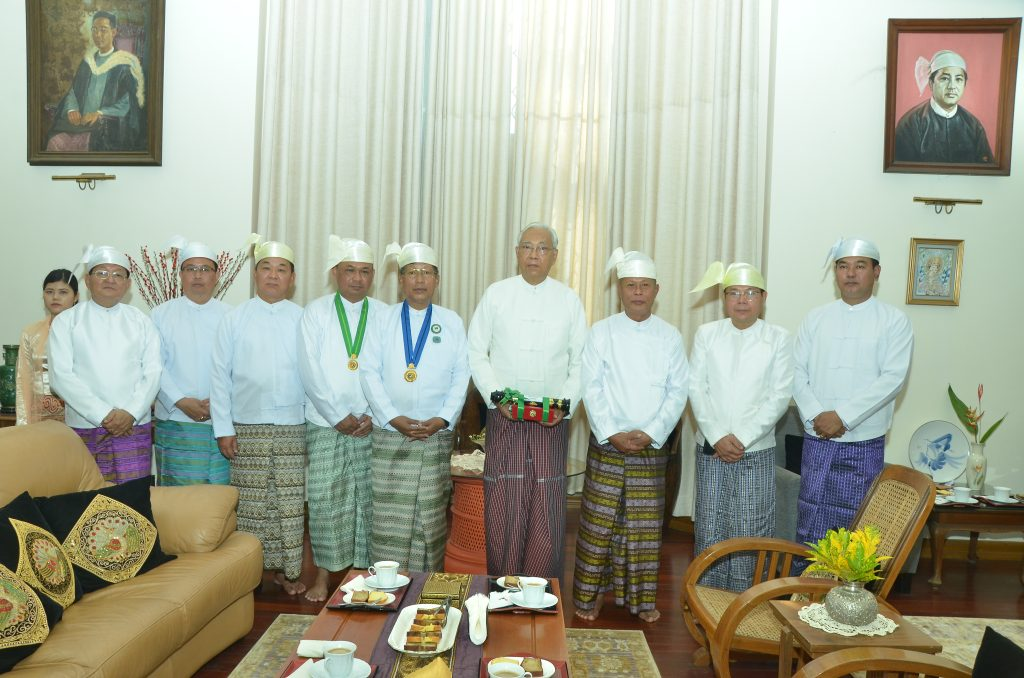 Junta hands out posthumous awards to national icons
Former President Htin Kyaw from the National League for Democracy (NLD) administration was delivered posthumous "Sithu titles" for his father, Min Thu Wun, and his father-in-law, U Lwin. Htin Kyaw and his wife, Su Su Lwin, have not been seen publicly since the 2021 coup and did not attend the junta's awards ceremony to mark the 75th anniversary of Burma's independence. It is unknown whether the former president is being detained by the junta. Regime media reported that senior junta officials delivered the awards to Htin Kyaw's family home. The award ceremony was held in Naypyidaw on Jan. 1-2.
News by Region
BAGO—Thirty-two Rohingya were arrested at a checkpoint in Thayarwady Township on Feb. 21. "They hid by covering themselves with bamboo mats. The Burma Army discovered them at the toll gate. The driver was arrested," a local told DVB. Forty Rohingya were recently arrested in Thanbyuzayat Township in Mon State on Feb. 19. Fifty-nine Rohingya were arrested in Sittwe's Ann Township this month.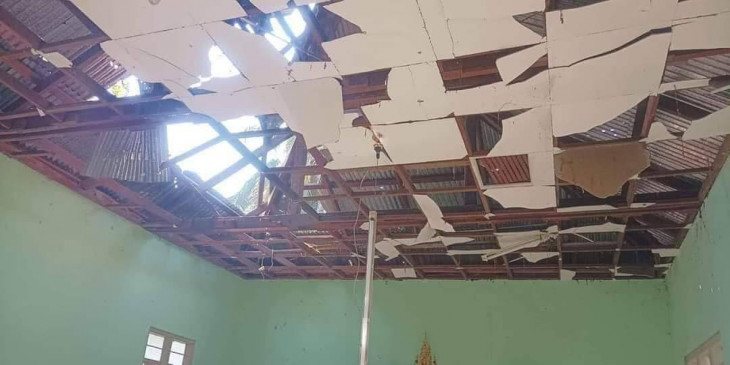 Three civilians were killed and a monastery was destroyed in Nyaung Lay Pin Township on Feb. 22, locals said. The Burma Army fired artillery shells after resistance forces reported to have killed 10. "There were casualties after the shelling but I don't know who they are and where they are from. The villagers are currently on the run," said a spokesperson at Karen Social Affairs.
KACHIN—Drug use among minors has surged since the coup, locals report. "The number of drug users who are around age 15, 16 [has increased] after the coup. However, the number of arrests for drug dealing is decreasing. We've found out that youths are injecting drugs on roads where there is no traffic and it makes us worry about their future," said a Sumprabum town resident. Drug dealers reportedly bribe authorities to sell drugs unhindered. "There are three big drug dealers in our town. They bribed the officials and sold drugs without any difficulties near the police station," said another resident.
A man was killed inside his home in Hpakant on Feb. 22, according to local sources. The motivation for the attack is unknown. "Unknown armed men even entered inside his house and shot at him," a local told DVB. No group has claimed responsibility for the murder.
KAREN—Three civilians were injured and three buildings, including a church, were destroyed after the Burma Army fired artillery shells at Laik Tho town, Than Taung Gyi Township on Feb.21, locals said. Two children and a man were seriously injured and are receiving medical treatment at a hospital.
The Thandaung People's Defense Force (PDF) claimed that the Burma Army burned down eight houses in Thandaung town on Feb. 21. The PDF estimated that it had killed 55 Burma Army troops and injured 40 during clashes from November 2022 to February 2023. DVB could not independently verify this claim.
SHAN—65 million drug tablets worth K2.6 billion ($1.2 million USD), along with weapons were seized at a home and cattle farm in Maisat Township, Shan State on Feb. 20, regime media reported. Two people working at a farm in Pone Tat village were arrested. According to the junta, 65 million of drug tablets, guns and ammunition were seized at the farm owner's home in Pa Ho village. Maisat Police Station filed charges against the two employees and farm owner under the Narcotic Drugs and Psychotropic Substances Law.
The PDF Battalion 1222 stated it attacked Burma Army battalions 223, 276 and 348 in Momeik Township, Shan State on Feb. 20. "We fired artillery to bait them to come out from their bases. But they didn't come out and only fired back," said a PDF spokesperson. PDF Battalion 1222 is under the command of the National Unity Government (NUG).
A police officer was killed in Muse city on Feb. 22, according to local sources. "The road [where the attack occurred] has been shut down. and the guesthouses have been investigated," a local told DVB. No group has yet claimed responsibility for the attack.
The Chin diaspora in North America celebrated the 75th anniversary of Chin National Day. They're committed to supporting the anti-coup revolution in Burma. DVB English is on-demand via Facebook, Twitter, Instagram, TikTok, YouTube, Substack, SoundCloud & Podcast Apps.